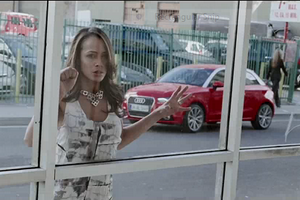 The new Audi A1 episode movie: The first episode shows John Frank (Justin Timberlake) in a café where he meets the attractive and mysterious Toni (Dania Ramirez) who is being followed. Through her, John is driven into "The next big thing" – action!
Looking at pretty photos of a car is really nice but nothing beats watching a car in full motion action. BMW's The Hire short clips were the talk of the town during its time and people still refer to them every now and then these days and I won't deny that the Madonna short movie played a part in making me fall for the E39.
Now Audi is following the same footsteps with a 6 part mini-series featuring Justin Timberlake, Dania Ramirez and the Audi A1. The mini-series is called The Next Big Thing and is directed by Swedish filmmaker Henrik Sundgren.
You will be able to view the first episode above, and the rest will be released every Tuesday every week for the next 5 weeks. We'll be featuring each episode on this blog.
Visit the website http://www.audi.com/a1 to watch the first episode once more and experience what happened behind the scenes.
Related posts: