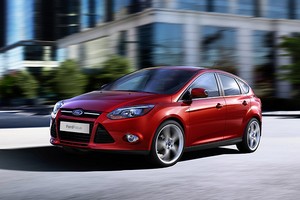 The Euro-spec Focus comes stateside early 2011

For many years lucky Europeans got the 'good' version of the Ford Focus, but starting in 2011, American car buyers will finally get to buy the real thing. The 2012 Ford Focus unveiled at this year's North American International Auto Show is nothing like the dull econo-box we have had to deal with for years. This new car will likely be serious competition for Honda, Toyota and GM in the compact-car market segment.
Globally Ford will offer the Focus with ten different engine options. In the US, a 2.0 liter direct-injection 155-hp engine will be standard. An Ecoboost option will likely be available as well for people that are looking for a little more horsepower. Unfortunately it's unlikely we will ever see the 1.6 liter diesel engine stateside.
To improve fuel efficiency, Ford is using its new dual-clutch, fully automatic PowerShift transmission. Ford is claiming the new transmission will improve fuel economy by 9 percent. A transmission this sophisticated is almost unheard of in this market segment and is a real surprise.
Ford is using every trick possible to eke out a rumored 40 mpg on the highway. The Focus may be the first non-hybrid car to have stop-start technology. This technology shuts the engine completely off when the car is stopped and fuel will not be wasted idling at traffic lights. When the technology is implemented correctly the engine starts and stops are seamless.
The build quality appears to be much better than previous models as well. The new body is 25% stiffer than the last generation and features high-strength steel throughout. The interior may not be the best in its market segment, but it looks very good. An optional touch screen 'infotainment' system named MyFord Touch will also be available. The system will feature voice commands and even a web browser.
Ford is a company currently firing on all cylinders. Almost every model they sell is improving by leaps and bounds. It's about time American car buyers finally get a chance to buy the European spec Focus. For years we have been stuck with the rather 'meh' Focus with rental car styling. Hopefully, Ford can still price the Focus competitively. With all of its high tech features, the 2012 Focus could end up rather expensive. Expect to see the 3-door and 5-door Focus to launch early next year and a hybrid model to follow a year after.
Related posts: