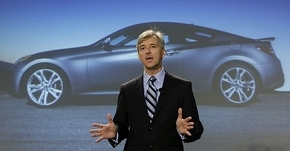 The top executive of Hyundai Motor America declared that the auto industry must make some major changes if they hope to survive, including drastically altering its entire business approach, capping executive salaries, raising the bar on fuel economy standards and embracing environmental goals and federal mandates before the government steps in or decides to bail them out.
The Big 3 should listen to John Krafcik, CEO of Hyundai. What he says makes a lot of sense. Had they been doing these things long ago, they might not be in the mess they're currently in. We've gotten too big and bloated in this country; too complacent and too greedy–in the case of many CEO's and top management—not just in making cars but in just about any form of big business you can think of.
What Krafcik was telling us is not anything new or revolutionary. The Big 3 must know these things as their viability discussions with the big wigs in Washington rapidly approach. What Krafcik outlined is basically what you would read in a book titled, "Car making for Dummies."
Krafcik is in a position to speak intelligently on this topic. While car sales in this country are plummeting at lightning speed, Hyundai sales are up. It must be a real thorn in the Big 3's side to have to listen to him, but they should—maybe they can learn something, even at this late date.
I know that a lot of people have been piling and criticizing just about everything the Big 3 does or doesn't do, but in many ways, it's well-deserved. If they had been forward-thinking and proactive in doing many of these common sense things, they'd be in much better shape right now.
Read this article, which appeared in the Detroit News, after the jump:
Related posts: