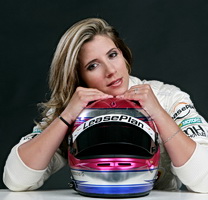 They're hot! They're sexy! They really know there way around a race paddock. They're some of the best drivers around. CarReview.com would like to salute the hottest women racing. Last week we covered Danica Patrick's stunning feature in the Sports Illustrated swimsuit issue. But who are some of the other woman drivers that could make any engine purr? (Note: This blog will feature a lot of automotive sexual double-entendres.)
Melanie Troxel
Vroooom! Saucy Melanie competed in her first drag race at the age of 16 in a car with an engine she rebuilt herself as a high-school project. Melanie became one of the quickest and fastest females in NHRA history when in 2005 she clocked a 4.458-second pass and 330.31-mph speed in Dallas. In 2007, she scored event wins in St. Louis and Memphis, twice runnered-up, and ended the season ranked No. 9.
Melanie grew up in Colorado and inherited both her love for the sport of drag racing and her work ethic from her parents. She began her professional career driving in a Top Alcohol dragster in 1997. She captured two NHRA national event victories in 1999, and finished second in the national points standings. Her first opportunity in a Top Fuel dragster came in 2000.
Melanie opened the 2006 season in amazing form, earning her first career Top Fuel victory in Pomona. A few weeks later in Las Vegas, she recorded her second Top Fuel victory and became the first NHRA Top Fuel driver to reach the final round in the first five events of a season. Melanie continued to race in the Top Fuel class in 2007 scoring two more wins (St. Louis and Memphis) during the season. In 2008, Melanie made the switch to Funny Cars and gladly accepted the challenge. In just her 8th race out, she recorded her first win in the class (Bristol). Melanie became just the 14th person and first female to score victories in both NHRA Top Fuel and Funny Car categories.
Did we also mention she's really hot?
Sarah Fisher
Sexy Sarah Fisher signed a contract in 1999 to compete at the top level of open-wheel racing. This hottie qualified for her first Indianapolis 500 in May 2000 at the mere age 19–becoming just the third female race car driver to compete and one of the youngest drivers to ever race in the Indianapolis 500! In 2001, Fisher claimed a second place finish at the IndyCar series inaugural race in Homestead-Miami Speedway.
From age five, Fisher raced quarter-midgets and go-karts until she was a teenager, winning the 1991, 1993, and 1994 Workd Karting Association Grand National Championships. By age 15, Fisher was racing Winged Outlaw Sprinters and winning 1995 Dirt Track Racing Round-Up Rookie of the Year award.
In 2002, Fisher became the first woman ever to qualify fastest when she claimed the pole position at Kentucky Speedway. Sarah Fisher still holds the track qualifying record to this date. Fast forward to 2008, Fisher makes her seventh start the Indianapolis 500, tying Lynn St. James for the most starts by a woman, and her first start as team owner under the umbrella of Sarah Fisher Racing.
Being hot also doesn't hurt either!
Ashley Force
In September of 2007, Ashley Force was voted the winner of the first annual "Hottest Athlete" poll on AOL Sports. Ashley beat out quarterback hunk Tom Brady, and fellow female driver Danica Patrick for the honor.
Sultry Ashley Force was also selected as the NHRA POWERade Drag Racing Series' Rookie–of–the–Year in November 2007. On April 27, 2008, hottie Force earned her first ever NHRA professional win, defeating her father, John Force, in the final round, and becoming the first woman to earn a win in the Funny Car class at the NHRA Summit Southern Nationals held at the Atlanta Dragway in Commerce, Georgia.
Three years after earning a Bachelor of Arts degree from Cal State-Fullerton, the former high school cheerleader is being hailed as a future star of the NHRA series and a possible successor to her father.
Gentlemen, start your engines!
---
New Girls on the Starting Line Who Get On Top and Under the Hood
When talking about lady race car drivers, it still seems to matter that they're ladies, and the usual selling point is that it attracts more fans to the sport. But what makes it so attractive to budding driver, and college student, Michelle Abbate and former artistic rollerskating champ turned grease-monkey, Jessica Dunford, and girls like them? I think it's that they've uncovered what previously featured (and more seasoned) lady drivers including Melanie Troxel, Ashley Force and Erin Croker already know: adrenaline rushes do not discriminate. Read Adrienne's interview by clicking on the link below to learn more about Michele and Jessica.
Rising Stars Discovered at Ken Block's Gymkhana Grid Competition
---
(Continued on page 2)
Related posts: