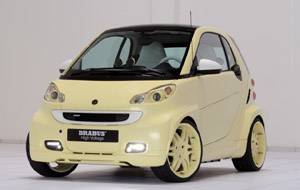 It was bound to happen, and it looks like it just did at this years Frankfurt Motor Show. By 'it', I mean someone doing a modded version of the upcoming Smart EV. And the people who decided to take a crack at it are noted German tuning house Brabus. Brabus is most famous for making Mercedes that outperform WW II fighter planes. You know the drill: S-Class with huge motors and aero bits that top out over 200 MPH, that sort of thing.
So what happens when Brabus goes in the completely opposite direction and even goes so far as to do away with the internal combustion engine entirely? We'll find out, but the good news up front is that someone is actually doing it. I've said for years now that if you want to make better EVs, and get people to buy them and take them seriously, you can't just make them green, you have to make them fun.
The first thing to note here is that Brabus is using a lithium ion battery pack supplied by Tesla Motors, Daimler's electric vehicle partner. Yes, that would be the same Tesla that's the darling of the EV world, makers of the Roadster (the EV Elise) and the upcoming Model S sedan. Mercedes and Tesla inked a deal a while back where Mercedes would get access to some of Tesla's battery tech.
The Smart that Brabus rolled out at Frankfurt is called the Unlimited High Voltage, which is a bit on the pretentious side, but this is after all their home show, and auto companies, and especially tuners, generally don't underplay things in situations like this. The Unlimited High Voltage starts out life as a normal electric Smart ED Fortwo.
In addition to the Li-ion batteries, Tesla also supplied the rear-mounted electric motor which puts out 82 horsepower and 207 lb-ft of torque. Given the Smart's tiny size, you'd figure those kinds of specs would make the thing a rocket, but in only manages to hit 60 mph in "under 10 seconds." although they don't say, I'm guessing it's that low due to weight.
In addition to beefing up the drivetrain, Brabus also had a go at other things like adding aerodynamic wheels that have clear Plexiglas covers and wider side skirts to improve airflow. On the inside there's white leather seats with yellow stitching, and a console-mounted monitor that displays the remaining state of charge.
Brabus also decided to get a little bit wacky, and added a sound generator that will make the Unlimited High Voltage sound like a V8-powered racecar. Yeah, goofy, I know, but there have been moves afoot to make hybrids and EVs emit more noise so as not to mow down the sight impaired.
The only thing that's truly disturbing about the Unlimited High Voltage it's that horrid exterior color. Just what shade of off-white/beige/kitchen appliance is that? Don't answer, I don't really want to know. OF course Brabus should make a limited run of these. The more fun EVs the better. Just paint them in better colors, OK?
Source: AutoBlogGreen
Related posts: