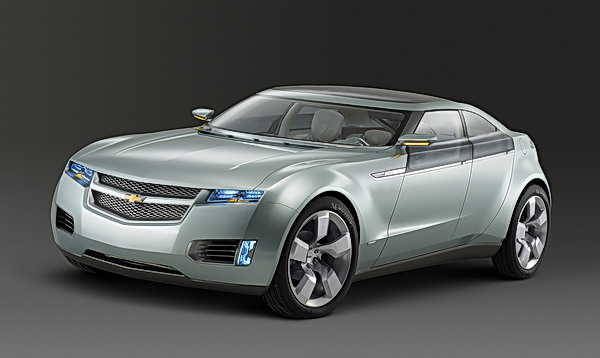 A few months ago we had the opportunity to get a close look at the Chevy Volt Concept and speak with key people surrounding the project. Whenever GM releases news that the Volt is getting closer to its 2010 production date, we get all tingly inside. Basically, GM announced Thursday that it's going to test lithium-ion batteries, the core of hybrid vehicles, at the end of April. It has already constructed a test vehicle with the battery system to be installed. The battery power alone is predicted to develop the range of 40 miles.
A little back-story:
To help spur battery research, GM selected two companies to provide advanced lithium-ion batterypacks: Compact Power, which would use cells made by its parent company, LG Chemical, and Continental Automotive Systems, which would use cells made by A123Systems. GM established a more close-knit relationship with A123Systems so that the two companies could co-develop a Volt-specific battery cell. On January 31, 2008, A123 and Continental delivered their first prototype to GM's European test facilities.
GM executives report that battery technology will have a large impact in determining the success of the car.
General Motors said it will have the Volt on the market in 2010. The initial production run for first year of sales of the Volt is most likely 10,000 vehicles. Lutz has indicated a target retail price of at least $30,000 and more likely something nearer $40,000.
The following is a press release from General Motors:
WARREN, Mich. – Engineers at GM's battery test facilities have developed a new computer algorithm to accelerate durability testing of the advanced lithium-ion batteries needed to power the Chevrolet Volt for up to 40 miles (64 km) of electric-only driving.
This advanced computer program duplicates real-life vehicle speed and cargo-carrying conditions, and compresses 10 years of comprehensive battery testing into the Volt's brisk development schedule.
The battery cycling equipment is used around the clock in GM test facilities in Warren, Mich. and Mainz-Kastel, Germany. It charges and discharges power from the prototype batteries based on the Volt's approximately 40-mile electric-only drive cycle. Results from this test data will help predict the long-term durability of the battery.
"Production timing of the Volt is directly related to our ability to predict how this battery will perform over the life of the vehicle. The challenge is predicting 10 years of battery life with just over two years of testing time," said Frank Weber, global vehicle chief engineer, Chevrolet Volt and E-Flex systems. "The battery team is able to utilize human and technical resources around the globe to reduce testing time."
Testing the batteries in the laboratory provides a predictable environment to compare technologies under controllable situations. The batteries will soon be integrated into "mule," or test, vehicles with other E-Flex system components for on-road tests.
"Extensive analysis in our battery labs is an important step in proving this technology. We expect to further validate these batteries when they are integrated into engineering development vehicles," said Weber. "The conditions in a vehicle – where the battery is exposed to shaking, moisture and rapidly changing temperature conditions – are much more extreme than the controlled settings of the lab."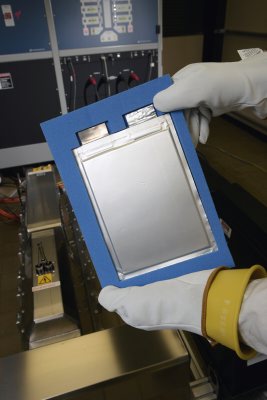 Vehicle engineering
Engineering an electric vehicle with a battery roughly 6 feet long (1.8 m) and weighing more than 375 pounds (170 kg) requires innovation. The T-shaped battery will be located down the center tunnel of the vehicle and under the rear seats. This integration requires the battery to be treated as part of the vehicle structure. Simulation data also indicates that the center placement provides greater protection to the battery.
"The battery is more than just an energy carrier; it's a structural component that affects many other aspects of the vehicle," said Weber. "It's an integral part of the vehicle that interacts with the vehicle's thermal and safety systems and chassis components."
Engineering innovations are also required to maximize the Volt's 40-mile electric-only range and minimize the use of its range-extending internal combustion engine. To reduce mass, the Volt is being engineered with a relatively small fuel tank. This reduces weight, but still provides a driving range in excess of 400 miles between fill-ups.
Designing the interior
The battery placement created interior design opportunities that led to several creative solutions that improve aerodynamics and overall comfort.
"We made a conscious decision to make the Volt a four-passenger vehicle to keep the roof low, an important aerodynamic enabler," said Bob Boniface, design director, E-Flex. "As designers, we must be sensitive to the energy efficiency gains that can be achieved by optimizing aerodynamics, whether it's occupant packaging or overall styling. This not only contributes to improved fuel economy or extended range, but can produce beautiful exterior body shapes and innovative interiors."
The battery pushed the occupants outboard, or to the sides of the vehicle, so the design team had to get creative with the sections of the roof structure to enable aerodynamics and provide adequate head room. The interior will accommodate a 6-foot 2-inch (99 th percentile) male comfortably in the front and rear seats.
"By having the battery in the middle, we were able to move the occupants apart and give them more space," said Tim Greig, interior design manager for the Chevrolet Volt. "We also shrink-wrapped the interior, particularly the doors, for comfort and spaciousness. There is no wasted space.
"Being an electric vehicle with a battery down the middle presented unique opportunities to our design team," he said. "The net result is a very creative and innovative design, appropriate for an electric vehicle."
Reducing drag
Aerodynamic drag, or wind resistance, accounts for about 20 percent of the energy consumed by an average vehicle, directly reducing fuel efficiency.
GM's aerodynamics laboratory, located in Warren, is the center of expertise for optimizing airflow. In addition to fuel economy, range, emissions and acceleration are all affected by aerodynamic drag. The cooling of components like brakes is affected by airflow, as is cornering capability, crosswind response, directional stability and on-center handling. GM's aero lab allows for the testing and development of each of these characteristics.
Aerodynamics development begins with a 1/3-scale model where basic shape and major features are defined. The model includes a highly detailed underbody and engine compartment. Radiator and under-hood cooling flow are developed with computational fluid dynamic models. Simultaneously, computation development takes place to determine the aerodynamic drag of design alternatives. Development continues with full-scale models, where shape is refined and optimized for low wind noise. The development process concludes with a vehicle prototype validation of the math-based analysis and physical testing.
"After extensive aerodynamic testing of the Volt, the vehicle now has a coefficient of drag that is 30 percent lower than the original concept," said Ed Welburn, GM vice president, Global Design. "It's not easy, but it is a necessity."
The ongoing development of the Volt is just one part of GM's commitment to displace petroleum use in the auto industry through a range of propulsion alternatives, including:
GM is the leading producer of E85-capable biofuel vehicles, with more than 3 million on U.S. roads today. GM has committed to having 50 percent of annual sales volume E85-capable by 2012.
By the end of 2008, GM is expected to offer more hybrid models (eight) in the United States than any other automaker.
The Saturn Vue Green Line, Saturn Aura Green Line and Chevrolet Malibu Hybrid will feature GM's mild hybrid technology.
GM's two-mode hybrid technology is available in the Chevrolet Tahoe Hybrid and GMC Yukon Hybrid, and will be added later this year to the Cadillac Escalade, Chevrolet Silverado Hybrid and GMC Sierra Hybrid, delivering highly efficient performance and full functionality.
Going into production later this year is the front-wheel-drive Saturn Vue Green Line 2 Mode Hybrid, expected to deliver up to a 50-percent improvement in combined city and highway fuel economy compared with the current non-hybrid Vue XR, based on current federal test procedures.
Earlier this year, GM launched "Project Driveway," the largest market test of fuel cell vehicles in the world, lending 100 Chevrolet Equinox Fuel Cell vehicles to everyday drivers. GM engineers will analyze customer feedback and use it to develop the next generation of fuel cell vehicles.
Additionally, GM provides more vehicles that achieve 30 mpg on the highway than any other manufacturer in the U.S. market. GM is also a member of the U.S. Climate Action Partnership (USCAP), a group of global companies and non-governmental organizations that support an economy-wide, market-driven approach to reducing carbon emissions.
General Motors Corp. (NYSE: GM), the world's largest automaker, has been the annual global industry sales leader for 77 years. Founded in 1908, GM today employs about 266,000 people around the world. With global headquarters in Detroit , GM manufactures its cars and trucks in 35 countries. In 2007, nearly 9.37 million GM cars and trucks were sold globally under the following brands: Buick, Cadillac, Chevrolet, GMC, GM Daewoo, Holden, HUMMER, Opel, Pontiac, Saab, Saturn, Vauxhall and Wuling. GM's OnStar subsidiary is the industry leader in vehicle safety, security and information services. More information on GM can be found at www.gm.com.
Source:
Rob Peterson
Manager, Chevy Volt and E-Flex Communications
Dave Darovitz
Chevy Volt and E-Flex Communications
Karla Coleman
GM Design Communications
Andrew Marshall
Director, Advanced Technology Communications – Europe


Related posts: