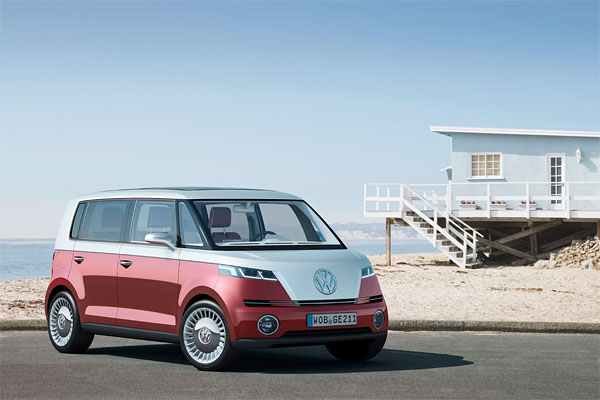 A decade after the 2001 Microbus concept, Volkswagen has announced the new reinterpreted Volkswagen Bulli concept, that follows in the footsteps of the orginal Microbus. Debuting at the Geneva Motor Show, the new Bulli has a similar shape to the Microbus with plenty of interior space and measures in at 156 inches long, 68.4 inches wide and 66 inches tall. It will include a 113-horsepower electric motor supplied with energy from a lithium-ion battery pack allowing driving ranges of up to 186.4 miles. This zero emissions vehicle can also be recharged in less than an hour.
The six-seater interior of the Bulli is reminiscent of its ancestors, in that the seat system can be transformed into a large reclining surface. The outer and middle seats of the front bench can be folded down and the rear beach can be completely stowed to increase cargo room. The Bulli will also feature a removable Apple iPad "infotainment control" that controls the stereo, navigation, and Bluetooth.
The Bulli's exterior also draws from past designs and includes a two-tone paint job, 18-inch alloy wheels with chrome hubcaps, narrow dual headlights with L-shaped LED daytime running lights, a seamlessly integrated bumper, and the signature VW logo between the headlights in the bonnet.
Related posts: