The 2011 Subaru WRX STI, with its iconic rear wing, receives a new body style this year. Under the hood is a 305 horsepower Subaru Boxer powerplant. Suspension tuning techniques, such as lowering the ride height to 5.9 inches, using stiffer front stabilizer bar and rear springs (the latter by 18 percent), and stiffer subframe bushings, were aimed at improving steering precision to further minimize mid-corner corrections.
Also new are standard 18-inch Enkei aluminum wheels that are 17 lbs. lighter than before, or silver BBS® forged alloy wheels for drivers who like to stand out from the crowd.
Driving Sports TV presents exclusive sights and sounds of the 2011 Subaru WRX STI during testing at the press launch in Aspen, Colorado. Full review coming soon, at drivingsports.com.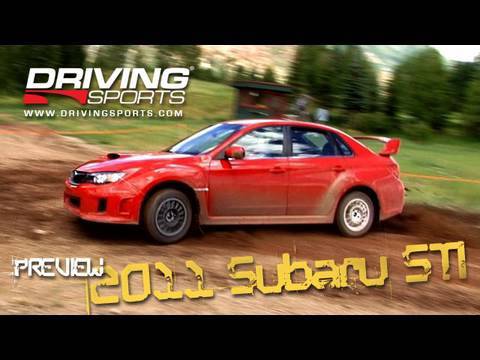 Driving Sports is an online publication and video series that strives to entertain, inform and engage. Click in every Wednesday at 10pm PST at drivingsports.com to watch a live streaming broadcast. If you can't watch live, view the archives posted at drivingsports.com as well as their various syndication partners (YouTube, Streetfire, etc.)
Driving Sports is a registered trademark of MediaSpigot LCC.
Content is copyright 2003-2010 Driving Sports. All rights reserved.
Related posts: