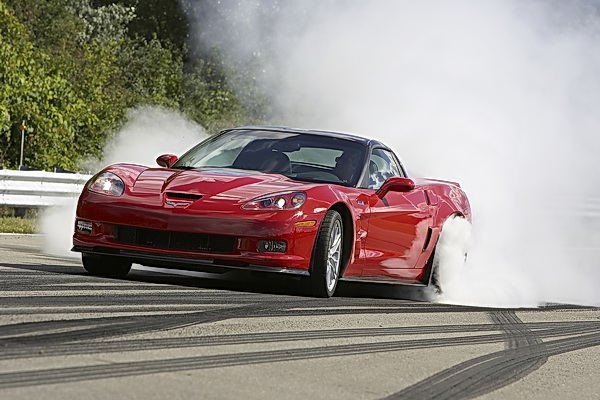 A ZR1 was never part of the original C6 plan, but, at an early program review, the Z06′s proposed aluminum frame, carbon-fiber parts, and LS7 engine so impressed CEO Rick Wagoner he casually mentioned aloud, "Geez, if that's what you can do with $60,000, I wonder what a $100,000 Corvette would look like?" With no more formal authorization than that, Corvette chief engineer Tadge Juechter and his team launched a skunkworks effort dubbed "Blue Devil" — a nod to the boss's Duke alma mater.
The power behind this tire-burning, road hazzard is the new LS9, a supercharged and intercooled, 6.2-liter version of the famed small-block V-8 that is assembled by hand at GM's Performance Build Center in Michigan. The LS9 uses a new, sixth-generation Eaton supercharger that expands the effectiveness of the compressor, helping give the engine terrific low-end torque and high-rpm power. The tremendous power boost of the "blower" allowed the engineers to spec a "smaller" cam than we use on the Z06's LS7 engine, giving the ZR1 exceptional drivability. You can drive this car to work every day and it doesn't beat you up, yet you can drive it to a racetrack on the weekend and "school" the competition.
In-car video of Jim Mero's smokin' lap of Nürburgring below the jump
Power from the LS9 engine is delivered by a ZR1-specific close-ratio 6-speed Tremec TR6060 transmission with dual clutch technology. With 638 hp at 6,500 rpm and 604 lb-ft of torque at 3,800 channeled through the first close-ratio gearbox in modern Corvette history, Chevrolet says 0 to 60 mph happens in 3.4 seconds, 0 to 100 in 7.0 seconds. The official top speed is 205 mph, although Juechter deadpans that the car is electronically limited to 210 mph, because of "social responsibility" concerns, when, in theory, it could hit 215.
Slowing down is just as important as going fast. All four corners on the ZR1 are setup with Brembo carbon-ceramic disc brakes. Found on only a few exotics and more expensive supercars, carbon-ceramic brake rotors are made of a carbon-fiber-reinforced ceramic silicon carbide material . Their advantage comes in low mass and resistance to wear and heat. Clamping down on the high-tech rotors are six-piston front calipers and four-piston rear calipers, each painted a ZR1-exclusive blue. The front pads are equivalent in size to the largest on any production car with a single-pad design – double that of the Corvette Z06's 70-sq.-cm. front pads.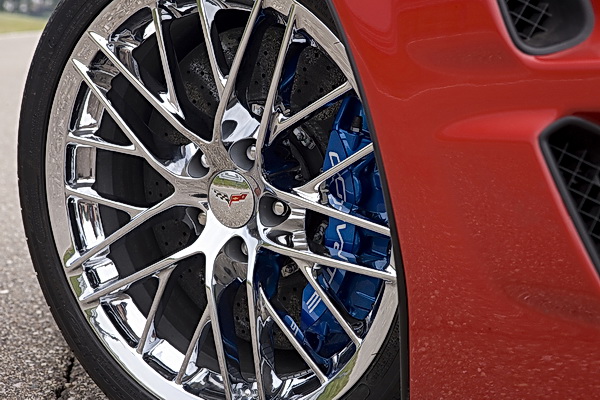 With 1 hp per 5.20 pounds, the ZR1's power-to-weight ratio stacks up favorably against exotics from Porsche (5.01 pounds for Carrera GT; 5.98 for 911 GT2), Dodge (Viper, 5.75), Lamborghini (Murciélago LP640, 5.8 without fluids; Gallardo LP560, 5.99) and Ferrari (F430 Scuderia, 5.91).
Steering feel with the C6 and ZR1 Corvettes is outstanding. Chevy improved all 2008-model-year Corvettes by adopting a new steering-gear machining process and a stronger intermediate shaft. For 2009, it has added a standard, mechanically variable system that changes the ratio from 17.1:1 to 14.6:1 as you wind on lock; compared with the Z06's 2.78 turns lock-to-lock, ZR1 requires 2.54.
On the outside, the ZR1 stands out with unique, larger wheels and tires, a distinctive rear spoiler and unique front fenders with dual-split vents. But enthusiasts and mindful competitors will certainly know the car from its windowed hood and exposed-weave carbon fiber parts. The hood window provides a look at the top of the engine's intercooler and the exposed-weave carbon-fiber parts are found on the roof, rocker moldings and front splitter. The mechanicals underneath the hood are the heart and soul of the Corvette and GM engineers really wanted to show it off on the ZR1. A new clear coat that blocks ultra-violet rays finally allowed a clear view to the engine bay with all its glory shining through.
Below is in-car video of ZR1 chassis-dynamics engineer Jim Mero, the driver who smoked the vaunted Nürburgring Nordschleife with a lap of seven minutes, 26 seconds.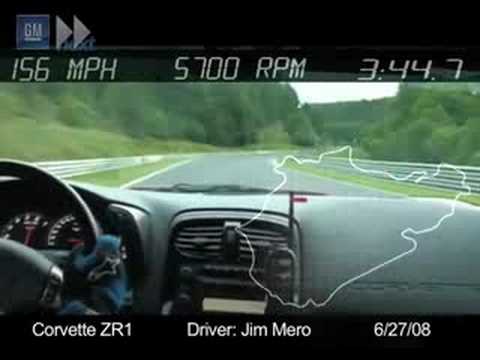 Related posts: