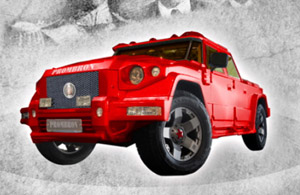 Have you had many a sleepless night wondering if it's possible to out-do the Hummer? If so, than look no further than the RussoBaltique, a Russian SUV that aims to be "The World's Most Expensive SUV". Or to give it its proper appellation the "Dartz Prombron Monaco Red Diamond Edition SUV from Russia's RussoBaltique". I would take it that RussoBaltique is some sort of manufacturer I've never heard of and that this, er model has the rather daunting name of " Dartz Prombron Monaco Red Diamond Edition SUV". Rolls off the tongue, don't it?
Well, it won't roll off your checkbook that easy either, nor will you be able to scrub the options and materials list out of your mind any time soon.
Ringing the cash register at more than $1,450,000 (they won't say how much more) the Dartz Prombron Monaco R – let's just call it the Dartz Prombron, and save ourselves some time, OK? Anyway, the Dartz Prombron features such exclusive materials as whale-penis leather for the seats, gold plating for the window surrounds, gauges encrusted with diamonds and rubies and an exhaust system made from tungsten. Yes, you read that correctly, they said whale-penis leather.
Other nifty features include Kevlar coating for added protection; what is coated, they don't specify, and protection from what I can only guess at. The Dartz Prombron also comes with three bottles of one of the world's most expensive Vodka: RussoBaltique.
You also get your choice of two different engines, both V8s. There's the 'base' model that cranks out a respectable 400-horsepower. And the top of the line mill puts out 536-horsepower. Not to worry, both engine variants offer "rocket grenade-proof" protection. No, I don't now what they mean by that either.
Who's responsible for this? It's manufactured by a company called RussoBaltique. They have a background building armored vehicles for Tsar Nicholas, Vladimir Lenin and Leon Trotsky (and two out of those three came to a sticky end, now didn't they?) and if you're the kind of person that thinks this is the car for you, then you'll have to wait until the Dartz Prombron Monaco Red Diamond Edition SUV from Russia's RussoBaltique makes its official debut at next year's Top Marques Monaco luxury autos event.
Source: Motorauthority
Related posts: