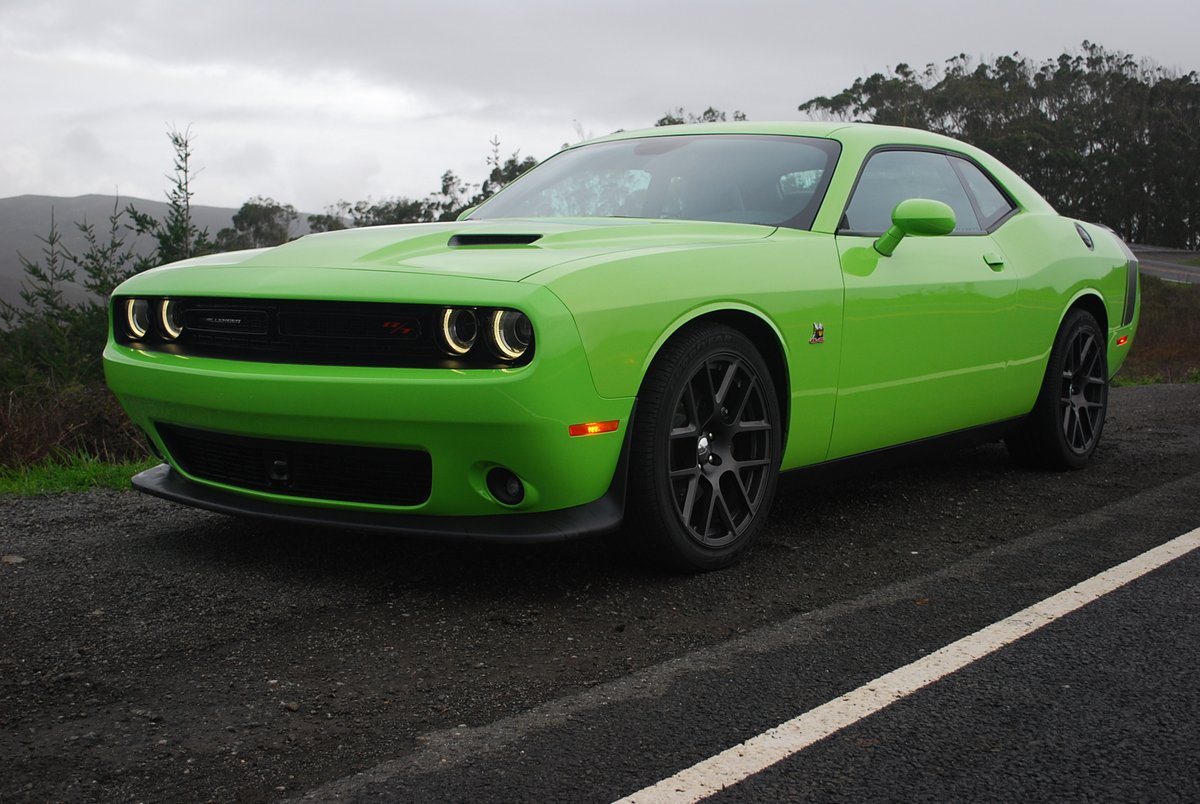 By David Colman
Hypes: Massive HEMI Horsepower and Torque
Gripes: Doesn't Come With Barry Newman to Drive
Your first clue that this is a very serious driver's car appears on the window sticker under the heading "Tires." Most manufacturers designate tire choice in a most casual manner, stating they've provided either "all season radials" or "performance radials." Such non-specific categories afford car makers the latitude to equip your new car with anything available in the supply chain provided the tires meet OEM specs. For those of us who value the importance of precise tire specification, Dodge's commitment to using only the Goodyear Eagle F1 on the Hemi Challenger is welcome and reassuring news.
The rest of this phenomenal piece of driving nirvana is equally well equipped. Under the twin scoops of the expansive hood lies that eternal gem of an engine, the HEMI, this time displacing 6.4 liters, and belting out 485hp at 6000rpm, and 475lb.-ft. of torque at 4200rpm. Nothing else provides the instant surge and gratification of this newly refined Hemi, which now benefits from a lightened valve train. Under those massive valve covers, you'll find sodium filled exhaust valves, hollow intake valve stems, and 16 hydraulic lifters with roller tips.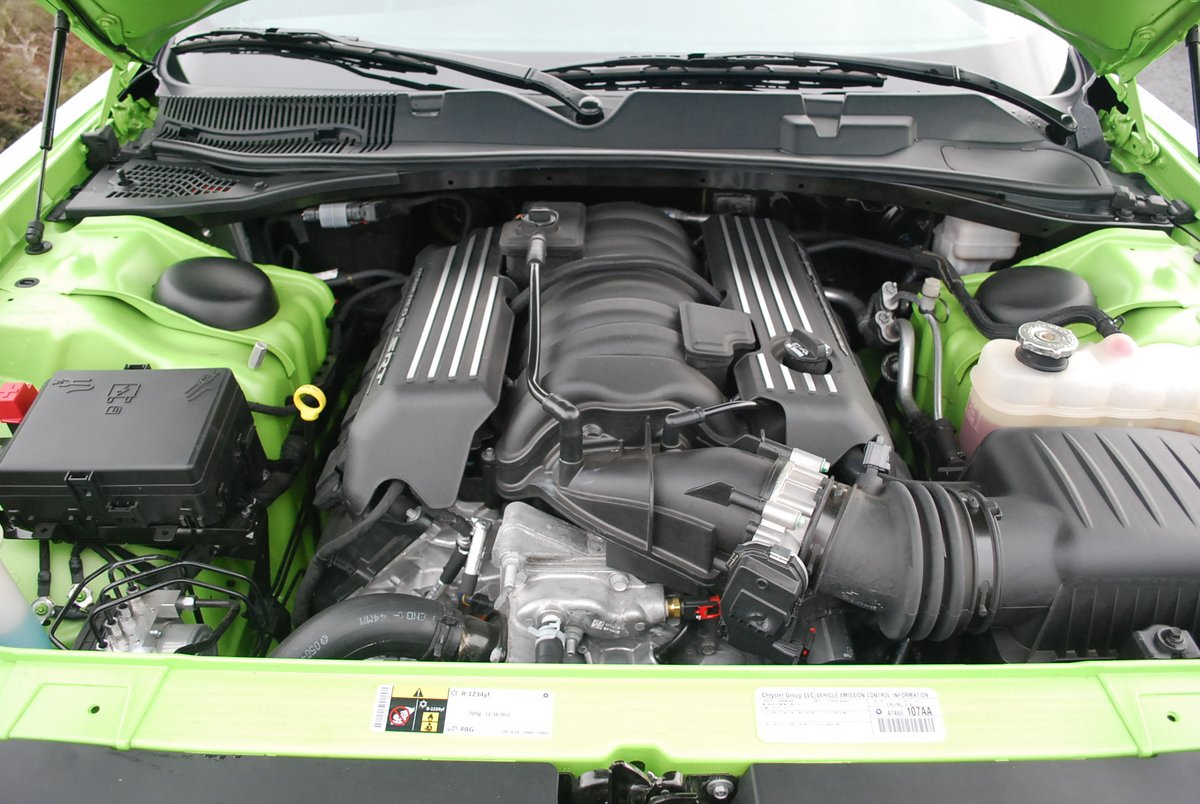 The Torque Flight transmission has been drag racing's hot ticket for so many decades now that few remember its debut six decades ago. The latest variant of this elephantine gear box, designated 8HP70, is a $1,400 option which now contains 8 gears. The fat T-handle floor console stick will remind aging muscle car owners of their bucket seat mounts from years ago. But of course, in the 21st century, Dodge has not only slipped 4 extra gear sets into the transmission case, but provided manual override of up and down shifts with paddles on the steering wheel and a manual gate on the floor stick. All you really need to spur this Challenger is your right foot, however. All that torque means instant acceleration even when you just leave the Toque Flight in Drive and stomp the accelerator pedal. You can feel the race breeding of the transmission as it slams home each up shift with military authority. The benefit of the super overdrive 8th gear allows the Challenger to lope along the freeway at just 1500rpm while returning an admirable 25MPG. Of course, your mileage may vary, given the mellifluous orchestra of sounds emitted by the Hemi when you floor the aluminum ribbed gas pedal. Worst case scenario is about 15MPG. We managed 17MPG through one full tank test.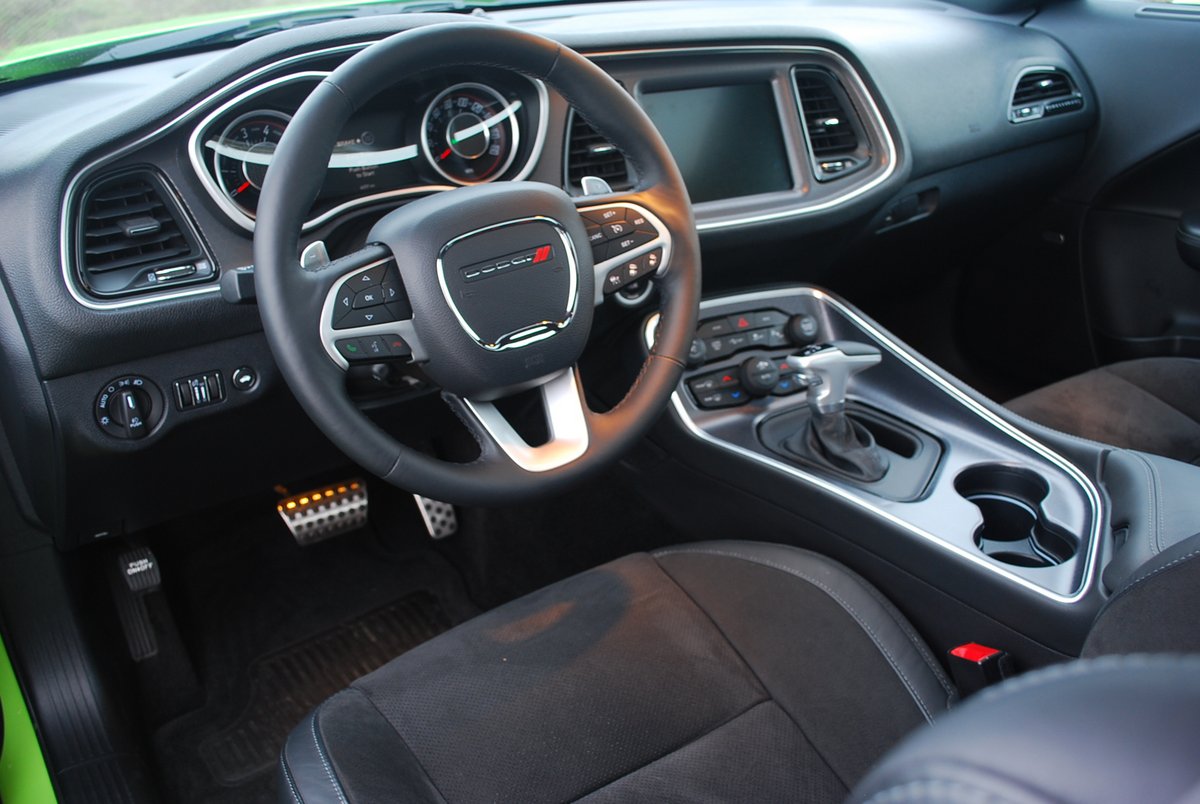 Do not buy this car unless you enjoy being the center of attention. At virtually every rest stop, someone came up to ask a question, share a story, or just enthuse about the looks of the Challenger. Maybe it's the car's throwback snout, with four round, vintage style headlights, that makes observers think they're looking at the Challenger that starred in the legendary movie Vanishing Point. More likely, however, it's the magnetically attractive, outrageous shade of green this Dodge is painted. Called "Sublime," it's a carryover color from Dodge's inventive and playful palette of the 60s. The Scat Pack Appearance Package ($1,995) provides body color tail spoiler, flat black front air dam, matching matte tail stripes, and "Hyper-Black" lightweight forged aluminum wheels measuring 20 x 9 inches. These rims carry only Goodyear's best F1 tires (245/45R20).
Even during one of the rainiest weeks in years, the big bad Dodge acquitted itself with commendable finesse. As long as you mind the gas pedal judiciously, the Goodyears churned through standing water without so much as a side slip. When the terrain dried out, the Challenger's independent front suspension with high mounted upper A-arms provided precise feedback. Variable rate power steering, augmented by dual ball-joint knuckles, provided a constant stream of precise information. At the rear, a fully independent five link suspension cradle, with coil springs and stabilizer bar kept the Challenger's tail well planted. Massive, vented, four-piston Brembo disc brakes at each corner arrest the Scat Pack's momentum with decisive finality. Although the ride of this Dodge is unapologetically harsh, you quickly learn to love its laser focus on high performance.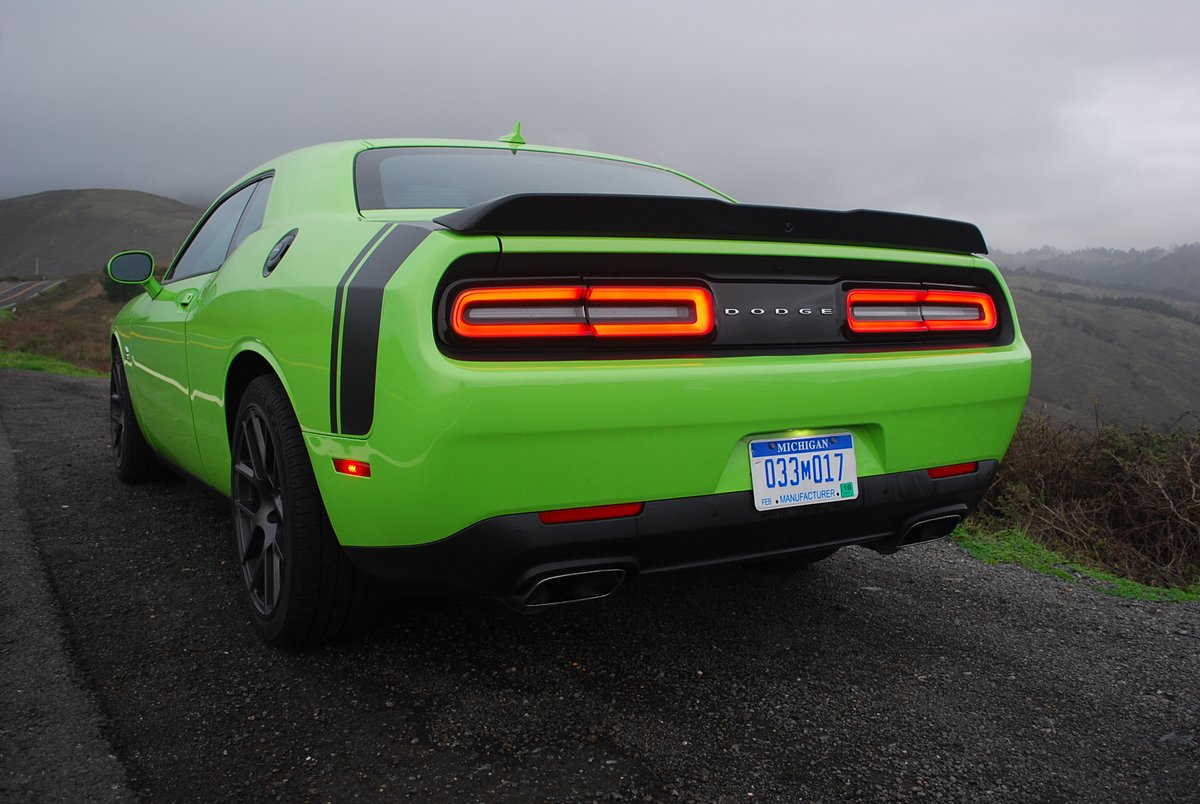 Simply put, you cannot buy a nastier ride for anything close to this kind of money elsewhere. That mythic Challenger of Vanishing Point never really vanished at all.
2015 Dodge Challenger 6.4L Scat Pack
Engine: 6.4 Liter HEMI V-8 16 valves, 16 conventional hydraulic lifters, all with roller tips
Horsepower: 485hp@6000rpm
Torque: 475lb.-ft.@4200rpm
Fuel Consumption: 15MPG City/25MPG Highway
Price as Tested: $47,860
Star Rating: 10 out of 10 Stars
Related posts: