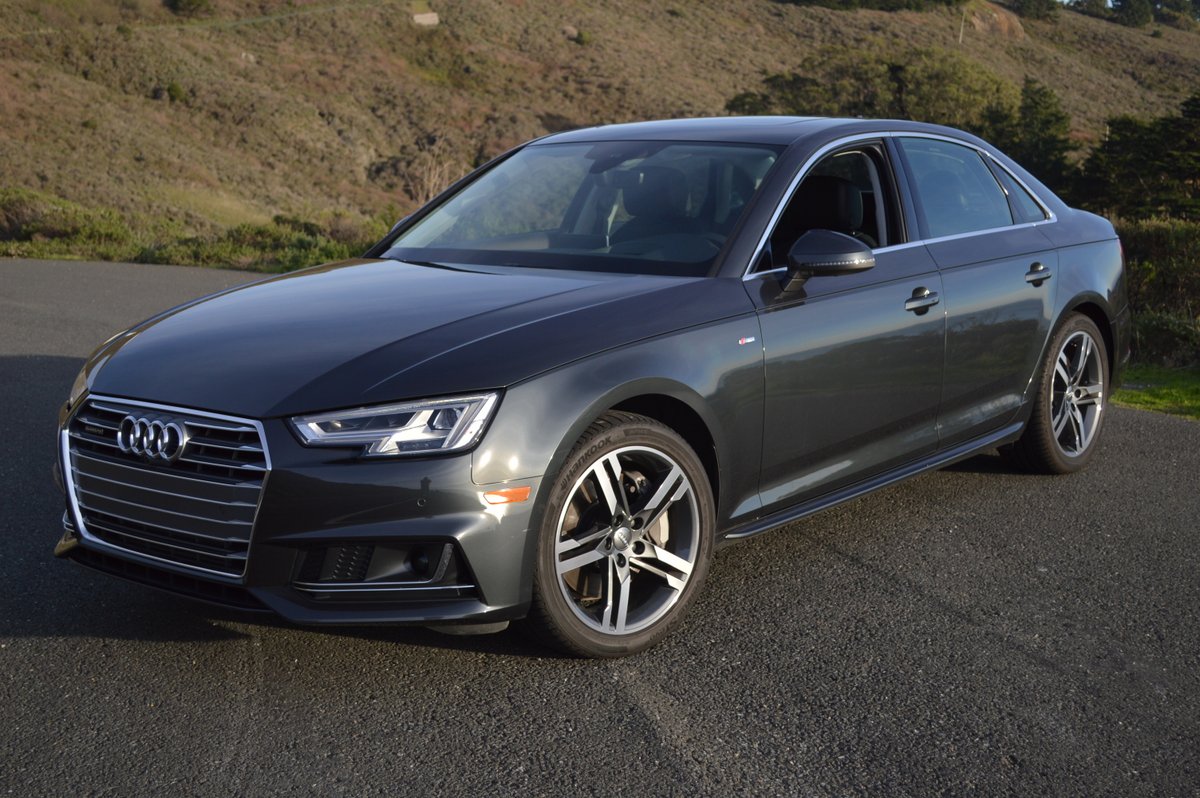 By David Colman
Hypes: Crisp, Responsive Handling, Bullet Motor
Gripes: MMI Unintuitive, DAP Unloved
Let's say you placed your coffee cup on your coffee table just so. You'd expect it to be where you left it the next time you reached for it, right? Of course you would. Such, however, is not the case with Audi's redesigned A4 when it's equipped with the $1,800 optional DAP, or "Driver Assistance package." When you place your A4 just so on the road, the "Steering Correction" component of the DAP takes control of the steering wheel as it redirects your Audi to its preferred position, not yours. Only brute force on your part will override this pre-programmed behavior.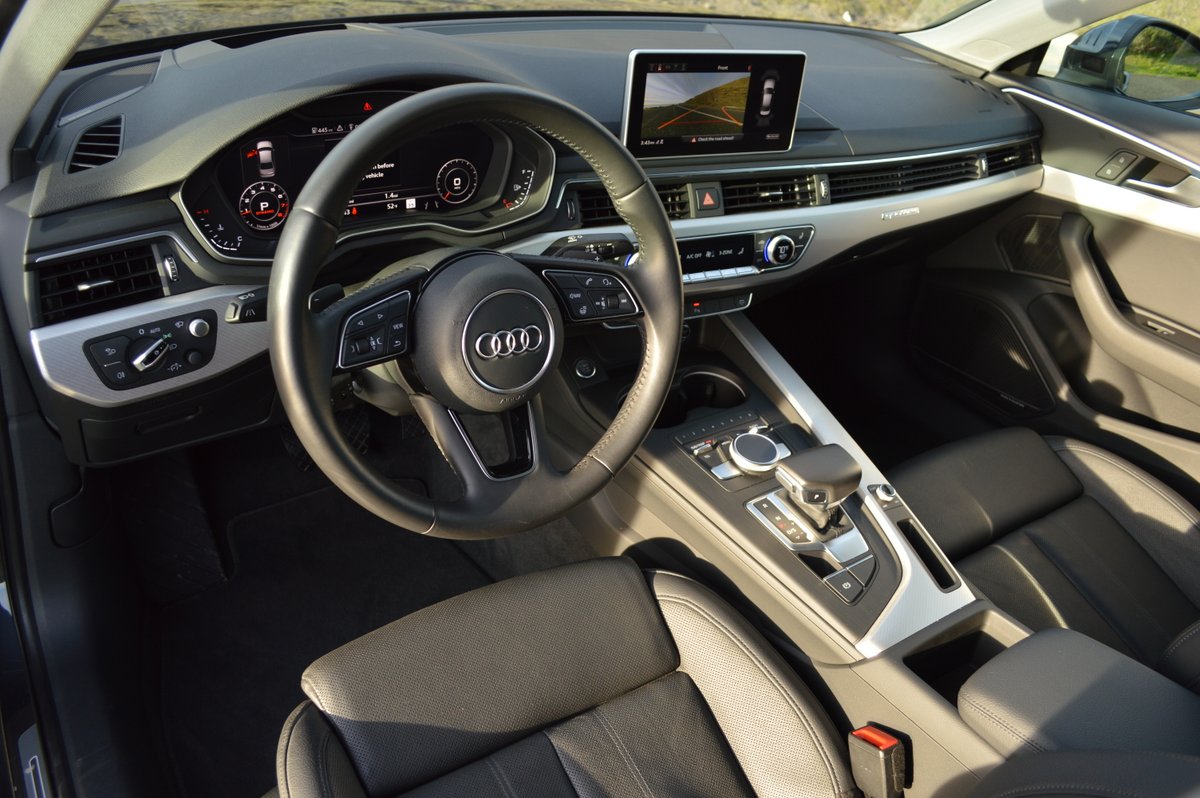 While such intervention would never be tolerated from children grabbing the steering wheel, the DAP-equipped A4 has been specifically designed to countermand your own driving inputs. While other manufacturers offering such haptic feedback allow you to delete the intrusion with a convenient touch of a knob, Audi makes no such provision in the A4. There is no simple delete knob for DAP. Rather, you need to search through endless menus and clicks of the overcomplicated MMI (Multi Media Interface) before you finally deduce that "Steering Correction" cannot be eliminated completely . The best you can do is chose "Early" or "Late" correction.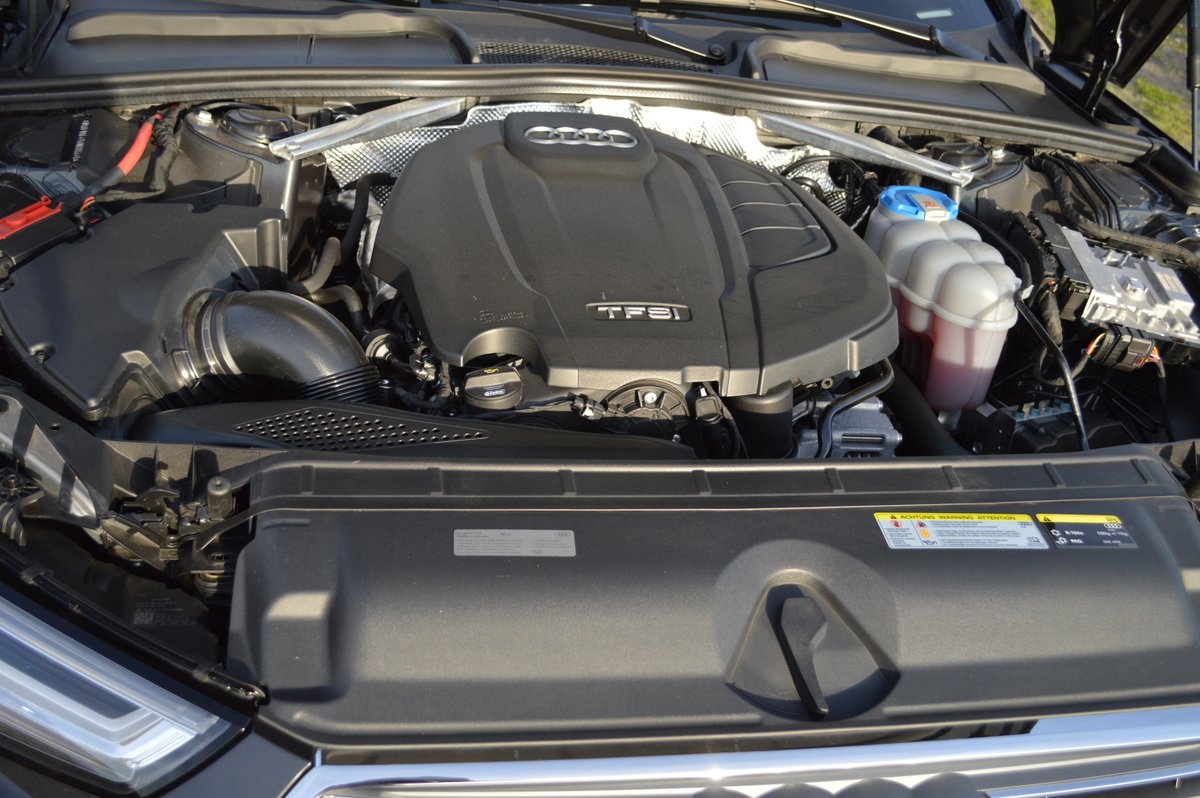 Of course, your best choice here is not to try and delete "Steering Correction" since you can't, but to delete the DAP package altogether. Then you'd have a really terrific, newly revised, built-in Germany, sports sedan at a very reasonable $52,475 price. Although this latest 2017 A4 may deceive you into thinking it's just a mild makeover of last year's model, the subtle redesign boasts a more powerful, 252hp 4 cylinder turbo engine, a lighter and stronger chassis, a more fashionable interior, and better overall fuel economy (27MPG). Setting safety nannies aside, Audi still knows how to construct a four door sedan that will have you thinking you're driving a two door, lightweight, high performance sports car like the company's TT. Recent magazine tests have pegged the A4 quattro's 0-60mph run at a scintillating 5.4 seconds, My own experience with this package proves beyond a doubt that you will never need more punch than this base model turbo 4 delivers – even though an optional 354hp twin turbo V6 is available. The reason the base motor is so successful is its lighter weight compared to the V6.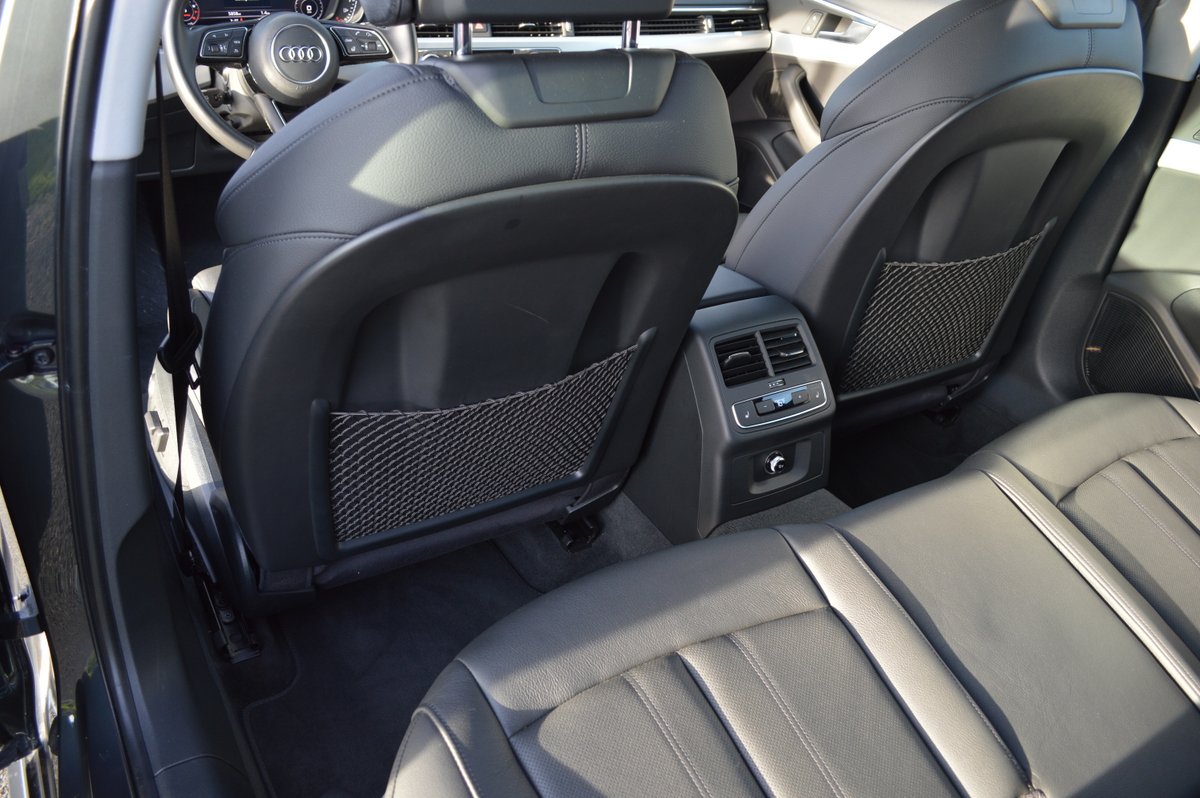 The nimbleness of this 4 cylinder quattro becomes apparent every time you enter a series of backroad curves. After you dial the appropriate gear choice into the 7-speed S tronic transmission, the sizeable Hankook Ventus S1 evo tires (245/40R18) take an immediate set as the A4 slithers through one directional change after another without lean, without squeal, without protest. Unlike its self-corrective behavior on the freeway, the A4 puts you and you alone in the driver's seat when challenging twisty roads. Our test sedan included an expensive but desirable $8,600 "Prestige package" which among many virtues upgrades wheels and tires from standard issue 17 inch alloys to special "18 inch 5-spoke Dynamic design wheels with contrasting gray." When shod with the Ventus tires, these striking alloy wheels transform both the looks and handling of the A4 into the upper reaches of sports sedan performance. The reason the Prestige package is so pricey is that it includes a bevy of other niceties: 3D Bang and Olufsen surround sound system, S line exterior trim, Head-up full color display, Audi MMI Navigation, and the all-new "Virtual Cockpit" which allows you to configure your instrument cluster to your liking.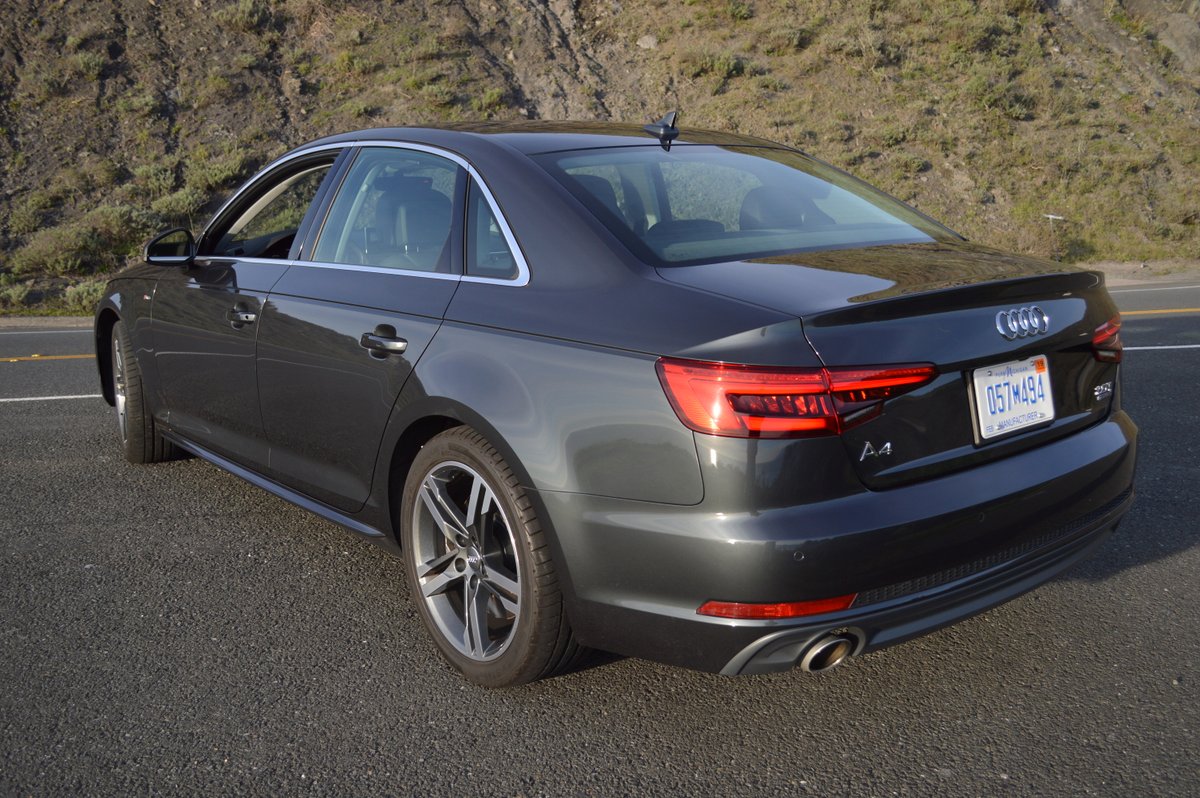 Disconcertingly, our sample A4 did not include a printed Owner's Manual. This proved to be a stumbling block despite the fact that Audi offers an abbreviated "Onboard Owner's Manual" which is hard to locate on the MMI system, of limited usefulness, and unavailable when the car is in motion. With a machine this complicated, a printed guide book is essential to full enjoyment. But to Audi's credit, once you do make your driving choices through MMI, your electives remain in force each time you restart the A4. For example, sporting owners like me will elect to operate the A4 in the "Dynamic" driving mode, rather than the available "Comfort, Automatic or Individual" settings. Thankfully, Dynamic mode remains in force every time you restart the A4. It may take you awhile to get there, but once you customize the A4 to your particular specification, you'll be very satisfied with the way the end product drives.
2017 Audi A4 2.0T Quattro S tronic
Engine: 2.0 liter TFSI inline 4, turbocharged
Horsepower: 252hp
Torque: 273lb.-ft.
Fuel Consumption: 24MPG City/31 MPG Highway
Price as Tested: $54,275
Star Rating: 8 out of 10 Stars
Related posts: