Hypes: Dynamic driving experience, Honda Goes Green with " Earth Dreams Technology"
Gripes: Sheeps clothing will disuade the ideal driver for this car
This car is fast. One could call it a BMW or INfiniti and the person behind the wheel will not be disappointed. It is just an exhilirating drivng experience in an unexpected package. The power and flexibility of this engine is impressive and the chassis can handle it. So color us impressed.
I spent most of my week in the new Accord driving around like a demented octogenarian with my right turn signal perpetually blinking to indicate a turn I never took. What, you may ask, prompted this bit of imbecility? Honda's new feature called LaneWatch. If you flick your right turn signal on, an incredibly clear, continuous picture of the road adjacent and behind your Accord displays itself in full color on an 8 inch i-MID (Intelligent Multi Information Display) screen on the dash. The LaneWatch camera, mounted beneath the passenger side exterior rear view mirror, affords a mesmerizing view of the world gone by. It's like watching a newsreel of your travel unfold at the instant it's happening. Of course, Honda provides it, not as entertainment, but rather as a useful safety device to keep you informed of traffic patterns and help you avoid collisions when changing lanes.
What I didn't realize until after my week in the Accord was nearly up: you can simply depress a button on the end of the turn signal stalk to activate LaneWatch without signaling for a right turn. I'm not sure why there was no provision for a left side LaneWatch, but as it stands the right side only monitor is one of the most udeful safety advances devised in the last decade. But it's just one hors d'oervre in the tasty feast that Honda has whipped up for the 2013 Accord banquet. For a base price of $25,405, the EX offers a lot of family sedan for the money.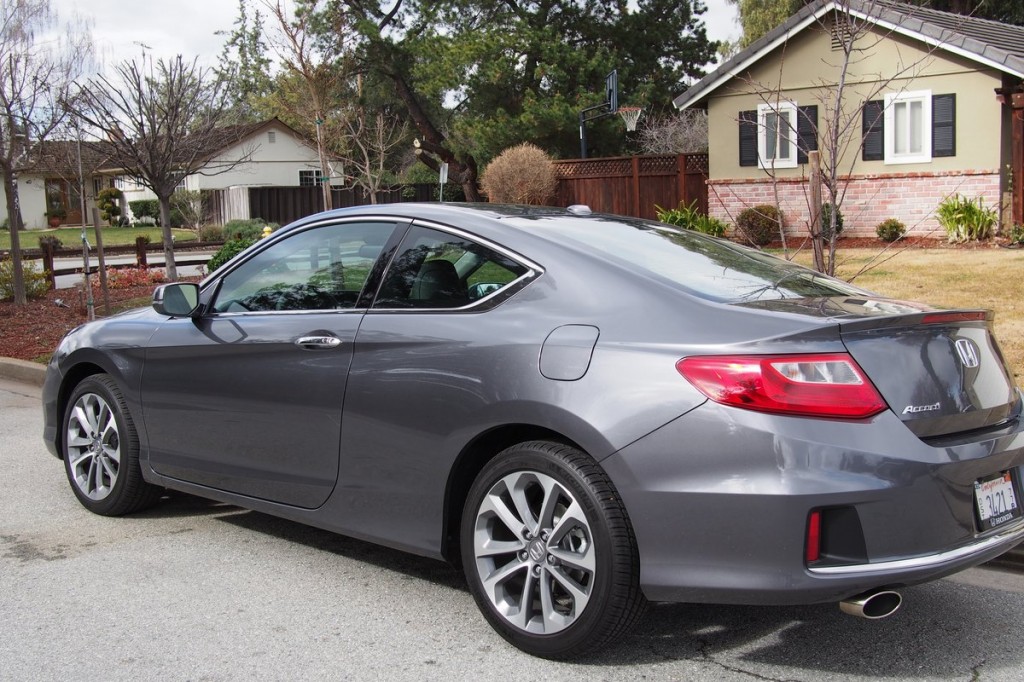 Starting under the hood, you'll find a willing performer in the gas miser 2.4 liter inline four. Direct Injection is new for 2013, an improvement that ups horsepower to 185hp (from last year's 178), and torque to 181 lb.-ft. (from 161). Even when saddled with the vagaries of the belted CVT automatic gearbox, the Accord jumps smartly to attention when prodded with the accelerator. If you select Sport Mode from the floor mounted CVT lever, the Accord picks up an instant 1000rpm which eases passing anxiety considerably. This velocity increase is unfortunately accompanied by a hellish racket from the intake and exhaust systems that underlines just how hard the four banger is straining to get the job done. You will be thrilled at the mileage, however, which pays off with an overall combined rating of 30MPG.
For a family sedan with four full-size doors, and a spacious and comfortable back seat, backroad handling is beyond respectable. Throw the EX into a series of bends, and you'll be amazed at just how well balanced and competent the twin anti-roll bar equipped suspension system is. The new Accord corners flat. Information passed through the steering wheel is accurate and encyclopedic. To look at the wheel and tire fitment – which consists of 7.5" x 17" alloys rims mounting all-season Michelin MXMV4 215/55R17 tires – you wouldn't give the EX much of a chance of success on a twisty road. The truth, however, is just the opposite. On a light traffic, mid-week run from Mill Valley to Point Reyes Station, this Honda proved itself to be agile, quick and confidence-inspiring. The steering wheel could do with a thicker rim, and the front seats are deficient in side bolstering. But the chassis dynamics are spot-on.
This is the 9th version of the Accord that Honda has offered in the 30 years they've been building this model in the USA. While it may look little different from version 8, it is deceptively improved. Lighter and dimensionally smaller on the outside, the new EX is inexplicably more spacious in terms of headroom and shoulder room on the inside. If you're looking for a sedan in the mid-$20K range, you need to consider this latest Honda before making any final decision.
Specifications
VEHICLE TYPE: front-engine, front-wheel-drive, 5-passenger, 2-door coupe
PRICE AS TESTED: $33,140 (base price: $31,140)
ENGINE TYPE: SOHC 24-valve V-6, aluminum block and heads, port fuel injection
Displacement: 212 cu in, 3471 cc
Power: 278 hp @ 6200 rpm
Torque: 252 lb-ft @ 4900 rpm
TRANSMISSION: 6-speed manual
DIMENSIONS:
Wheelbase: 107.3 in
Length: 189.2 in
Width: 72.8 in Height: 56.5 in
Curb weight: 3399 lb
C/D TEST RESULTS:
Zero to 60 mph: 5.6 sec
Related posts: