By David Colman
Hypes: Svelte Shape, Comfy Front and Rear Seats
Gripes: Odd Gear Change, No Owner's Manual
This new model represents an amalgamation of two previous Acura models, the TL and the TSX. The TL was Acura's affordable techno deluxe sedan, while the TSX represented entry level Acura ownership in a sporty package. The new TLX does a good job of combining all those virtues in one unit. You can select the base model with a 2.4 liter inline 4 cylinder engine of 206hp, and a starting price of $32,000. This engine produces just 182lb.-ft. of torque, but maximizes thrust through an 8 speed twin clutch semi-automatic gearbox. Unfortunately, the manual transmission formerly offered on the TSX is no longer available. At the other end of the price spectrum is the TLX we spent a week testing. This one stickers for $45,000. The extra investment buys you all-wheel-drive, and a 3.6 liter V6, mounted sideways in the front engine compartment. This 290hp engine produces 267lb.-ft. of torque and drives through a 9-speed automatic that rivals most bicycles for gear selection range.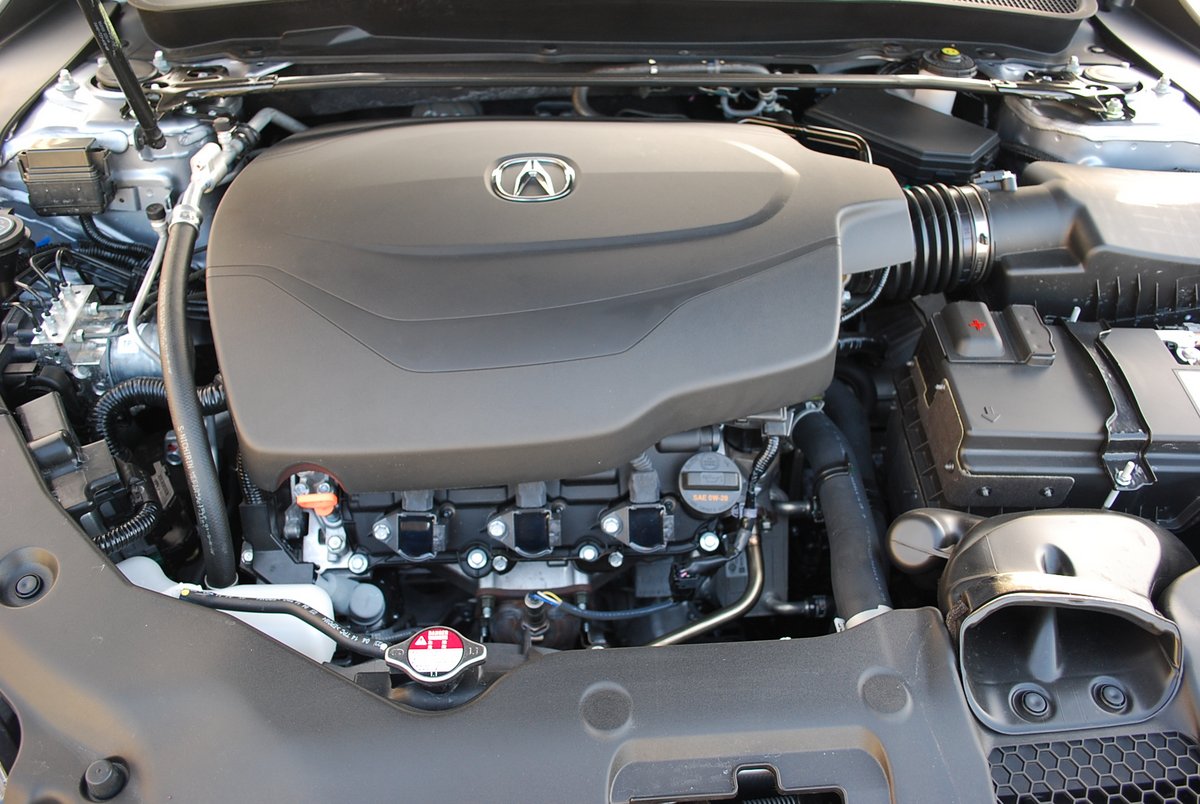 Acura's tight packaging of the TLX invests it with very short overhangs front and rear. Although the grill retains Acura's trademark chrome V-Blade, an array of 10 LED headlights distinguishes the front end from any previous Acura. The tightly wrapped sheet metal skin makes the TLX look tauter than a Cross Fit champ. Our top model bumps alloy wheel size up from 17 to 18 inches. These handsome pewter finished rims carry Goodyear Eagle LS2 tires measuring 225/50R18 at each corner. The all-wheel-drive (AWD) model we tested features super handling (SH) tweaks, so you'll find an "SH-AWD" emblem on the trunk. Turn-in is crisp and predictable, steering feedback reassuringly accurate, and handling quite well contained. The all-season Goodyears are the weak link in the adhesion chain, combining early breakaway with significant tire squeal.
Climbing into the TLX cabin, the first think you notice are the ribbed floor mats which give a dimension to black rugs rarely seen. Between the front seats, you'll find a curious "Electronic Gear Selector" that is a challenge to master. There's a large round button marked "D" which engages "Drive" when pushed, as long as your foot's on the brake and the TLX is at a complete stop. A few inches forward is a small square button marked "P" for Park, and between P and D you'll find a mark for "R" but no button. Rather, to engage R you'll need to slide a ribbed switch rearwards. This whole gear engagement system is counter intuitive and perplexing. Every time you seek to change direction, you need to study the puzzling layout on the console yet again. For those of you with sporty inclinations, Acura does include small paddles on the steering wheel for manual up and down changes.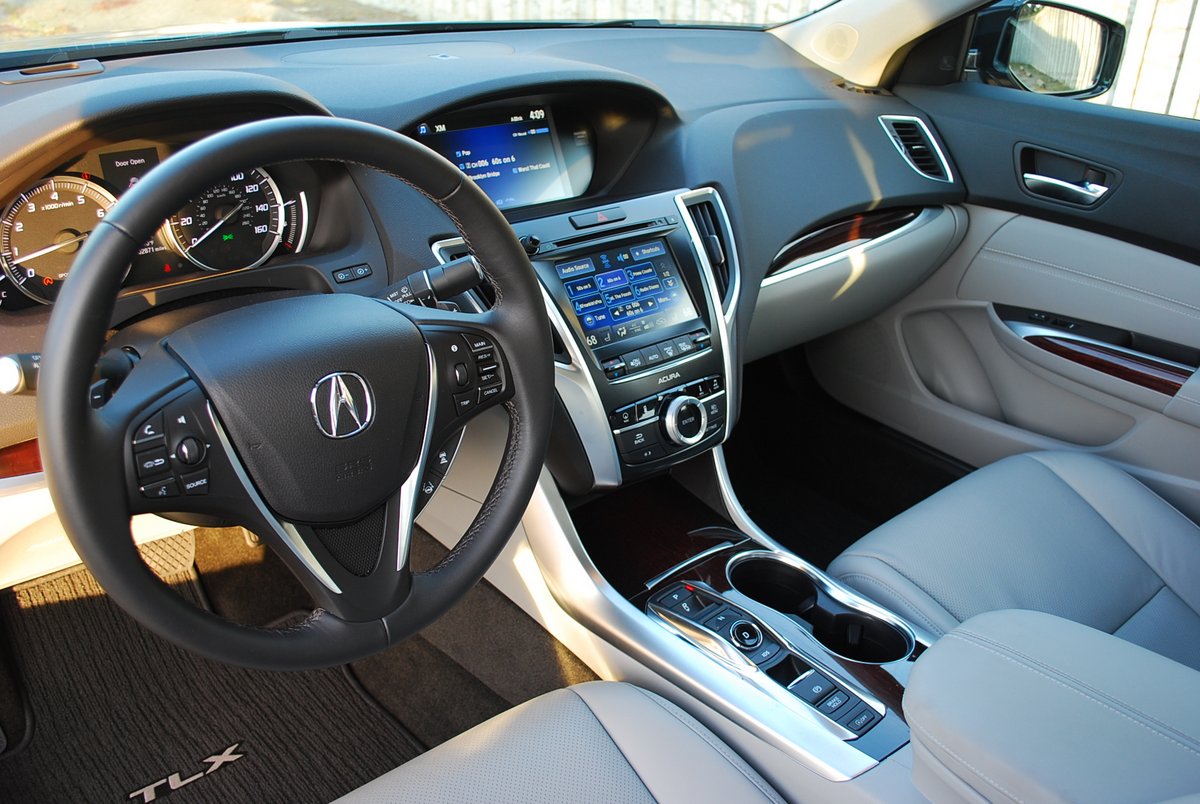 In keeping with the technological prowess of the discontinued TL model, the TLX offers a bevy of safety nannies like lane keeping assist, lane departure warning, front collision warning, blind spot monitoring, and radar assisted cruise control. You can tailor all these functions to your specific profile by using a large central joystick knob that covers everything from seat heaters to lane departure beeps. The one annoyance I could not manage to eliminate was the automatic sliding driver's seat entry "feature", which went unmentioned on any menu I could find.
Believe it or not, you don't get a proper Owner's Manual with your new $45,000 Acura when you buy this car. Instead, you receive an abbreviated, 143 page "Owner's Guide" whose introduction states "This guide is not intended to be a substitute for the Owner's Manual." Should you seek that elusive document, you discover Acura provides it only in CD form, which they point out "can be printed for your reference" by you. Best of all, the "Owner's CD" is prominently labeled "Not for in-vehicle use." We inserted it into the CD slot in the dash, and sure enough, the car spit it back out at us. Oh, they do offer to provide you with "a complimentary printed copy of the Owner's Manual, Navigation Manual, Vehicle Warranty and Consumer Information Book, but only "if you are the first registered owner of your vehicle."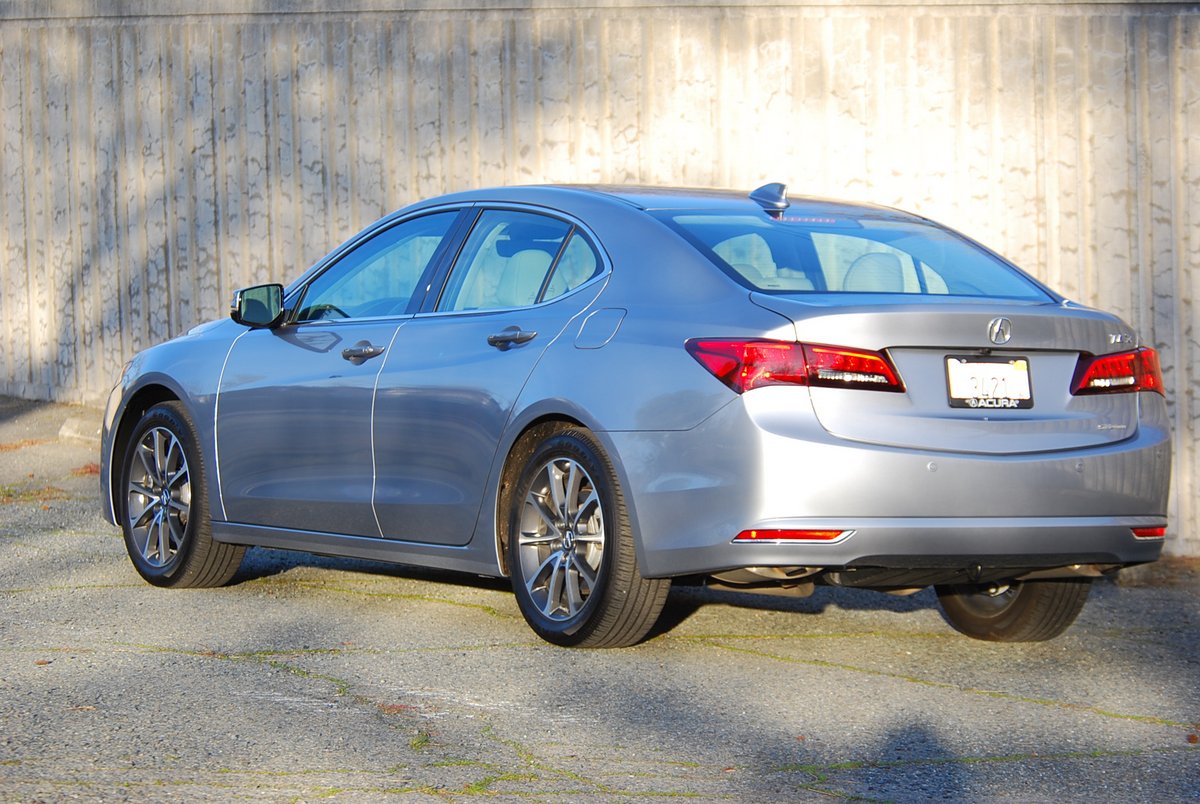 Acura is making a major effort to race the TLX in SCCA's Pirelli World Challenge Series. After a rather unsuccessful debut in 2014, they will field a 2 car team in the top category of the series in 2015. This entry features a twin turbo version of the V6 used in the production car. If Acura decides to offer a production version of this turbo engine TLX, BMW and Audi owners will be looking in their mirrors for a chrome bladed V.
2015 Acura TLX
Engine: 3.5 liter V6, SOHC, 24 valve, VTEC and Variable Cylinder Management
Horsepower: 290hp
Torque: 267lb.-ft.
Fuel Consumption: 21 MPG City/31 MPG Highway
Price as Tested: $45,595
Star Rating: 8.5 out of 10 Stars
Related posts: