Hypes: Sleeper Performance Sedan
Gripes: Lose the Console Mouse
Before checking the specification sheet on this GS sedan, I drove it for several days without realizing its motor has 4 rather than 6 cylinders. Does the idea of a $50,000 luxury sedan without at least 6 cylinders seems unacceptable to you? My positive experience with the GS200t guarantees you too won't notice the loss of 2 cylinders insofar as performance is concerned. Aside from a slight turbo-induced hesitation when you mat the throttle, the 200t accelerates with enough grunt to fulfill your every need. Without being showy about its performance, the 200t is a competent high performance car, with an unexpectedly strong turbo motor abetted by great all independent suspension tuning and exceptional tires. Please note that for 2018, Lexus is changing the designation of this sedan from GS200t to GS300 RWD.
Where you might notice another advantage of owning a 4 cylinder Lexus is fuel mileage. Where V6 powered GS sedans return 21MPG overall, the 200t squeezes 26MPG overall out of every gallon. In part, that efficiency is due to use of an 8-speed automatic transmission which maximizes thrust and minimizes fuel flow by using more gear ratios than your old bicycle had. The operation of this transmission is flawless. It intuitively selects the optimum ratio for a given occasion without hesitation or jerkiness. Better yet, if you decide to do a little micro gear management yourself, you can use the 2 supplied steering wheel mounted paddles to accomplish shifts of your own choosing. If you leave the floor stick in Drive, you can still make up and down shifts with the paddles. After a short time, the transmission will return to its fully automatic function in Drive. If you desire complete gearbox control, simply slot the floor stick into its Manual Mode quadrant, and tap all your shifts through the paddles. The beauty of this 8-speed is that it will never void your commands by up shifting on its own when in Manual Mode.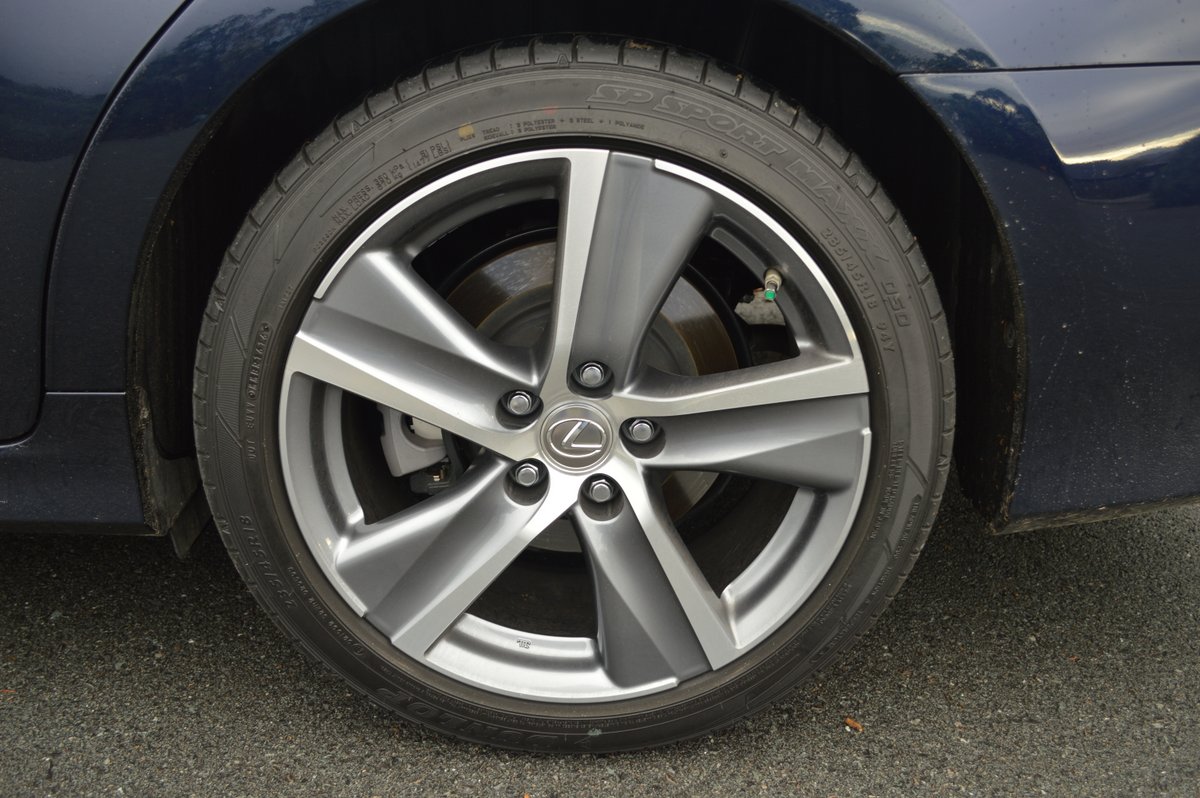 The final component that differentiates this unassuming looking sedan from more prosaic transportation is tire choice. The base model 200t comes with 17 inch alloys mounting 225/50R17 tires. But our test model 200t boasts super sticky Dunlop Sport Maxx 050 rubber measuring 235/45R18. mounted on gun metal gray, 5-spoke alloy rims. This tire/wheel combo will set you back an extra $905. If you've ever priced wheel or tire upgrades in the aftermarket, you will know that $905 is a sensational deal for what Lexus offers on the 200t. Note the sticker Lexus placed on the rear passenger window which reads in part, "this car is equipped with high performance tires that may experience less than 20,000 miles." While that caveat may ring true, the enhanced driving quality of those miles will more than compensate for the Dunlops' quicker tread wear.
It may seem odd to spend so much time detailing the driving dynamics of this sleeper of a high performance sedan. After all, isn't Lexus renowned for its top drawer luxury and build quality? Make no mistake, both of those attributes elevate this modestly priced (Base: $46,310) sedan into the top echelon of luxury cars. As soon as you climb into the 200t's restful environ, you immediately notice that the steering wheel tilts obligingly up, that both perforated leather front seats feel like they were specifically molded to your personal contours, and that the layout of the dashboard is almost Zen-like in its simplicity. While you can't always depend on a Japanese branded car being built in Japan, this Lexus was constructed at the Toyota factory in Aichi, Japan. The interior stitching and leather work here is impeccable, with perfect door closure feel, understated dash face trim in "Striated Black," and enough luxury touches like heated and ventilated front seats to make you wonder how Lexus can afford to cram so much content into such an economic package.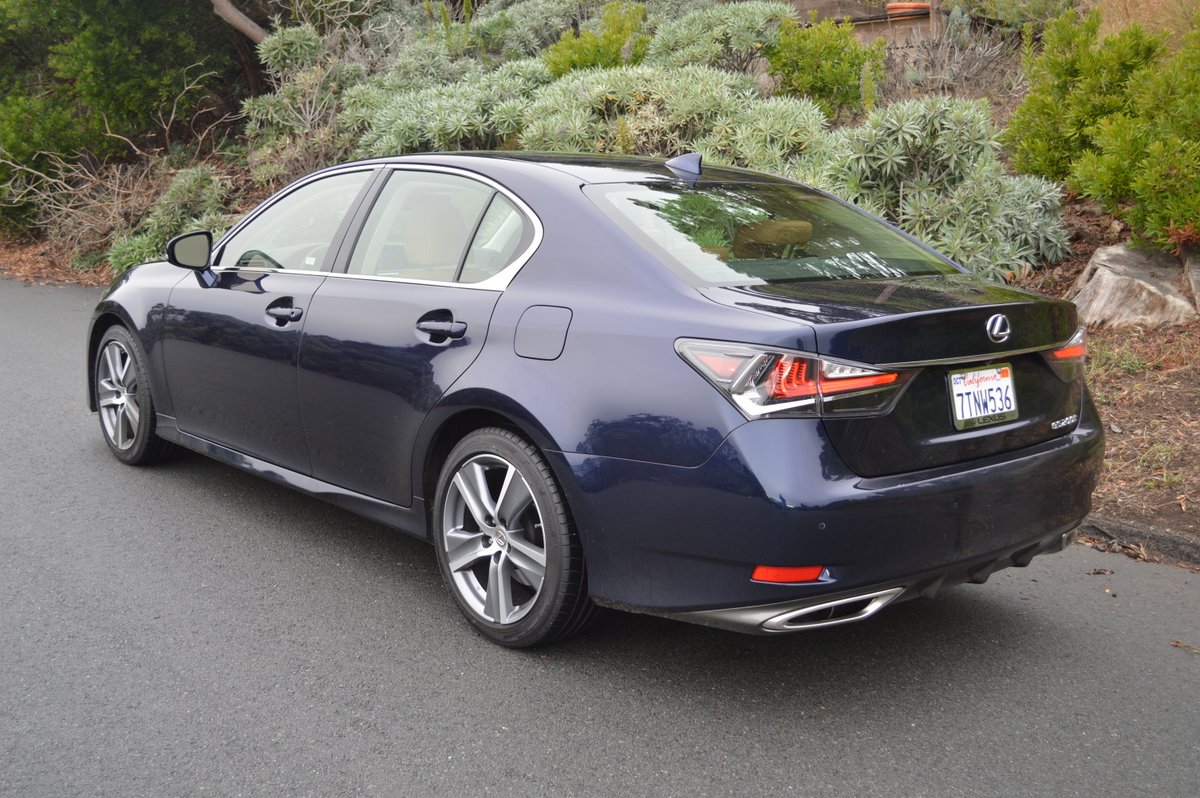 Well, surely there must be something to quibble about in the 200t? That would have to be the rather unnerving simulated computer mouse that occupies the console between the front seats. This is definitely a work in progress. When you're driving, you need to steer clear of it because operation of the mouse requires you to divert too much attention from traffic to the 12.3 inch screen atop the dash. Even when using this mouse from the passenger position, the operator will be hard put to maneuver and click the mouse on the sought after setting. But this singular non-Zen experience is in complete contradiction to the GS200t's otherwise ethereal beauty of operation. At a total price of $50,070 (with $1,380 of Mark Levinson stereo and $1,730 for Navigation), the GS 200t (soon to be GS300 RWD) has got to be the best buy of the entire Lexus model range.
2017 Lexus GS200t 4-DR
Engine: 2.0 Liter In-line with Twin Scroll Turbocharger, Direct and Port Injection
Horsepower: 241hp
Torque: 258lb.-ft.
Fuel Consumption: 22MPG City/32MPG Highway
Price as Tested: $50,070
Star Rating: 9 out of 10 Stars
Related posts: