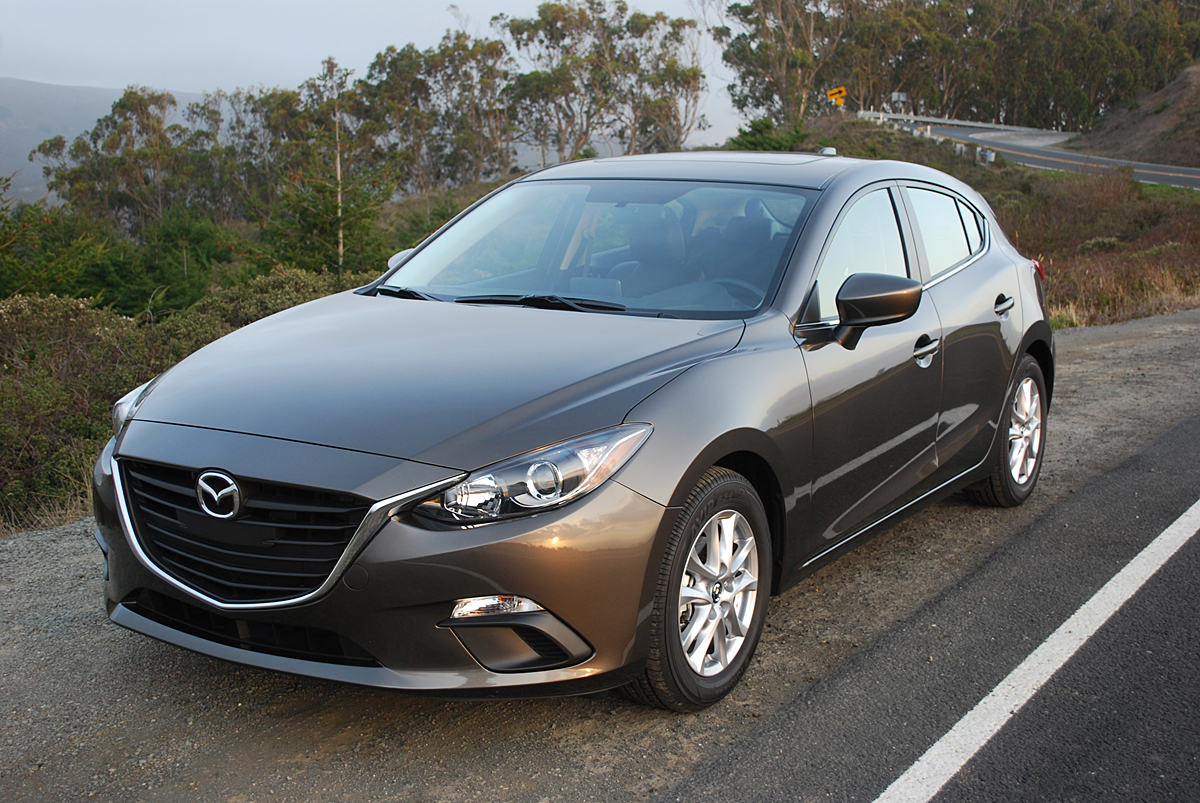 By David Colman
Hypes: Responsive and Planted Handling, Loads of Standard Attributes
Gripes: Minuscule Tachometer Face
Those who lament the recent passing of Mazda's sterling sports car, the RX8, will be thrilled to know that its sporting DNA lives on in the all new, third generation, 2014 Mazda3. No, this affordable sedan (Base price: $23,245) is not powered by the RX8′s iconic rotary engine. You'll know that the second you check the fuel consumption figures for the Mazda3: 33 MPG overall — a figure the thirsty rotary could never dream of matching. Yet the "SKYACTIV-G" 2 liter engine in the sedan winds to its impressive redline of 6000 rpm with such alacrity that you'd swear a rotary power plant was lurking somewhere under the hood.
Likewise, this fully functional 5 passenger sedan manages to mimic the nimble handling of the departed RX8. In GT form, the 3′s attributes include such corner carving essentials as independent front and rear suspension, four wheel disc brakes, electric power assisted rack and pinion steering, and 16 inch alloy wheels shod with sticky Yokohama Avid 834 tires (205/60R16). Of course, the 3 is so innocuous looking that you'll never have to share your Mazda's secret sports car inclinations with anyone else. Except for the fully integrated and well disguised roof spoiler, you'll find none of the clues typical of a high performance package: no low profile tires, no bulging fender wells, and most certainly, no stripes, or taping. Only dual chromed exhaust pipes make a slight concession to showiness. Otherwise, the long list of eliminations renders the new 3 perfect for fast motoring without drawing undue attention to itself. In view of the fact that Mazda bills itself as the Zoom-Zoom car company, the new 3 upholds the expectations of long time marque loyalists in every way.
The reason Mazda has sold more than 3.5 million versions of the 3 since it was introduced in 2004 is value. Even at this economic price point, our test car contained the following impressive list of standard features: keyless entry, moonroof, heated front seats, 7 inch color touchscreen display, navigation system, halogen headlights, and HD Radio as well as SIRIUSXM radio. The list of standard driving aids is equally lengthy, and includes dynamic stability control, traction control and hill launch assist. this last feature was particularly appreciated when starting our 6-speed manual transmission Mazda3 on inclines. Since the sleek profile of the 3 impedes rear 3/4 vision, the standard rear view camera and cross traffic alert serve as welcome safety inclusions. You don't even have to check your tire pressures regularly because this Mazda does it for you every day thanks to its standard tire pressure monitoring system.
The 3′s level of fit and finish belies its low price. The leatherette trimmed front sports seats are supportive enough to cope with the considerable side loadings developed by the suspension. The driver's seat is 6-way power adjustable, with manual lumbar control. The rear bench seat folds in a 60/40 pattern, and includes a drink-holder center armrest. The rear door design is so sleekly integrated into the car's flowing lines that the 5-door 3 looks more like a coupe than a utilitarian hatchback. If you enjoy driving a responsive vehicle but need to keep your purchase practical, the new Mazda3 is an ideal choice.
2014 Mazda3 5 Door GT
Engine: 2.0 liter DOHC inline 4
Horsepower: 150hp @ 6000rpm
Torque: 150 lb.-ft. @ 4000rpm
Fuel Consumption: 29 MPG City/40 MPG Highway
Price as Tested: $24,335
Star Rating: 9.5 out of 10 Stars
Related posts: