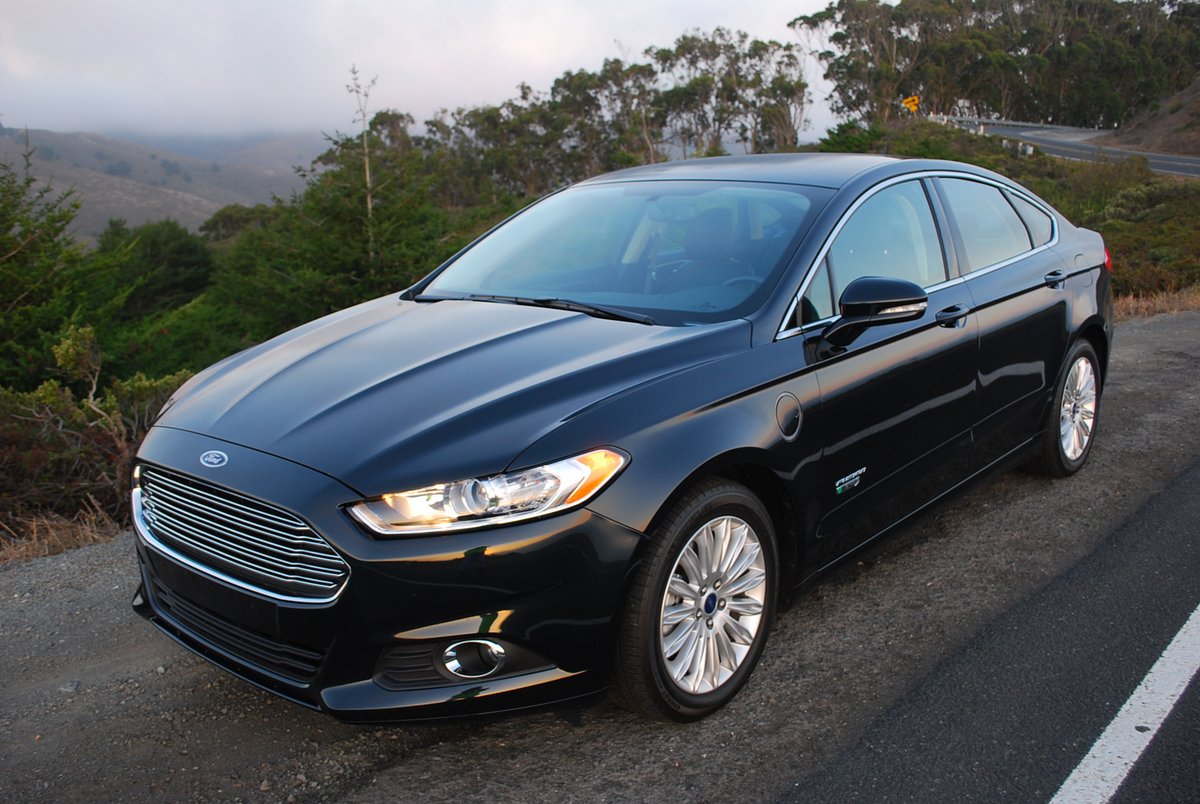 By David Colman
Hypes: Solid Power Team, Efficient Use of Space
Gripes: Vague Steering Feel, Ergonomic Cabin Issues
Through the first third of 2014, Ford has sold 72,746 Fusions. That accomplishment places the Fusion fourth in the mid size market segment, behind Nissan's third place Altima, Toyota's second place Camry and sales leader Honda's 112,100 Accord sales. The Fusion may lag the imports, but it is a rousing success compared to other domestic brands like Chevrolet's Malibu (43,101 sales), Dodge's Avenger (25,068) and Chrysler's aging 200 (21,648). The reason for Fusion's strong showing lies in its appearance, value, and diversity of models. Let's start with looks, because that's the first sales hook you'll encounter. Ford blatantly emulated the grill silhouette of Aston Martin's $300,000 DB-9 to distinguish the Fusion from anything else in the mid size segment. The Ford's high belt line also mimics the Aston's tall side/squat greenhouse proportions. The result is a very handsome product from Ford that rings the styling bell with cues borrowed from Aston's James Bond closet.
The value facet of Fusion ownership manifests itself in the wide variety of affordable combinations Ford offers. No fewer than 9 different models are available for 2014, ranging in price from the FWD S at $21,900 to the Titanium Energi at $40,500. You choose from 4 different engine options, FWD or AWD, plus 2 plug-in hybrids designated SE and Titanium. The Energi (Hybrid) SE that is the subject of this review carries a base price of $36,700. With the addition of a $295 Reverse Sensing System and a $795 Navigation System, this Fusion SE's delivered price is $40,585.
If you choose a Hybrid Fusion, you will lose considerable trunk space compared to a gas powered model. The high energy battery pack occupies a substantial section of the trunk floor, leaving you just a little flat storage area before the floor steps up sharply to house the battery and electric motor components. Note that although your warranty will cover all Energi system bits for 15 years or 150,000 miles, the high energy battery warranty is limited to 10 years or 150,000 miles. Since this Hybrid is only capable of covering 21 miles before its battery charge expires, the trunk space trade-off would seem to pose a considerable deterrent to selecting a Hybrid Fusion. An SE with gas motor only retails for just $23,855, and comes with an unobstructed and spacious trunk.
But the beauty of this Hybrid lies in its virtually undetectable transfer from electric to gasoline mode when underway. Whereas most such combo cars let you know quite clearly and noisily when switching from electric to gas power, the Fusion transfers energy source quietly and seamlessly. Under full electric power, it proved so quiet that we were able to sneak up on a bobcat hunting in the wild without alarming the cat. An idling gas engine would have instantly driven this cat into the bushes. So there are unanticipated blessings when running silently on electricity. Another Hybrid virtue is the shot of thrust the electric motor provides when you flatten the throttle. The 2.0 liter gas engine which normally provides 141hp and 129 pound-feet of torque, links up with the electric power source which adds 118hp and 117 pounds of its own torque. That's more than enough surge to spring past slower traffic on two lane roads, or slot into a 70mph freeway pattern without worry. Best of all, you'll do so while averaging 43 MPG in overall driving. If you restrict your Fusion outings to electric power only, you'll register 100MPGe. As far as the Energi's Greenhouse Gas Rating, it scores a perfect 10 out of 10 on the EPA/DOT barometer, and a 7 out of 10 on the Smog Rating scale.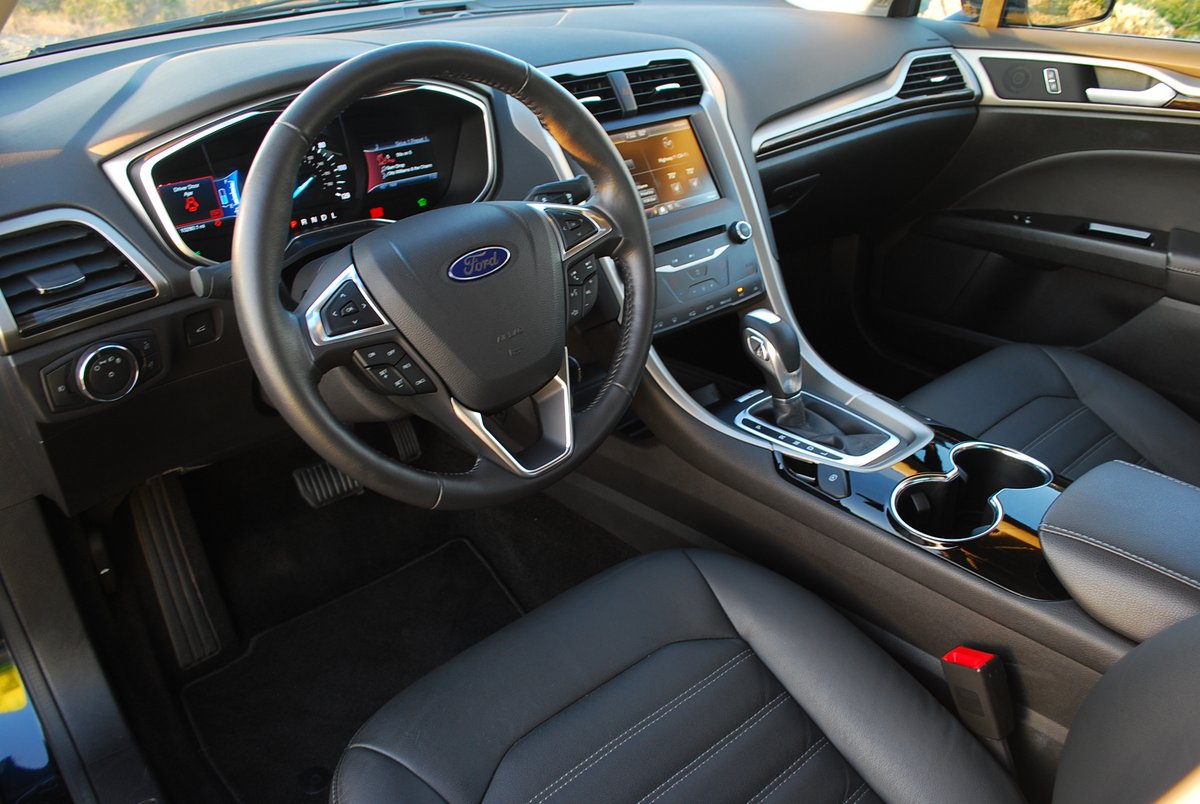 Unfortunately, Ford equips the Energi SE with rock hard (Treadwear Rating: 430) Michelin Energy tires (225/50R17), that lose grip at the least provocation on twisty back roads. Because this sedan is otherwise so well balanced and sensitive to steering input, the Michelins detract from an otherwise pleasant handling package. If you replace them with something stickier, you might sacrifice a few MPG in favor of improved adhesion. It's a move well worth making.
Learning to love the Fusion is easy because the interior is so well designed. In SE trim, the driver's seat is heated and offers 10 power adjustments as well as 3 memory positions. The other front seat is also heated, with 4 power position controls. The rear seat is surprisingly comfortable for long trips. I spent several hours in back, comforted by a large center armrest containing 2 drink holders, and a pair of small, floor-mounted AC vents with adjustable nozzles. the only rear seat demerit stems from the Fusion's high beltline and small windows, which tend to induce claustrophobia and motion sickness if you enjoy reading while riding.
Ford's Fusion is leading domestic mid size sales because it looks good, rides well and offers a wide variety of combinations and price points. The Energi SE is one of a handful of Hybrids that's not only economical to run, but also fun to drive.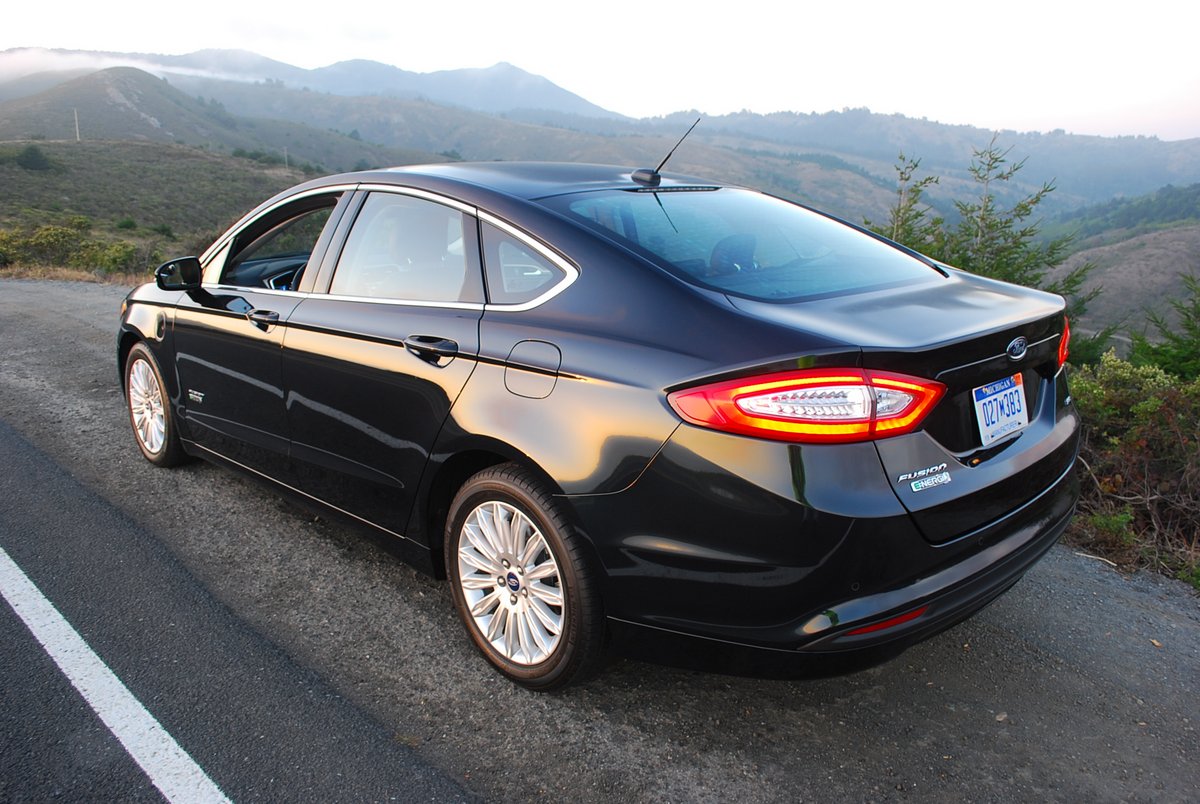 2014 Ford Fusion Energi SE
Engine: 3.5 liter DOHC V6 with VVT-I, plus Electric Motor
Horsepower: 270hp
Torque: 280lb.-ft.
Fuel Consumption: 27 MPG City/ 28 MPG Highway
Price as Tested: $50,875
Star Rating: 8.5 out of 10 Stars
Related posts: