By David Colman
Hypes: Impeccable Build Quality, Exceptional Utility
Gripes: Sluggish Throttle Response, Wide Spacing of Lower Gears
The 328d diesel powered wagon is something of a conundrum. It enjoys the trappings of a sport focused offering, yet doesn't ultimately live up to the flamboyant promise of its appearance. With a base price of $42,950, it carries a reasonable premium of just $1,500 over that of the $41,450 petrol powered all-wheel-drive wagon. A quick gander at our diesel's specification sheet would lead you to think that this wagon has everything it needs for quick travel, M Style. Start with the attention grabbing azure paint. Of the 13 wagon colors available this year, our test vehicle's Estoril Blue Metallic finish ($550 extra) is the only one of the baker's dozen limited solely to use on M Sport equipped wagons.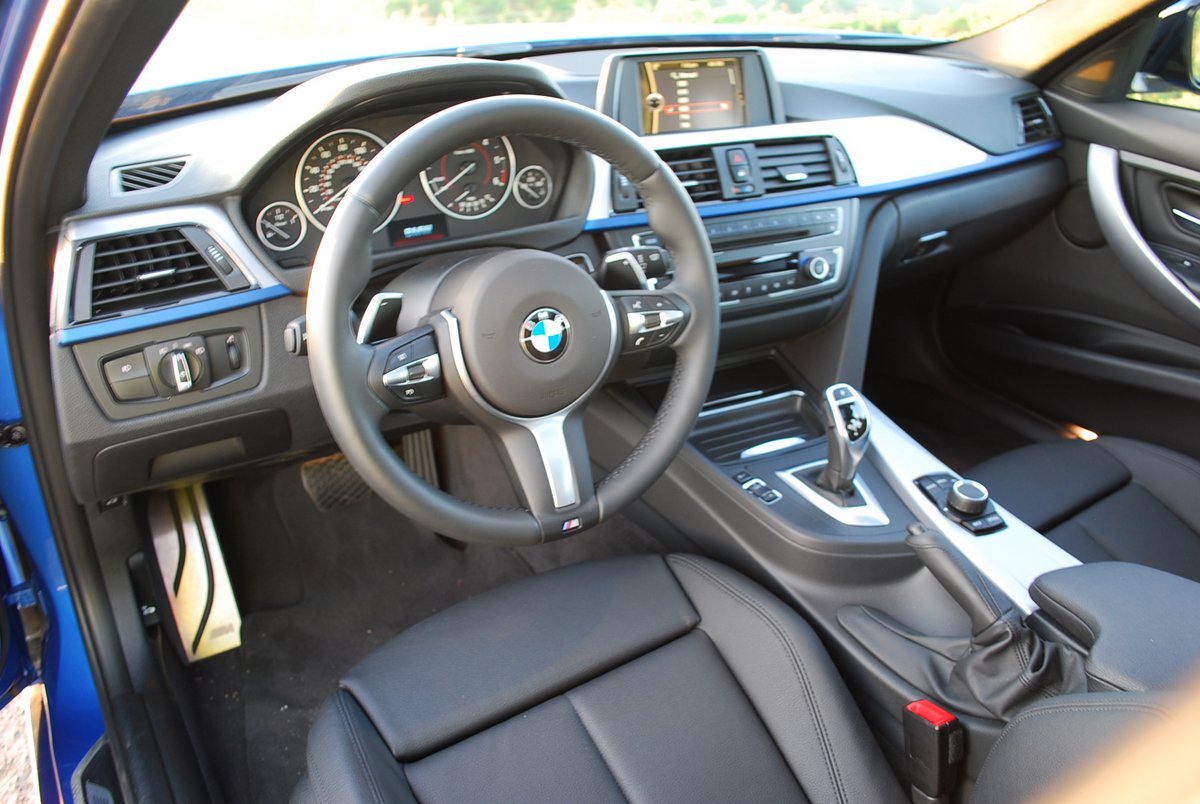 A $3,580 M Sport group adds 18 inch model specific wheels, sport seats, aluminum hexagon interior trim, anthracite headliner, M steering wheel, aerodynamic exterior refinements and shadowline trim. The SensaTec seat material feels enough like leather to make you forego the $1,450 up-charge for Dakota Leather. Another $1,000 brings adaptive M suspension and variable sport steering. For a comparatively modest outlay of $49,275, this is the sportiest diesel wagon you can buy from BMW.
The wagon's handling is faultless. The all-wheel-drive (xDrive) system allows the all weather Pirelli P7 tires (225/45R18) to secure such a tenacious pavement purchase that you hardly ever need resort to BMW's standard Dynamic Stability Control or Dynamic Traction Control. The balance and poise of this 3 Series platform encourages you to explore its handling attributes by switching the M Sport's Driving Dynamics Control into the "Sport+" setting. Sport+ eliminates Dynamic Stability Control from the handling equation, thus allowing you to experiment with adhesion limits. You never entirely forget that with its weight distribution split of 48.7% f/51.3% r, this all-wheel-drive wagon has slightly more tail to wag than any other 3 Series offering.
But xDrive's full time all-wheel-drive traction helps overcome that rear weight bias. This BMW accelerates through switchbacks effortlessly. Never so much as a chirp of protest is heard from the scrabbling Pirellis. Instead of losing speed through chicanes, the wagon maintains its footing and composure better than you do. With its comparatively low center of gravity, the 328d upholds the concept of sports driving better than any jacked up BMW Sports Activity Vehicle. And best of all, you pay only a 10 pound weight penalty for selecting xDrive over rear-drive (3,790 pounds vs. 3,780 pounds).
The performance conundrum's negative facet reveals itself when you toe into the diesel, expecting acceleration to match the explicit handling. Most of the time, you don't get it. One of the most disconcerting drawbacks of the diesel is its reluctance to respond to your toe the instant you floor the throttle from a standing start. Although BMW's lists a 0-60mph time of 7.6 seconds for the 328d xDrive, you'd be well advised to avoid maneuvers that require instant engine response. On the other hand, one of the main attractions of diesel motivation is stellar fuel consumption. In this regard, the 328d posts gratifying EPA numbers: 31 MPG, city, 43 MPG versus highway. The combined city/highway figure is 35 MPG, and cruising range is 645 miles with a 15 gallon tank.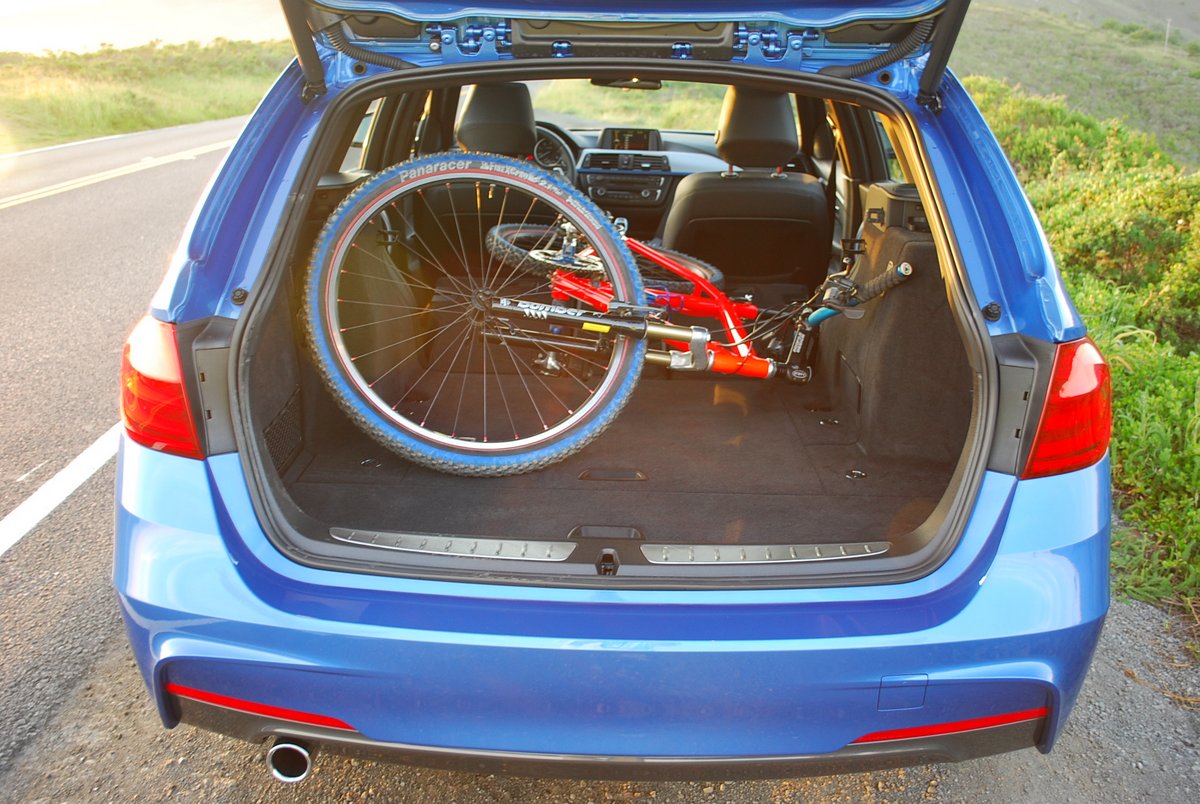 Another enticement is the aft cargo area, which offers multiple storage options. This wagon will allow you to slip a fully assembled bicycle into the cargo hold. All you have to do is drop both rear seats flat, remove the net partition and cargo cover struts, and you have unimpeded access to 53 cubic feet of storage space. The standard power operated hatchback door eases loading chores, as does the tailgate's separate flip open rear window.
Normally overlooked back seat passengers will rejoice in the comfort of conveyance here. The rear seats are well contoured for long journeys. A drop down central armrest serves as a double drink caddy, while both front seat backs contain storage pockets with netting. Floor mounted rear ventilation ducts allow for individual climate tailoring, separate reading lights illuminate each outboard position, center seat belt receptacles store out of the way when unneeded, and rear windows retract fully into the doors.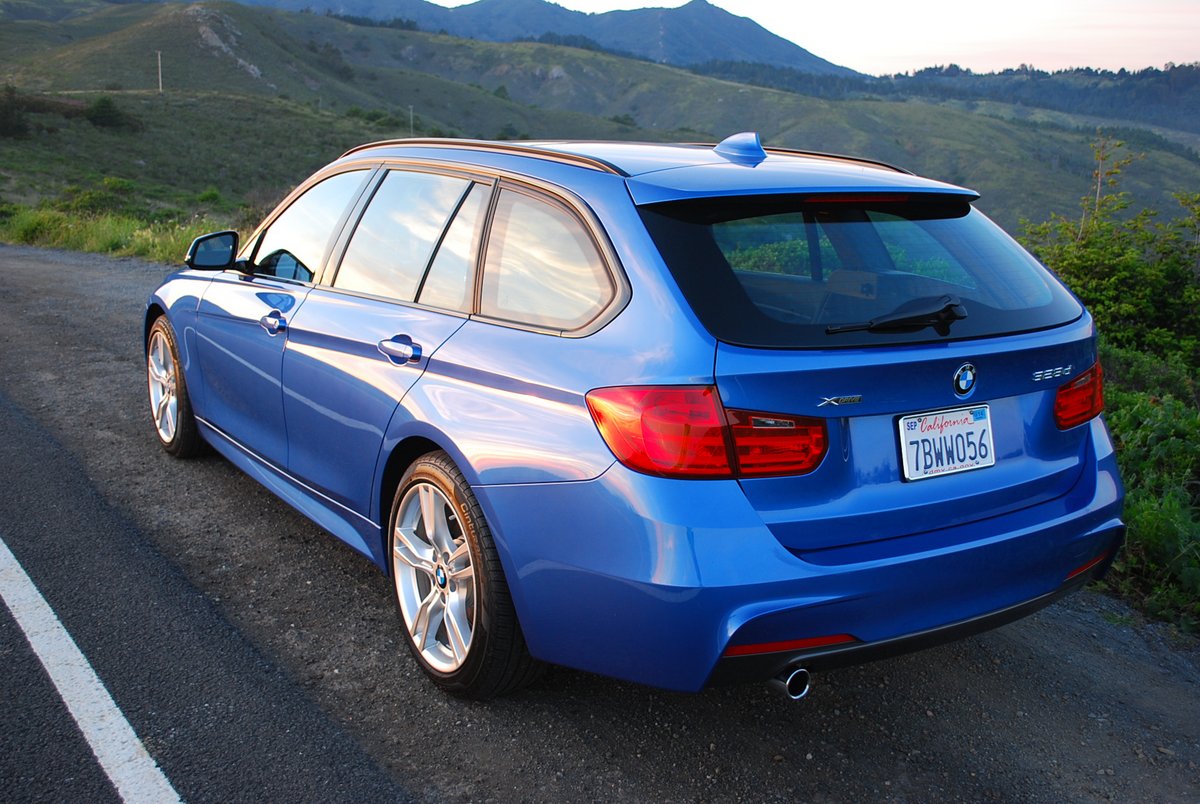 The diesel sports wagon provides a fully inhabitable environment for four, with more than enough luggage storage (13 cubic feet with rear seats up) for a comfortable overnight trip. For families, this car is an ideal transit solution. For speed merchants, it has its own galaxy of challenges to offer and conquer. There's very little you can throw at it – or in it – that the 2014 328d xDrive can't handle. And done up in Estoril Blue, this slinky beauty is sublimely easy on the eyes.
2014 BMW 328d xDrive Sports Wagon
Engine: 2.0 Liter inline 4 Diesel, turbocharged
Horsepower: 180hp
Torque: 280lb.-ft.
Fuel Consumption: 31 MPG City/43 MPG Highway
Price as Tested: $49,275
Star Rating: 8 out of 10 Stars
Related posts: