Auburn Hills, Mich. – Mopar® and the Mopar Underground team showcased their customized Jeep® vehicles and Dodge trucks at Moab Jeep Safari 2008 in March.
"Jeep engineering has been coming to Moab for years. Mopar is at Moab to test, evaluate and prove the authenticity of our Mopar Performance Parts for Jeep vehicles and Dodge trucks on the most grueling off-road trails in Moab," said Simon Boag, President – Service & Parts/Mopar, Chrysler LLC. Mopar is Chrysler LLC's original equipment parts manufacturer and supplier.
Boag added, "We wanted our core off-road customers to talk about their vehicle usage so we can address their unmet needs and identify emerging product trends to better support their off-road adventures. Mopar prepped several vehicles for Moab Jeep Safari to gauge consumer feedback and reaction."
Overseen by Ralph Gilles, Vice President of Jeep/Truck & CFM Design, Chrysler LLC, the Mopar Underground design team has been customizing production vehicles since its creation in 2002. The Mopar Underground design team creates vehicle concepts meant to develop performance parts, accessories and customization as well as new vehicle concepts. In fact, the first-generation SRT4 was born from this team's style initiative.
"Our diverse team which changes frequently has been developing SEMA concepts for more than five years. It's the usual 'enthusiast' suspects from our union shops [plastic, paint, metal and wood], Product Design Office, SRT and Mopar Performance Parts and engineering," said Gilles.
"We try to push the boundaries of conventional thinking—customizing with no limits to creative expression and freedom, just the power to imagine. We want to build customized concept vehicles that flex the potential in our platforms, show that Chrysler, Jeep and Dodge vehicles are indeed designed for customization and keep the Mopar spirit and passion alive," said Gilles.
Vehicle Customization Industry
The 2007 Jeep Wrangler was named one of the most accessory-friendly vehicles by SEMA members
According to a Foresight Research report conducted last year [commissioned by SEMA's Research and Information Center], more than 1,700 full-size truck owners revealed that 50 percent had spent or planned to spend $500 or more on accessories—with a high of 63 percent for Dodge Ram owners (most likely to accessorize). And 20 percent of that group said they bought their trucks at a particular dealership because of the availability of accessories
Jeep® Wrangler "Rubicon® King"
An amplification of Jeep's most capable off-road machine. Taking full advantage of the 4:1 ratio Rock-Trac transfer case and Tru-Lok-equipped Dana 44 axles, the JK Rubicon King utilizes massive BF Goodrich 37 x 12.50-17 TA Krawler tires mounted on Hutchinson beadlock wheels from Mopar. Superlift Suspension provided the 4-in. lift for extra ground clearance. Warn-supplied the new 9.0 RC Rock Crawling Winch. Featuring a six-speed transmission, power is provided by the 3.8-liter V-6 engine under the hood.
Custom features include relocation of the spare tire where the back seat used to reside, fender flares and grille trimmed for extreme clearance, trick lighting, military spec tow shackles and radio delete plate. Other features include American Expedition vehicle's new heat-reduction hood and rear corner guards.
The "JK Rubicon King" premiered at the 2006 SEMA Show and traversed the trails at Moab Jeep Safari 2007.
Jeep® Wrangler JT
Built from the military version of the all new Jeep Wrangler, the Jeep Wrangler JT showcases just how flexible this new platform can be. Revealed at the Moab Jeep Safari 2007, the JT dominated the steep climbs and descents on the slopes of the Hell's Revenge trail. Its 4×4 capability was established as it negotiated the slick hot tubs and waterfalls – at times, almost completely vertical to the ground.
Beginning with the new 116-in. wheelbase platform for the Wrangler Unlimited, the design team managed to create a very nimble, trail-savvy Jeep with a 5-ft. pickup bed and an easy-to-handle removable hardtop. Power is provided by its 3.8-liter V-6 engine.
Off-road enhancements include:
4-in. suspension lift provided by Superlift
35-in. BF Goodrich Mud Terrain tires
Rear bumper and tire carrier from Mopar
Front bumper from Mopar
Warn 9500ti winch
The Wrangler JT is painted Hearing Aid Beige. The JK JT premiered at Moab Jeep Safari 2007 and was shown at the 2007 SEMA Show.
Jeep® Grand Cherokee "Grand Canyon"
The "Grand Canyon" features 33-inch tires and a 4-in. lift. Power comes from a 3.0-liter V-6 CRD engine under the hood. The "Grand Canyon" premiered at Moab Jeep Safari 2006.
Jeep® Liberty "Liberator II"
The "Liberator II" features 33-inch BFG MT KM2 tires (on 17×17.5 wheels) and a 2-in. suspension lift from Superlift. Power comes from the 3.7-liter V-6 engine under the hood. It features an ARB rear locker with an onboard air inflation compressor. It also has custom-fabricated rock rails and front fascia skid plate as well as a Mopar brush guard and Borla cat-back exhaust. The "Liberator II" premiered at Moab Jeep Safari 2008.
Jeep® Wrangler "JKL"
The "JKL's" 110-in. wheelbase features 37-inch tires and a 4-in. lift. Power comes from the 6.1-liter HEMI® V-8 engine under the hood. The "JKL" premiered at Moab Jeep Safari 2008.
Jeep® Wrangler Unlimited Rubicon®
Takes the already off-road benchmark Jeep Wrangler to a whole new level, this Wrangler represents the best of the best of what Jeep has to offer. The interior of the "50K JK" features custom Katzkin leather seating from Mopar, GPS navigation system and satellite radio.
Plenty of power and traction comes with the 3.0-liter CRD diesel engine under the hood that pushes 230 horsepower and 390 lb.-ft. of torque. There are Tru-Lok-equipped Dana 44 axles underneath. Performance suspension lift allows clearance for 35-inch BFG Mud Terrain tires mounted on custom 18-inch aluminum wheels supplied by Taneisya.
The exterior features a Warn 9.5ti winch mounted on an American Expedition front bumper. A full-size spare is carried by a rear bumper from Mopar Performance Parts. Sprayed in Rolex Silver paint, it looks like a billion bucks.
The JK Unlimited Rubicon premiered at the 2006 SEMA Show.
Jeep® Wrangler "All-access"
The interior of the Jeep Wrangler All-access has been upgraded with premium materials and paint. To give it "trail and off-road" credibility, the designers vamped it up with Mopar Performance Parts including a Rubicon Express 4-in. suspension lift, front and rear bumper with tire carrier, rock rails, cold air intake and a Warn 9500ti winch. American Expedition Vehicles supplied its new Pintler sheels.
Power comes from the 3.8-liter V-6 engine. Painted "Surf Blue," the "All-access" also features 35-in. BFG Mud Terrain tires. The "All-access" premiered at the 2007 SEMA Show.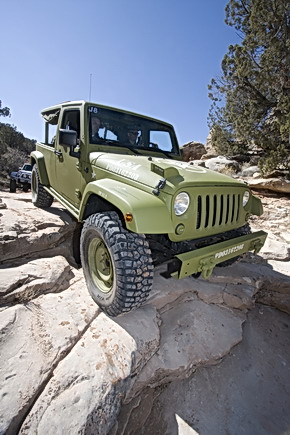 Jeep® Wrangler "J8 Sarge"
The Jeep Wrangler "J8 Sarge" is a military version of the new JK platform built as a non-combat military support vehicle. Built from the 116-inch wheelbase version, the "J8 Sarge" is offered in either two-door or four-door configurations. Special J8-only structural upgrades in the body and chassis combine to increase the GVWR rating to 7,400 pounds.
The platform can be configured as a light-troop carrier, ambulance or cargo truck. Other notable features include the Dana 60 rear axle mounted on leaf springs, larger front-disc brakes and exclusive J8-only 17 x 8 steel wheels with a larger 5 x 5.5-inch bolt pattern. The rear differential is equipped with Trac-Lok limited slip device (the front is open).
The powertrain is the VM 2.8-liter 4-cylinder turbo-diesel engine producing 158 horsepower and 295 lb.-ft. of torque. It's mated to a five-speed automatic transmission. The four-wheel-drive system is the Command-Trac with both high and low-range gearing.
Other features unique to the "J8 Sarge" are heavy-duty steel bumpers each equipped with two forged military-spec 'helicopter hooks' (rated at 1.5 GVWR each), a hood-mounted air intake snorkel, dual rear-mounted battery boxes and heavy-duty spring hood latches.
The "J8 Sarge" has been upgraded with 1.25-inch Superlift front coil spacers, BF Goodrich Mud-Terrain tires and custom cargo top. It's painted olive drab with military markings.
The Jeep J8 is manufactured in a Chrysler LLC joint-venture facility in Cairo. There are currently no plans to offer the J8 for retail sale in the North American market. The "J8 Sarge" premiered at Moab Jeep Safari 2008.
2007 Dodge Ram Diesel Power Wagon
This vehicle was built to explore the feasibility of a Dodge Ram Diesel Power Wagon. The Ram 2500 Quad Cab features a 6.7-liter Cummins diesel engine with automatic transmission packing 350 hp and 650 lb.-ft. of torque. It has Mopar Performance axles, front and rear electronic lockers and 40-inch Goodyear MTR tires. Kore Performance provided the suspension. It features custom fenders and a Warn® Winch from Authentic Dodge Accessories.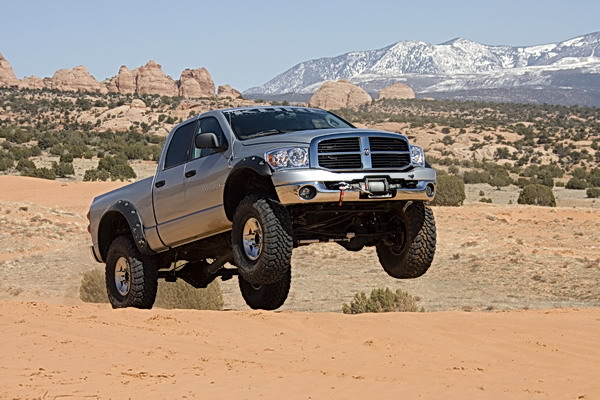 The Dodge Ram Diesel Power Wagon premiered at Moab Jeep Safari 2008.
2005 Jeep® Wrangler (TJ) Rubicon® Diesel Engine Project Vehicle from Mopar
The 2005 Jeep Wrangler (TJ) Rubicon Diesel Engine Project Vehicle from Mopar was built to explore the feasibility of integrating a diesel engine kit into a TJ vehicle system. Developed by Jeep enthusiasts/engineers who work at Mopar Performance Parts, the TJ features a custom diesel crate engine adaptation.
The prototype vehicle demonstrates that Mopar listens to its off-road enthusiasts. And this is not a show vehicle—Jeep enthusiasts will see this "engineering mule" driven and tested on Moab's trails.
Though what's under the hood is not production intent, the 2.8-liter I-4 T1 VM diesel engine packs 120 hp and 240 lb.-ft. of torque. It has an AISIN five-speed manual transmission. It features 35-inch B. F. Goodrich Mud Terrain KM2 tires and a 4-inch lift to support its 523 pounds of weight.
Tru-lock Rubicon 4.10 ratio axles
NV 241 OR transfer case
3-inch Black Diamond suspension
High-line hood and fender kit from AEV
2007 Jeep® Wrangler Rubicon®
The 2007 Jeep Wrangler Rubicon is proof of what happens when you use the right combination of Authentic Jeep Accessories and Mopar Performance Parts.
00PM4311 Jeep Windshield Decal
82207271 Off Road Lamps – Windshield Mount
82210556AB Off Road Lamps – Windshield Mounting Kit
82210507 Off Road Lamps – Windshield Wiring Kit
82209740 Off-Road Bumper – Front
82209916AB Off-Road Bumper – Rear
82210485 Spare Tire Carrier
82210401 Steering Linkage Skid Plate
82209880AB Fog Lamps
82210549 Wiring Harness
82209325AB Winch
82210256 Tow Hooks
82210557 Driver's Auxiliary Mirror Kit
Katzkin Leather Seats
82210106 Door Sill Entry Guards – Black
82210166 Slush Mats
82210558AC Chrome Grille
82210316 Hood Cover
82210270 Taillamp Guards – Black
82210609 Fuel Filler Door – Black
82209912 Soft Top Boot
82207660AB Grab Handles
82210208AC Trail Guide™ Navigation System
82210613 Interior Trim Appliqué Kit – Carbon Fiber Design
82210575AC Rock Rails
82210464 Hood Lock
77060021 Cold Air Intake Kit
P5153858 Cat Back Exhaust System (3.8L, 2-Door)
77KICK10 Mopar/KICKER® Front Speaker Upgrade
77KICK10 Mopar/KICKER® Rear Speaker Upgrade
77KICK24 Mopar/KICKER® 200 Watt Subwoofer
P5155075 4.5-inch Lift Kit: Sway Bar Disconnect Kit, Spring Kit (Front/Rear), Drive Shaft Kit (Front/Rear w/Yokes), Bilstein Shocks (Front/Rear), Brake Line Kit (Front/Rear) and Control Arms
Powertrain
250 horsepower and 240 lb.-ft. of torque
Wheels/Tires
Walker Evans Wheels
Goodyear 37 x 12.5 x 17 tires
Painted Detonator Yellow, the 2007 Jeep Wrangler Rubicon premiered at the 2007 SEMA Show.
70 Years of Mopar
When Chrysler bought Dodge in 1928, the need for a dedicated parts manufacturer, supplier and distribution system to support the growing enterprise led to the formation of the Chrysler Motor Parts Corporation (CMPC) in 1929.
Originally used in the 1920s, Mopar (a simple contraction of the words MOtor and PARts) was trademarked for a line of antifreeze products in 1937. It was also widely used as a moniker for the CMPC. The Mopar brand made its mark in the 1960s – the muscle car era. The Chrysler Corporation built race-ready Dodge and Plymouth "package cars" equipped with special high-performance parts. Mopar carried a line of "Special Parts" for super stock drag racers and developed its racing parts division called Mopar Performance Parts to enhance speed and handling for both road and racing use.
Today, Chrysler's Global Service and Parts division is responsible for the manufacturing and distribution of nearly 250,000 authentic Mopar replacement parts, components and accessories for Chrysler, Jeep and Dodge vehicles sold around the world. To assure quality, reliability and durability, all Mopar parts and accessories are designed in strict adherence to Chrysler engineering standards.
-###-
Source:
Patricia Georgevich
Chrysler Corp.
Related posts: