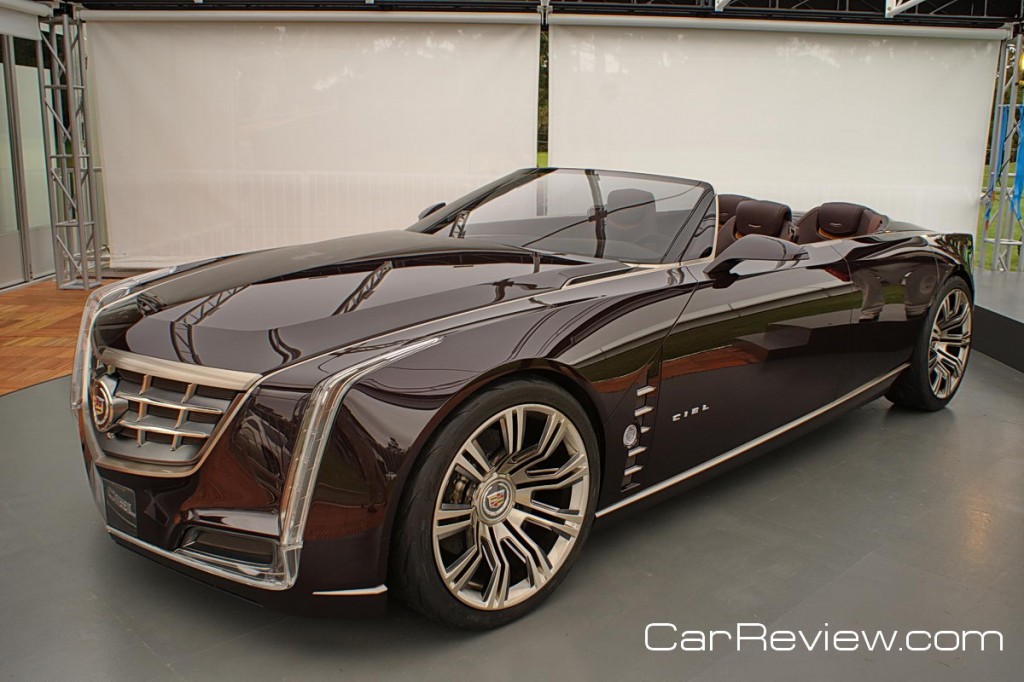 Cadillac unveiled the Ciel Concept at Pebble Beach Concours d'Elegance held in Carmel, CA. Using the French word for sky, the Ciel (pronounced C-L) is an open-air, touring concept inspired by the natural beauty of scenic California coast.
The large touring chassis of Ciel explores themes driving Cadillac's explorations into range-topping flagship luxury. It is powered by a twin-turbocharged version of the 3.6-liter Direct Injection V-6 engine, paired with a hybrid system using lithium-ion battery technology.
The four-door Ciel embraces the social aspects of a recreational journey, with generous room for two couples. It evokes the spirit of the classics with a long, low proportion. The doors are French-style, with the rear doors hinged at the rear – there is no B-pillar – to reveal a sweeping view of the dramatic interior. Distinguishing fender lines run from nose to tail, and nickel-plated bright work accents the body lines, enhancing the visual length of the car and honoring Cadillac touring cars of the past.
Ciel's exterior flows seamlessly into the cabin, with the body color rolling over on top of the interior door panels. Like the exterior, the passenger space is accented with sweeping nickel-plated trim. It divides the body-color upper sections from a complementing beige lower color. Italian Olive wood, machined aluminum and hand-tipped leather are elements that flow through the interior, complementing the primary colors with warm, rich tones.
Recalling classic open cars of the past, the Ciel has a prominent, polished aluminum windshield frame. Additional exterior cues, including a shield grille and vertical lighting elements, are pure Cadillac.
Technology is not lost in this classic redux of a grand touring car. The headlamps and taillamps feature LED lighting elements – including a unique daytime running light graphic on the front of the vehicle that is generated with gradated LED lighting. The car rides on large, beautifully finished wheels that feature brushed nickel plating over milled billet aluminum, matching the materials and appearance of other trim. Carbon ceramic brake rotors are visible behind the 22-inch rims, a visual clue to the Ciel's foundation of performance.
But perhaps the defining element of the Ciel's cabin is the incorporation of Italian Olive wood on the doors, instrument panel, console and the front seatbacks, adding warmth and craftsmanship to a car designed to provoke an emotional response.
The rear seating area is detailed with elegant flourishes. The rear seat passengers can pull a leather tab, which reveals a cashmere blanket that stretches across the seating area to ward off a chill. The wood trim in the rear center console opens to reveal a small humidor, stocked with a few cigars.
The Ciel was developed at GM Design's North Hollywood Design Center, which is managed by Frank Saucedo. Niki Smart was the lead exterior designer, with Buzyn leading interior development.
Related posts: