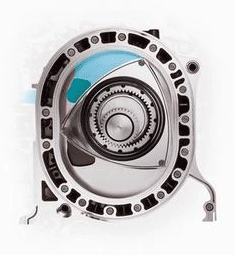 Beating rhythmically underneath the hood is the heart of the the RX-7 and RX-8 — a Wankel rotary engine. Wankel is such a funny sounding name, but the rotary engine (originally conceived and developed by Dr. Felix Wankel) is much more energy efficient than a typical combustion engine with pistons and cylinders. In a piston engine, the same volume of space (the cylinder) alternately does four different jobs — intake, compression, combustion and exhaust. A rotary engine does these sam­e four jobs, but each one happens in its own part of the housing. It's kind of like having a dedicated cylinder for each of the four jobs, with the piston moving continually from one to the next.
The Wankel engine has basically one moving part that just spins. And it has a higher power to weight ratio than any traditional engine. Mazda's RENESIS engine in the RX-8 is remarkably smooth and high revving — all the way to 9,000 rpm — and offers a smaller engine footprint than traditional internal combustion engines. In fact, the packaging and styling that define the RX-8 would not have been possible had Mazda engineers chosen a conventional piston engine.

The RENESIS engine features side intake and exhaust ports with nearly 30 percent more intake port and twice as much exhaust port than its predecessors. The efficiencies gained through shortening intake/exhaust overlapping period and using the larger intake and exhaust ports in delivering world-class performance.
The 2009 Mazda RX-8 is available as either a 232-horsepower model fitted with a six-speed manual transmission, or a 212-horsepower model fitted with a six-speed Sport A/T automatic with steering-wheel-mounted paddle shifters for a Formula 1-style driving experience.
New for 2009 is a the R3 sport package. Providing the very best in rotary-powered motoring, the R3 harkens back to the R1 and R2 packages offered on the mighty third-generation RX-7, and adds a sport-tuned suspension with Bilstein shock absorbers and front suspension crossmembers filled with urethane foam. Filling the crossmembers makes for a smoother ride, minimized NVH and greater suspension control.
Mazda claims that all they did to tweak the R3's handling over lesser RX-8s was to add a set of Bilsteins, 19" forged wheels and a Urethane-foam-injected front suspension cross member. But you know what? The results are mind staggering. The R3 feels like you're driving a shifter kart. Words like "razor sharp" and "communicative" don't begin to do the intuitive steering justice. Every turn and twist of the wheel results in total, benign compliance. One caveat: the ride is on the harsh side. It may take a week or two for my bruised kidneys to heal. But the teeth-chattering suspension is perfectly suited to the R3's nature and the Recaro sport seats hold you safe and secure.
---
Official website for Mazda cars, trucks, and SUVs – www.mazdausa.com
Related posts: