Introduction
Carreview received the Mazda 6 test car with little fanfare and anticipation.  We just didn't know what to expect and the outgoing Mazda 6 model was a fairly uneventful passenger sedan. When the Mazda 6 replaced the 626 in 2003, it drew praise for its smooth styling and sporty handling. Shoppers looking for an exciting take on the dull midsize sedans of that era turned to the Mazda 6 for 4-door practicality and Miata-inspired steering. It was a winning formula and sales were strong — especially as a newcomer up against established rivals like the Honda Accord and Toyota Camry.
But when it came time to redesign the Mazda 6 for 2009, Mazda changed things up. While trying to keep the sporty feel of the first model, the brand also aimed for the mainstream. The result was a larger car with less steering feedback. Buyers looking for performance were no longer impressed. And it didn't help that the second-generation Mazda 6 came in the fall of 2008 — at the height of the Great Recession.
For 2014, the Mazda 6 returns to its roots. The new Mazda 6 is shorter in length than the outgoing model. It's also lighter, weighing in between 220 and 375 pounds less than the 2013 model. Most importantly, it's more exciting. While some may lament the lack of a V6, the latest Mazda 6 will move those who enjoy driving the way the original model once did.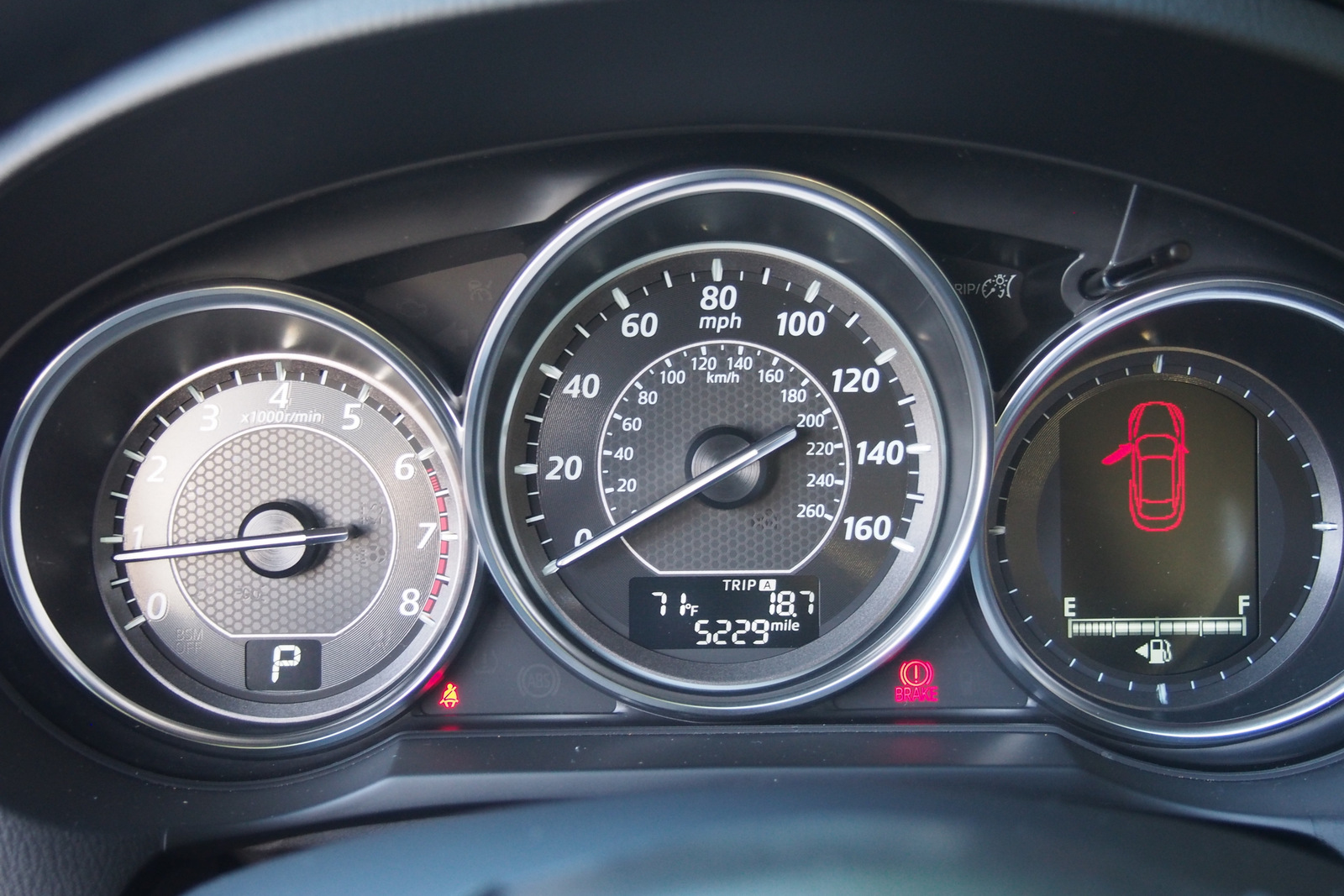 But while the new Mazda 6 brings back its old drivability, it moves forward in several key areas. One is technology: The latest Mazda 6 offers many high-tech safety and convenience items. Another is styling, as the 2014 Mazda 6 uses bold, aggressive lines to convey its return to performance. With the right mix of old and new, the Mazda 6 is a strong entry in the competitive world of the midsize sedan.
Pros:
Excellent handling prowess
Impressive  fuel economy for a car this size
Long list of integrated technology features
Excellent  rear seat room
Cons:
Choppy ride quality in bad pavement
Difficult to learn navigation system
Trunk in the small end for this size car
Comfort & Utility
The Mazda 6 is offered in three trim levels: Sport, Touring and Grand Touring. All are front-wheel-drive 4-door sedans.
The Mazda 6 Sport starts at $20,880 before shipping. That figure buys a 6-speed manual; drivers who want an automatic pay an extra $1,615. Like last year, air-conditioning, cruise control and remote keyless entry are standard. New features include push-button start, USB audio input and — on automatic models — a rearview camera. And 17-inch alloys replace last year's 16-in wheels with hubcaps.
More features can be found in the Mazda 6 Touring. Starting at $23,445, the Touring also includes a standard 6-speed stick — though upgrading to an automatic is only $1,050. Standard equipment includes dual-zone air-conditioning, a blind spot monitor and a power driver's seat. The Mazda 6 Touring also boasts leather seats, handsome 19-in alloys and Mazda's Rear Cross Traffic Alert safety tech.
Topping the Mazda 6 range is the Grand Touring, which starts at $29,495. Only offered with an automatic, the Grand Touring is the lineup's luxury trim. Standard features include a power sunroof, paddle shifters, Bi-Xenon headlights and heated front seats. Styling upgrades include painted 19-in alloys, fog lights and a rear trunk spoiler.
Inside, the Mazda 6 offers a totally revamped cabin. Like the exterior, the interior boasts more style than before. Flowing lines connect the door panels to the dashboard and the wide center stack. Even the base-level Sport uses upscale materials and a thick steering wheel puts drivers in control.
Functionally, the interior also works well. Steering wheels are chock full of switches and knobs — 17 total in our test car, not including the paddles — but once drivers memorize them, they're very convenient. Climate controls are easy to use, though their display screen — which also houses the clock — washes out on sunny days. And while the touchscreen navigation system is located above the air vents and far from the driver's hand, a center-mounted control is well-placed and easy to use.
For drivers interested in comfort, the front seats are the place to be. They're well-bolstered and cushy, making easy work of long drives. That's especially true of the leather in Touring and Grand Touring models, though we found the Sport's cloth upholstery to be similarly supportive and comfortable. Compared to class leaders, the Mazda 6 is certainly on par.
The backseats are also a strong point. Despite its low-slung, coupe-like styling, the Mazda 6 somehow incorporates enough headroom for tall passengers to ride comfortably. It's a lesson that could be learned by some other brands with similar styling and a cramped rear seat. Compared to rivals, legroom is merely average. A tall driver with a tall passenger in back may be cramped, for example — just like in most midsize sedans.
Behind the passengers, trunk space is merely adequate. At 14.8 cu ft, the Mazda 6 brings up the rear among midsize sedans, as it offers less cargo room than the Ford Fusion, Honda Accord, Hyundai Sonata and Toyota Camry.
Technology
For a car that's so focused on driving pleasure, technology is a strong point. The most important advancements relate to safety, as the new Mazda 6 debuts six new high-tech safety features. Such items include radar cruise control, a blind spot monitor, a lane departure warning system and rear cross traffic alert to help drivers leaving parking spots. There's also a high beam control feature that dims the brights when they detect an approaching vehicle. And Mazda's Smart City Brake Support can stop the car if it detects an impending crash.
Of course, nearly all of this technology is optional. High beam control, for instance, can only be ordered as part of the Advanced Package — a $2,080 option that's only offered on the high-level Grand Touring trim. And while Touring models offer Smart City Brake Support and a navigation system in the $2,000 Touring Technology package, you have to step up to the Grand Touring trim for radar cruise control.
But the technology will impress those who opt for it. One reason is because it's so easy to use. The radar cruise control, for instance, works with a simple steering wheel stalk. In our tests, it was always easy to program and kept a predictable following distance. The same is true for Mazda's blind spot monitor, which warns drivers if a vehicle is in a blind spot. A chime sounds if drivers try to signal towards that vehicle.
An exception to the impressive tech is the TomTom-based navigation system, which we found clunky and difficult to use. In addition to several counterintuitive menus, its biggest flaw was a lag between touch and feedback.
Performance & Fuel Economy
The redesigned Mazda 6 offers only one powertrain: a 184-horsepower 2.5-liter 4-cylinder. To keep up with hybrid rivals and the Volkswagen Passat TDI, a diesel is due out later in the year. But unlike those rivals, the Mazda 6 won't have a more powerful engine for speed junkies.
To us, that's not a problem. The 2.5-liter four is powerful enough for nearly all typical situations. That's especially true with the brand's SkyActiv-Drive automatic, which boasts crisp shifts that Mazda says are quicker than dual-clutch transmissions in competitors. Of course, in true Mazda fashion, the 6-speed stick is also a joy thanks to short throws and a predictable clutch. But don't get your hopes up, 3-pedal purists: The stick shift is only available on Sport and Touring models and Mazda says it will only find its way into 10 percent of all production.
Efficiency-minded shoppers also won't be clamoring for a V6. That's because the 4-cylinder returns impressive fuel economy thanks to SkyActiv technology, which saves weight and boosts efficiency. Once again, the automatic is the best bet, returning 26 miles per gallon city and 38 mpg highway for a combined 30 mpg. That just edges out the manual's 25 mpg city/37 mpg hwy and 29 mpg combined.
Safety
The new Mazda 6 comes standard with stability control, traction control and eight airbags. All models except the manual-equipped Sport include a rearview camera and Bluetooth. The Mazda 6′s Bluetooth technology displays text messages on the sedan's center screen and even reads them aloud so drivers won't be distracted by their cell phones.
Neither the National Highway Traffic Safety Administration (NHTSA) nor the Insurance Institute for Highway Safety (IIHS) has put the new Mazda 6 through crash tests. Last year's model received an overall 4-star NHTSA rating that included a perfect five stars in the rollover test, four in the side crash test and three in a frontal impact. But with the new design, those ratings are likely to change.
Driving Impressions
This is where Mazda usually trumps the competition and Mazda has brought the Mazda 6 in line with the brand's core values.  It is fun to drive as it feels agile and light. There's no doubt that the Mazda 6 is aimed at shoppers eager to occasionally test their car's limits on a curvy road. That's not to say that traditional midsize sedan buyers won't like the Mazda 6. But they may find its exterior and interior a little daring and the ride a little harsh. Those who enjoy the driving experience won't mind sacrificing ride quality — but for the comfort-minded, there's no shame in choosing a more pliant rival.
2014 Mazda 6 Grand Touring
BASE PRICE: $20,990 for Sport with manual transmission; $22,695 for Sport with automatic; $23,645 for Touring with manual; $24,695 for Touring with automatic; $29,695 for Grand Touring.
PRICE AS TESTED: $31,690.
Transmission: Automatic
Drivetrain: Front Wheel Drive
MPG: 26 City / 38 Hwy
Engine: Regular Unleaded I-4 2.5 L/152
Horsepower: 184 @ 5700
Torque: 185 @ 3250 2.5 L/152

Related posts: