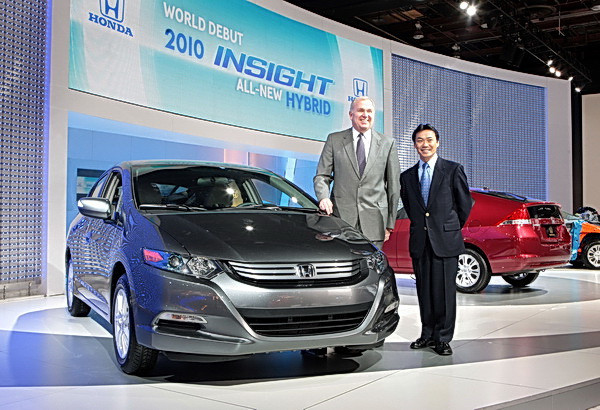 Honda is once again placing its collective neck on the line and opening it up out on the hybrid highway with the 2010 Honda Insight, which they debuted at the North American International Auto Show (NAIAS) recently. When it hits dealerships next spring, we'll see if they can reach their goal with the intended sale price of under $20,000. If they can do it at that price, I predict these babies will fly out of dealerships like locusts. They will have people re-thinking their decision to buy a Toyota Prius, for instance.
The 2010 5-door, 5- passenger Insight has broader outlines and is being touted as "the most affordable hybrid on the market". Gas prices went down, but during the scare, people learned that it doesn't hurt that bad to be a little greener. If Honda can tap into a greener public with less money to spend, they just might have hit the automotive Super Lotto with this one, but only time tell.
The main question is–will people step up the plate and buy these vehicles? Will they even be able to get credit? Do they still have jobs? I mean, who knows what the economy will be like next week, let alone in three months? But if people are looking to save some cash and are genuinely concerned about the environment, this could be a huge winner for Honda.
Honda has some other cool alternative fuel vehicles currently on the drawing board, including another sporty hybrid patterned on their 2007 CR-Z concept coupe; and a gas/electric version of its Fit subcompact.
Photo gallery and press release from Honda announcing the unveiling of the Insight hybrid are below the jump.
(Continued on page 2)
Related posts: