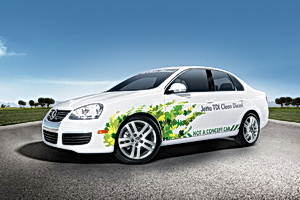 Yup, diesel sales are on the increase again, and it's not hard to figure out why. Times is tight, as Desmond Dekker said, and people are looking to save wherever they can. Add that to growing green concerns amongst the populace, and that'll be another selling point for oil burners. "But performance" some people might ask, "Really?"
Indeed, performance is also a viable reason for considering diesels these days. A while back, just for the heck of it, I looked into building up a VW Golf TDi as an eco-friendly rally car. The Golf is a good platform for that in general, but I was concerned about what could be done with the engine.
Turns out, you could do a surprising amount of fun stuff.

What I found is that there's a fair level of chip tuning you can do for VW's TDi mill. I didn't actually go out and do it (lack of funds and garage space, as always), but just from a cursory research, it looked like you could drop in a chip and get those little guys cranking out upwards of 250 foot-pounds of torque. Which is impressive.
Now, I'm not saying that's what is driving the current spike in diesel sales, but what is noteworthy is that the newer gen oilers have much better performance than the diesels of old, and even noticeably better than the TDis of not that long ago.
Indeed, the new Jetta SportWagen is quite a car all the way around. I've chatted up a few owners of the diesels, and they said that initially they were concerned about the lack of power, but the new version is great when you stand on the right-hand pedal. And on looks alone, the black with tan leather Jetta SportWagens are VERY classy looking cars.
Anyway, all this has contributed to diesel sales rising. June brought in record sales of latest-gen TDis since the release of the new lineup. And according to VW "Clean diesel TDi's accounted for 81 percent of SportWagen sales, 40 percent of Jetta sedan sales, and 29 percent of Touareg sales." Not bad at all.
And it's likely we'll see more of the new TDis on the street when VW rolls out the 2010 Golf TDI this fall.
Source: AwakeAtTheWheel.net
Related posts: