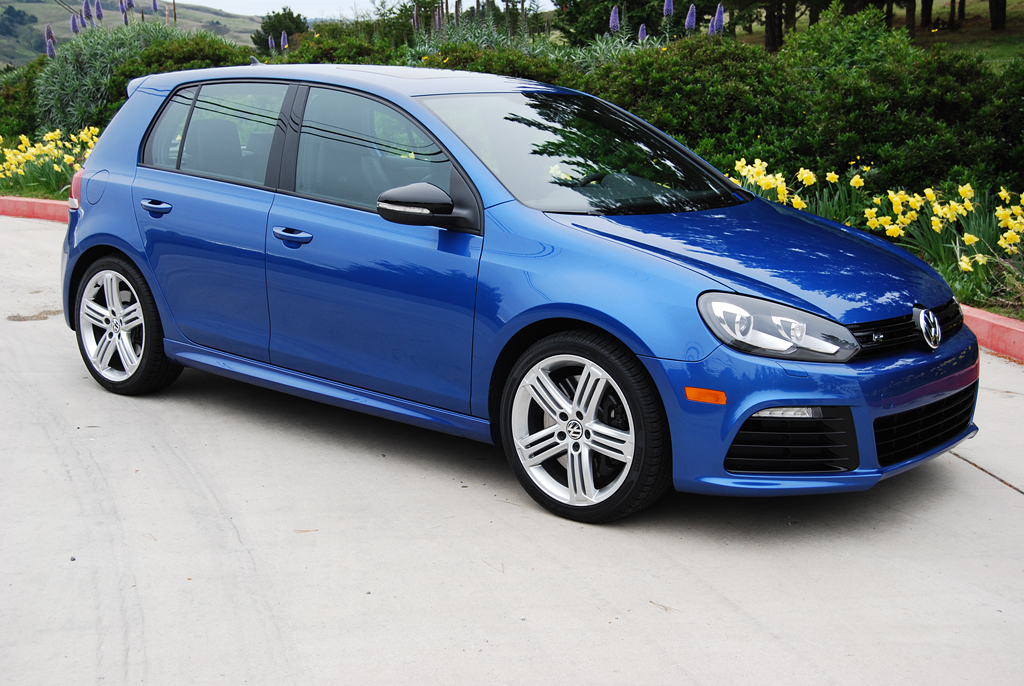 By David Colman
Hypes: Incredibly Quick and Agile, Best Ever Seats
Gripes: Annoying Audio Pre-Sets
After a hiatus of 4 years, VW has reintroduced the R brand Golf to their model lineup for 2012. Formerly called the R32, the name has been shortened to R because the 3.2 liter V6 which propelled the R32 has been discarded in favor of a turbo 2.0 liter inline 4. The new motor, which the Golf shares with Audi's TT, produces 256hp and 243 lb.-ft. of torque. The R32's larger displacement V6 actually made less horsepower (250) and torque (236) than the current motor as well as being considerably thirstier. The R posts fuel economy figures of 19 MPG City, 27 MPG Highway versus 18/23 for the V6.
The new R doesn't look like a killer econobox from the outside. Rather, in practical 4-door form, it pretty much resembles other members of the 6th generation Golf family which debuted in 2010. Aside from a couple of very discreet "R" badges on the front grill and rear hatch lid, and a set of subtly contoured 18 inch alloy wheels, the R looks like nothing more than an ordinary GTI. But under the skin, drivetrain variations make the R such a compelling performer that your jaw will drop in surprise. For starters, the R replaces the Golf's understeering front-wheel-drive with 4MOTION all-wheel-drive. The system's constant analysis of traction requirements allocates power from side to side and front to rear with such equanimity that understeer is eliminated.
The wallop of the turbocharged direct injection engine is explosive above 4000rpm. Below that figure, you'll experience a very slight turbo lag as the boost builds, but with a little throttle planning, and judicious use of the 6-speed manual transmission's well-spaced ratios, the R will score passes and dart through traffic like a 400hp musclecar. Best of all, it will go about its business in such an inconspicuous way that its ferocious progress will go virtually unnoticed. Except by its driver, who will be thrilled every time the accelerator is flattened.
A set of exceptionally sticky Pirelli P Zero Nero tires, measuring just 225/40R18, account for the R's predictable cornering habits and high level of grip. Standard Electronic Differential Lock limits wheelspin. Unlike so many cars with high performance potential, the R does not suffer in the ride comfort department. Judicious shock valving and spring rates choices limit discomfort while maximizing adhesion.
The front seats in the R are without question the best I have sampled. They do not offer the profusion of adjustment found on so many other seats. In fact, fore-aft travel is manually controlled. But once you slip into these superior sports seats you'll marvel at the perfect support they afford your thighs, lower back and spine. If you could buy these for your living room, you'd be a lot happier while you watch TV.
The Golf's practical virtues make the R's interior homey and comfortable. There's no need for a rear vision camera here, as sightlines out the back, and to the sides, are unimpeded. The split, folding rear seat allows reconfiguration of the interior for any hauling operation. There's even a ski/lumber pass-through between the rear seats. VW fits the R with a standard power/sliding sunroof, as well as an RNS 315 touchscreen navigation system. The Dyneaudio premium sound system is also standard fitment, along with a time limited subscription to XM Sirius Satellite Radio. The entertainment system proved difficult to pre-set, requiring lots of attention diverted from driving to decipher non-intuitive procedures.
With a list price of $36,090, the Golf R, built in Germany, is fully equipped and a sensational bargain for the driver who is looking for BMW performance at VW prices.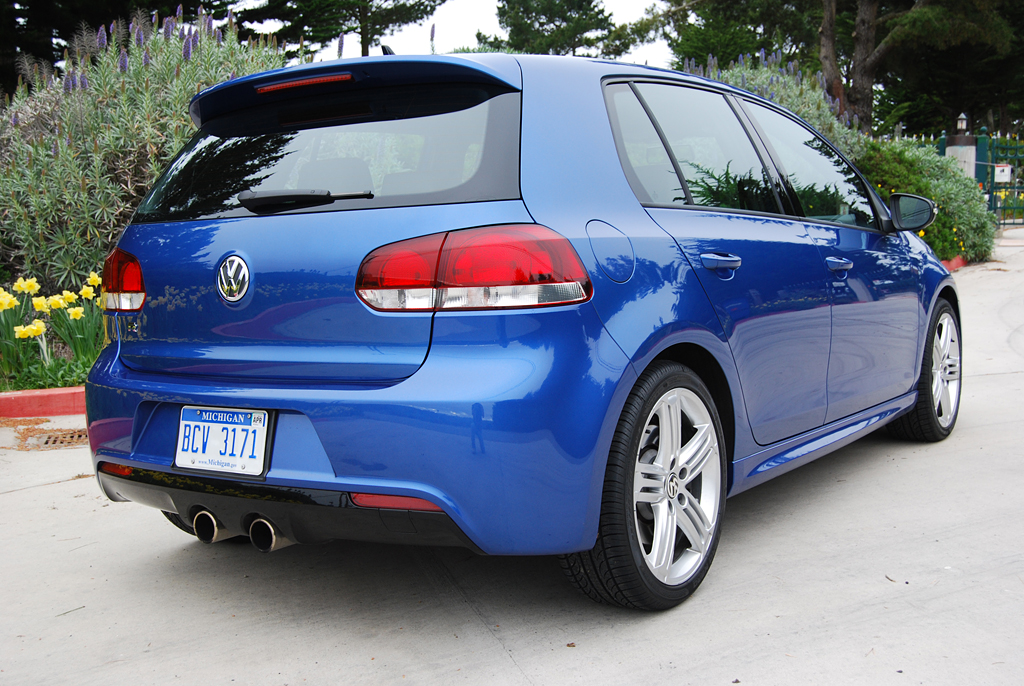 2012 Volkswagen Golf R 4-Door
Engine: 2.0 Liter inline 4, turbocharged, direct injection
Horsepower: 256hp
Torque: 243lb.-ft.
Fuel Consumption: 19 MPG City/27 MPG Highway
Price as Tested: $36,860
Star Rating: 10 out of 10 Stars
Related posts: