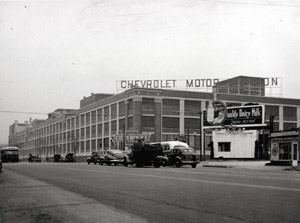 Car sales are up (thanks to cash for clunkers) and green initiatives from hybrids to solar panels on auto factory roofs seem to be everywhere these days. And now, more, green, good news comes from General Motors that a new, large battery plant will be built in Detroit, Michigan.
General Motors plans to invest $43 million in the new battery factory near Detroit. The new plant will build batteries for the upcoming and much anticipated Chevrolet Volt, although curiously, the cells themselves will come from Korea.
News of GM's new batter facility comes hot on the heals of the $25 million battery R&D laboratory they opened last month and their promise to spend upwards of $800 million in retooling another plant in Orion Township to build another new small car.
General Motors says that the new battery plant, located in Brownstown Township, Mich., right outside Detroit, will be a key part of its plan to build greener, cleaner vehicles, according to The Detroit News.
The Detroit News, quoting the ever-popular "sources familiar with the negotiations," said that Brownstown Township pledged a 50 percent tax break to G.M. on new machinery and equipment for more than a decade, 12 years in fact. That in and of itself could be worth several million dollars in costs savings to the beleaguered automaker. The state itself has already approved a hefty $167 million in tax credits if G.M. builds the plant in Michigan.
When completed, the new plant will sit on a sizable 375-acre site in an industrial park located near two airports. This will be a handy logistical feature, since this is where the lithium-ion cells will arrive from the Korean manufacturer. Once the battery cells make it into the plant, they will be assembled into the 400-pound T-shaped pack that will power the highly anticipated Volt. After that, it's up the road, in this case, up Interstate 75 to the venerable Hamtramck Assembly Plant where the range-extended electric car will be built.
Also when is the ribbon cutting? GM isn't saying … all they will say is "We are still working on the business case." Fair enough, but all of this seems more than workable, not to mention something that needs to be worked if G.M. wants to be making cars in the future.
Source: Wired
Photo from Flickr user Missouri History Museum
Related posts: