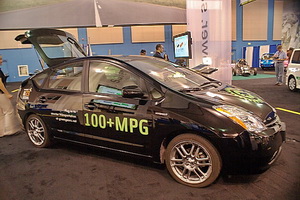 Toyota's hybrid sales in the U.S. have surpassed the 1 million mark, the Japanese automaker said Thursday, underlining the rising popularity of the ecological vehicles.
Here in trendy San Francisco, hybrids are more popular than iPhones, L.L. Bean or raw food bars. I am looking out of my home office window right now while writing this, and I can see four Priuses parked on the street below.
Toyota has a winner with these vehicles and they know it. The sad fact is that they beat the Big 3 in getting these cars to market, and that's one reason why they're hurting less than everyone else.

The Prius represents everything eco-conscious consumers in this country covet. It's a reliable form of transportation that is good for the environment and great for the psyches of every demographic. I have seen bumper stickers on some of them that say things like, "Yes I Care" and "My Other Car is a Diesel", alongside the standard Greenpeace, Salmon Aid and PETA stickers. People like to think they're being environmentally responsible while looking fairly stylish and the Prius gives them that.
It took seven years for Toyota, the world's biggest automaker, to sell 500,000 hybrids in the U.S., but has taken just two years to sell the next 500,000, the Japanese company said in a statement.
The gas crisis led to the huge spike in sales, no doubt. But word-of-mouth also helped. Then, to top it off, a lot of Prius owners are doing hybrid plug-in conversions, which allow the car to run more on electricity and less on gas. I recently encountered a shop in San Francisco that is doing these conversions (at a cost of around $6,000) almost full-time. Some folks want to be even greener, and a conversion is a very viable way of doing so.
Sure, Toyota's U.S. sales have been battered by the ongoing slowdown, tumbling 39.8 percent from a year earlier in February, but compared to many other carmakers, they're holding their own. I was on a Toyota dealership's lot the other day, and there were actually some potential buyers on site, getting the hard sell from a team of hungry salesmen.
I mean, how can someone in good conscience even consider buying a gas guzzler during this recession? The Prius is the right car at the right time and Americans are obviously sold on it.
Read portions of an Associated Press article after the jump:
Related posts: