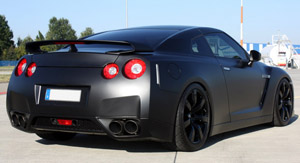 The German tuning firms continue to crank out the modified specials, although in the case of Avus Performance, the choice of rides is a little different. They've decided to have a crack at Nissan's GT-R, a car much beloved by import tuner/Fast and Furious crowd. The end results somehow make the GT-R, a car that seems massive and hulking as it sits in stock configuration even more weighty and bulky.
Sure, a lot of that has to do with the matte black paint scheme, a shade which has been all the rage for quite a while now, and first seemed to pop up in Europe. I'm not saying that it doesn't have a certain look to it, but for starters I think calling it "matte black", or even worse "satin" is sort of pretentious. It's primer black. Yeah, it does lend a hot rod feel to your car, but it also seems like a lot of time trouble and money to go through to make your car look like you still have to finish the paint job.
Of course, going with a primer black paint scheme plays into the whole Batman/Bruce Wayne/Dark Knight deal, which is more popular that I'd expect it to be. And on the GT-R, it does work, so there you have it.
What you also have is a car that started out as a limited production GT-R Black Edition, but Avus ditched the factory dark metal gray paint job and went with the aforementioned flat black. CarScoop used the term "flat black wrap" in its coverage, but it sure looks like paint and not plastic to me. Avus also added 20-inch alloys and for some reason wheel spacers. The wheels are in a semi-contrasting gloss black. Avus Performance also dropped the GT-R's ride height via non-factory coilovers, which give the GT-R an even more threatening posture.
In the powertrain department, Avus retuned the ECU and added a sportier exhaust system that ditched with the two catalytic converters as well as loosing the middle silencer. This helps the Nissan 3.8-liter twin-turbo V6 mill crank out 580 horsepower and 700Nm (or 516.3 lb-ft) of torque, which is up from the stock 485HP and 588Nm.
Costs? Well, they're not very Bruce Wayne-like. The paint/wrap will set you back €2,499, or around $3700; the coilovers go for around $1900 while working over the ECU will set you back approximately $2800. The new exhaust will ring out at $1500 and the painted 20-inch alloy wheels will also be about $1500.
Of course, you'll have to be living in Europe to pick one up, and I'm not sure how could explain the complete lack of catalytic converters to the authorities, either on the continent, or over here.
Source: CarScoop
Related posts: