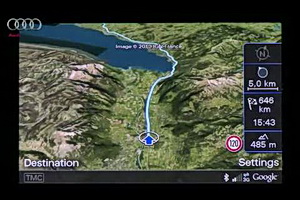 2011 Audi A8 to Feature Built-in Google Earth, Maps, and Local Search
The all-new 2011 Audi A8 incorporates more technological advances and wizardry than a Boeing 787. Highlights include an aluminum Audi Space Frame (ASF) that is 40% lighter and 25% stiffer than a comparable chassis made of steel and Audi's pre-sense safety system for avoiding accidents and for minimizing their consequences. One technological highlight that is immediately appreciated by anyone seated in the redesigned A8 flagship is Audi's fifth generation Multi-Media Interface (MMI) with a touchpad and navigation system, using the same embedded Google Earth application used in the iPhone and Droid, only adapted into an automotive application. This is the first time ever Google Maps has been incorporated into a car.
Not surprising, Audi and Google have teamed up to have Google Earth pre-installed into the 2011 A8. Previewed at this year's CES, the completed system won the award for Best Embedded Telematics Navigation Product at the 2010 Telematics conference in Detroit.
Since Google Earth's bird's-eye views of our planet require a connection to the Interweb, the A8 includes a 3G high-speed cellular data connection to download the images. The Internet connection also allows drivers to turn the luxury sedan into a rolling Wi-Fi hotspot. Passengers can simultaneously access the Internet through the car's integrated WLAN module and via UMTS, using up to eight terminal devices such as laptops, Apple iPads or netbooks. You either drop your SIM card into the car's on-board system or pair your phone with it via Bluetooth, and then share wireless Internet access with up to eight Wi-Fi-enabled devices at speeds up to 7.2 mbps. Taking advantage of the NVIDIA graphics processor in the A8′s navigation system, along with the car's 3G data connection, drivers can see their destinations and surroundings in rich topographical clarity.
The A8's MMI Plus system incorporates Google Maps and Local Search, plus the ability to link it all with your desktop computer. To save time, you can simply search for an address on your computer and send it to the car; when you start driving, the car will know where to go.
The Google Earth feature goes beyond downloading Google Maps destinations to your car. Snuggled right into the 8 inch high resolution LCD screen in the car, the Google Earth application lets lucky owners look at 3D satellite imagery, terrain information, and even additional info layers such as Wikipedia articles or Panoramio images related to a certain location. Live traffic data is downloaded from Sirius satellites.
Audi has also introduced fuzzy search for finding points of interest, something long missing from navigation systems. Instead of typing a specific name for a business, the A8 uses Google Local Search to find businesses and other locations based on general search terms. Google says because information is continually updated online, information on points of interest, such as hotels and restaurants, should be more accurate.
Don't expect Google Street view to be available anytime soon. Storage requirements are too demanding even for the system's 60 GB internal hard disk drive. According to Audi 30 GB is dedicated to the Google Maps navigation application while the the remaining disk space is allocated for music storage (20 GB) and Google Earth content (10 GB).
The 2011 Audi A8 goes on sale in the U.S. by the end of the year, but the Google Earth navigation system won't be available until early 2011.
Audi Google Earth GPS Demo
Audi and NVIDIA demonstrate the capabilities and features of Audi's latest generation MMI Plus system with touchpad input and voice-recognition.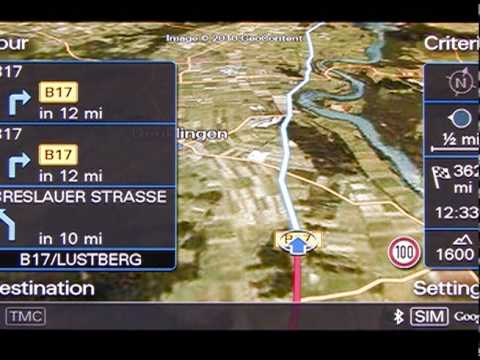 Related posts: