By contributing editor David Colman
Hits
Breakthrough engineering tour de force
No driving sacrifice needed to validate green passport
Interior design top notch
Misses
Even with tax rebate, pricey
Not the package for the driving enthusiast
35 mile battery radius seems hardly worth the extra cost and weight
You'll be reading reams of technical information about this car in the months to come, but what's it really like to drive? Based on a 100 mile round trip between Sausalito and Marshall, the Volt offers a workable solution to everyday transportation for 4 with the added bonus of 25-50 miles of gas-free operation daily. Volt operates in 2 different modes. There's battery power, which is good for that gas-free 25-50 mile romp, plus gasoline power for an added range of about 350 miles. If you drive short trips every day, it could be months before you need to refill the Volt's 9.2 gallon gas tank.
Of course, you'll need to recharge the batteries every night, a 10 hour job if you use 120V household current. If you want a 3 hour home recharge at 220V, you'll need to install a special battery charger which costs $600. Chevy will do a free site survey to assess what the installation of this charger will entail. Labor and parts can run the job as high as $2,000.
The combined range estimate of 379 miles means you never have to worry about getting stuck with a dead battery, because the Volt's diminutive 1.4 liter gas engine immediately comes to the rescue when the lithium-ion battery pack runs out of charge. So unlike the electric-only Nissan Leaf, which will stop dead after just 118 miles, the Volt will travel 4 times as far without giving you "range anxiety" ulcers.
The best part of owning a Volt is staying green without being a dolt. Unlike the Leaf's ToonTown caricature face, the Volt looks slick and futuristic without pandering to stylistic digression. The Volt's shape cheats the wind like few other cars on the road. With a Co-efficient of Drag (CD) of 0.28, Volt is actually a slicker shape than Porsche's slippery Cayman sport scar (CD 0.30). Everything about Volt is tailored for exceptional mileage, like its model-specific Goodyear Assurance tires (215/55R17), which come with a standard tire pressure dashboard monitor to insure proper inflation. Of course, you still have to monitor the monitor, and add air as needed, but Chevy eases the job by providing a neat portable pump in the hatchback's trunk. Volt carries no spare tire, so the Goodyears are run-flat specials.
Inside the cabin, Volt is a work of art, with dash-top pads that flow seamlessly into the door structures. The junction between these disparate surfaces is so tight the Volt looks like a Bentley inside. You can festoon the door panels with leafy green inserts that match the "New Mown Grass" stripes on the seats, or you can fore go the New Age look for a more subtle combination of cloth or leather. The center stack of the console which mounts the standard 7 inch navigation screen is a model of computer keyboard design, with touch activated areas controlling every needed interior function from HVAC to communication to navigation. If you need gratification for your green keen, the screen can be configured to display the state of regenerative braking, your efficiency as a driver, or your mileage on the current run. Another 7 inch wide screen directly in front of the driver contains pertinent information about state of battery charge, range to battery expiration, and a slew of other minutiae (like tire pressures), all at your beck and call with the twist of a dial.
The Volt is a remarkably mature product. It handles well on the secondary roads of Marin County, despite the hard rubber compound which makes the Goodyear tires squeal in tight turns. In full power mode ("Sport" setting with Low gear selected), Volt is just adequate for passing slower traffic on 2-way roads. You won't have your heart in your throat, but you won't feel overly confident until the 3,781 pound Volt is back in its proper lane. 0-60mpg runs take about 8.8 seconds, and top speed is governor-limited to 100mph.
ENGINE: 1.4 liter DOHC in-line 4, gasoline/electric hybrid
HORSEPOWER: 149 hp
TORQUE: 273 lb-ft
FUEL CONSUMPTION: 93 MPGe (all electric), 37 MPG (gas only), 60 MPG (combined composite)
PRICE AS TESTED: $43,485/ $35,985* (*includes $7,500 federal tax credit)
###
David Colman has been writing vehicle tests for 24 years. His work has been featured in AutoWeek, the San Francisco Chronicle, San Francisco Examiner, and Marin Independent Journal. In 1987, he helped start Excellence, The Magazine About Porsche, which he edited for many years. He has been an active participant in racing and Solo events since 1961. More car reviews written by Colman can be found at autoeditor.com
---
---
"Living with the Chevrolet Volt is about making a green statement, but without the usual green sacrifices"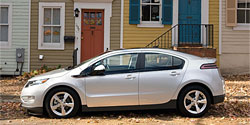 2011 Chevrolet Volt First Impressions Review – Driving the Chevy Volt
By David Colman
"The best part of owning a Volt is staying green without being a dolt. Unlike the Leaf's ToonTown caricature face, the Volt looks slick and futuristic without pandering to stylistic digression."
2011 Chevrolet Volt First Impressions Review – Yes, it drives like a real car
By Derek Mau
"Typical of all battery-electric cars, there is no audio cue to signify the car is alive. Switching on the ignition, the driver is treated to a light show displayed in the instrument cluster."
 RELATED CONTENT 
The Wait is Finally Over! 2011 Chevrolet Volt Pricing Announced
By Derek Mau
"After nearly four years of development and extensive testing with the pre-production models, General Motors has officially announced pricing and has begun taking customer orders for the 2011 Chevrolet Volt in seven select markets starting today."
Chevy Volt On Schedule for November 2010 Debut
By Tony B.
"Despite all of the economic turmoil swirling around General Motors these days, they still say everything is on track for the late 2010 debut of the Chevy Volt plug in hybrid."
Flint Gets a Jolt From The Volt
By m35man
"Instead of constructing a whole new factory to make engines for its new Chevrolet Volt electric vehicle, General Motors has decided to build them in an existing facility located in Flint, Michigan."
Chevrolet Volt Unveiled
By Derek Mau
"General Motors continues to develop its gas-electric plug-in car called the Volt and unveiled a pre-production model at GM's 100-year anniversary celebration."
Chevrolet Volt Development Charges On
By Derek Mau
"A few months ago we had the opportunity to get a close look at the Chevy Volt Concept and speak with key people surrounding the project. Whenever GM releases news that the Volt is getting closer to its 2010 production date, we get all tingly inside."
Chevy Volt Waiting List Hits 10,000 Members
By Derek Mau
"Today we have hit a major milestone. 10,000 people have signed up on our waiting list, expressing their desire to buy a Chevy Volt. This site was started on January 12, 2007 in response to GM unveiling the Chevy Volt five days earlier."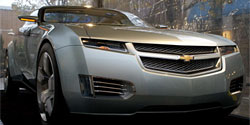 First Look – Chevy Volt Concept Car
By Kurt Gensheimer
"There is no debating the visual aesthetics of the Volt. It's a sharp-looking machine. Whoever established the precedent that eco-friendly cars must resemble disfigured spacecraft obviously didn't affect GM designers when creating the Volt."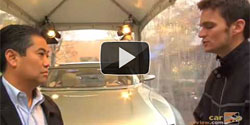 Chevrolet Volt Concept Car – video feature
By Derek Mau
"Kurt interviews Clay O. of GM and picks up a few details of the upcoming Chevy Volt and the new E-Flex system."
General Motors' Chevy Volt Concept Makes Its Debut In San Francisco
By Derek Mau
"Extended-Range Electric Vehicle Will Electrify The City By The Bay"
 PHOTO GALLERIES Chevrolet Volt Compared w/Toyota Prius | 2011 Chevrolet Volt 
Official website for Chevrolet cars, hybrids, trucks, and SUVs – www.chevrolet.com
Official website for Chevrolet cars, hybrids, trucks, and SUVs – www.chevrolet.com
Related posts: