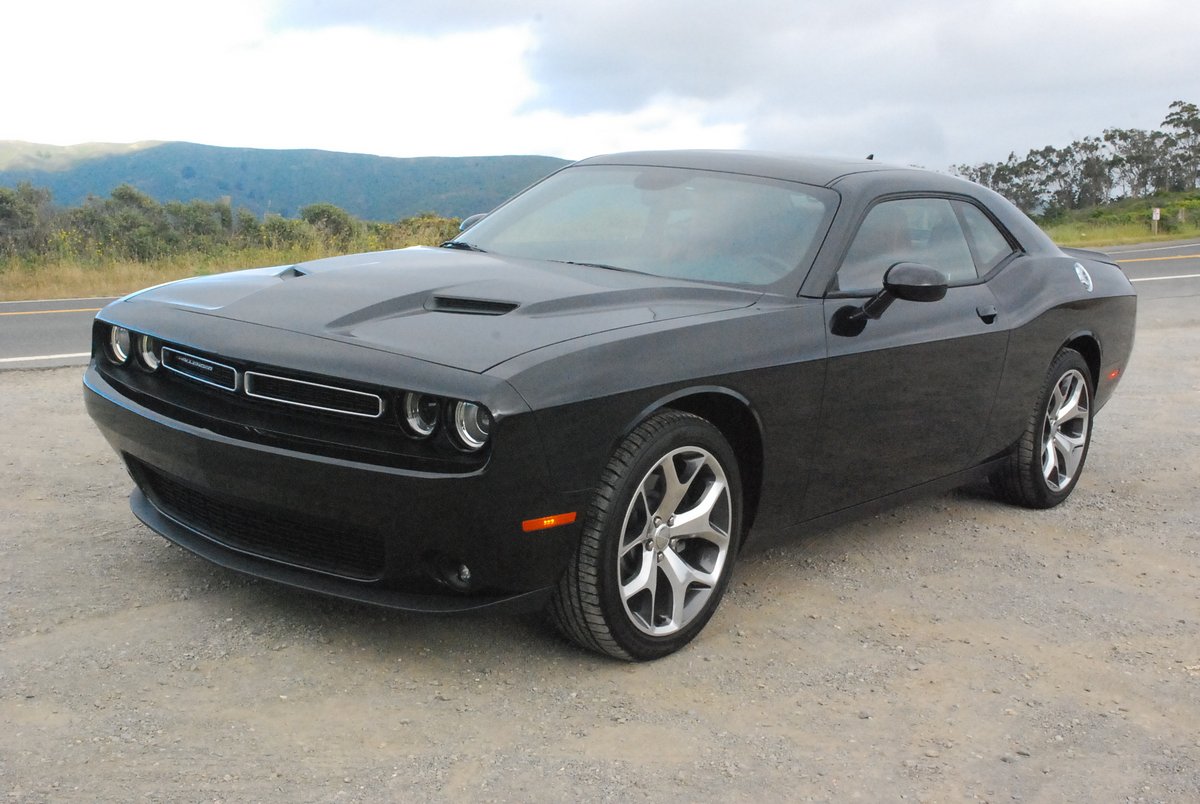 By David Colman
Hypes: Show car Looks, Ease of Operation
Gripes: Slow KIckdown Gear, Limited Rear Vision
In the prime of the muscle car era, back in 1970, Chrysler fielded an SCCA Trans Am racing team of Dodge Challengers and Plymouth Barracudas. These were basically the same car, with only stylistic differences between them. Although Chrysler never won the Trans Am series title with either model, the cars were successful brand ambassadors, especially the Barracudas entered by Dan Gurney's All American Racers. Gurney's AAR 'Cuda, as it was known by its laser stripes then, lives on today as the Dodge Challenger SXT Plus. Optimal Challengers are available either with a 375hp, 5.7 liter HEMI V8, or a 470hp, 6.4 liter HEMI. The model we tested, however, was powered by a fuel conserving 3.6 liter V6 good for 23 MPG in overall driving, and 30 MPG on the highway. The V6 Challenger SXT Plus is plenty quick as long as you've selected the right gear in the 8-speed Torqueflite transmission. Otherwise, acceleration is rather leisurely, as it takes the drive train a full second to get with the program when you floor the throttle with Torqueflite in Drive. Overall performance is more AARP 'Coulda than AAR 'Cuda.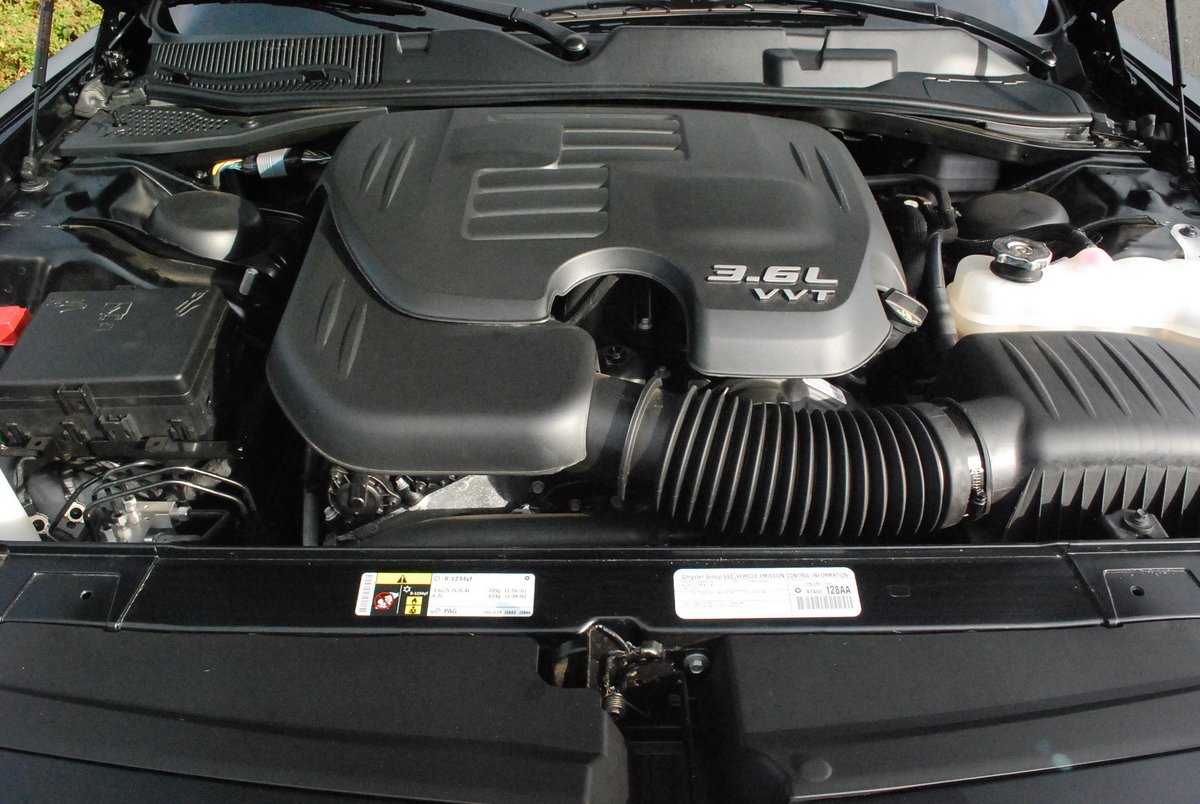 Despite this occasional power outage, the Challenger is still rewarding to hustle through curves. You can thank the big footprint of the standard Firestone Firehawk GT tires (245/45R20) for the extra stability. These beefy rollers are enhanced by optional polished alloy 20 inch wheels ($795) with "Graphite Pockets." Their hexagonal spoke pattern and dazzling finish look especially good when bolted to a Challenger finished in "Phantom Black Metallic Tri-Coat Pearl" exterior paint. Though you might expect to pay extra for this show car finish, it's available as a standard shade. Complementing the sparkly black is an eye-popping Ruby Red interior. The SXT is definitely a looker, with sleek body contours and twin faux hood scoops imparting that just-raced look so much a part of muscle car credibility.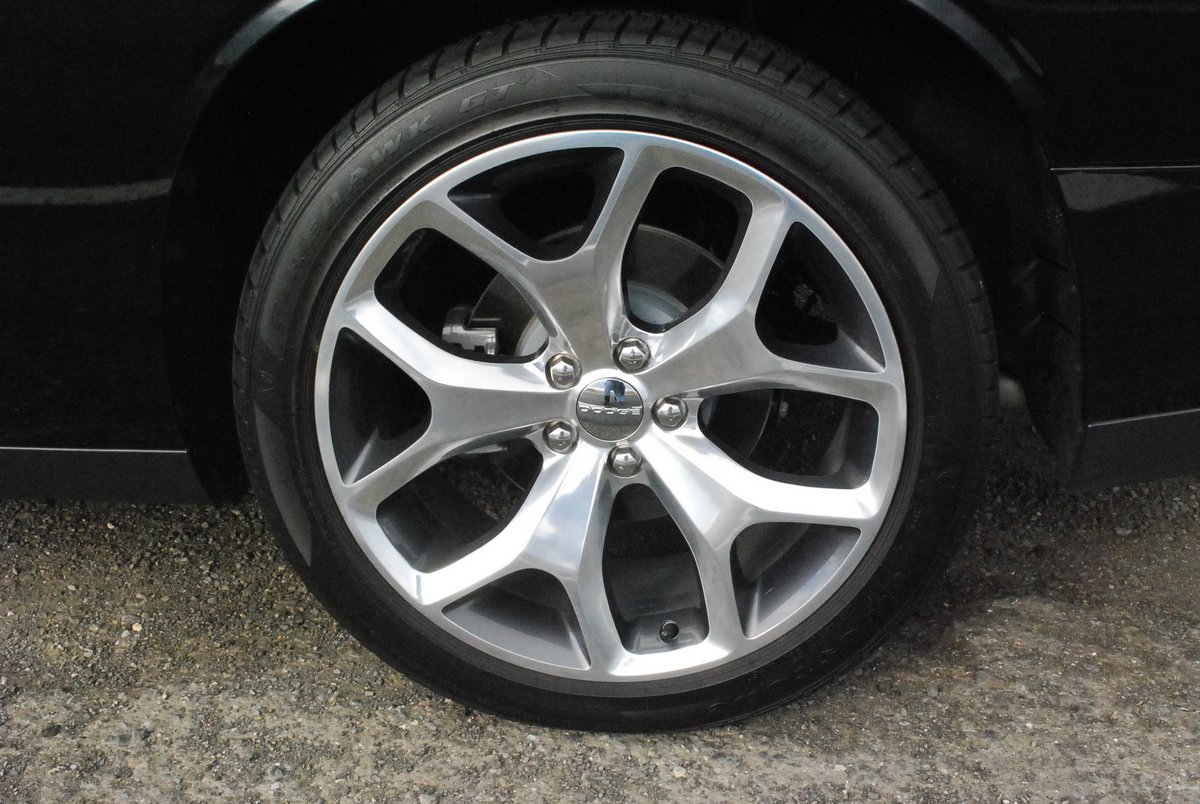 Weight saving has never been a muscle car strong suit, and the Challenger, at 4,195 pounds, continues that dubious tradition. You sense the SXT's mass every time you flick the steering wheel from lock to lock through a series of switchback curves. While the Challenger obediently follows your lead, it takes a couple of milliseconds before the chassis settles down. In fact, the SXT version seems rather softly sprung, a trait which imparts a cushy ride at the expense of fully snubbed handling. It's actually a worthy trade-off for real world driving, a compromise that pays off in comfort every time you're confronted with an array of speed bumps.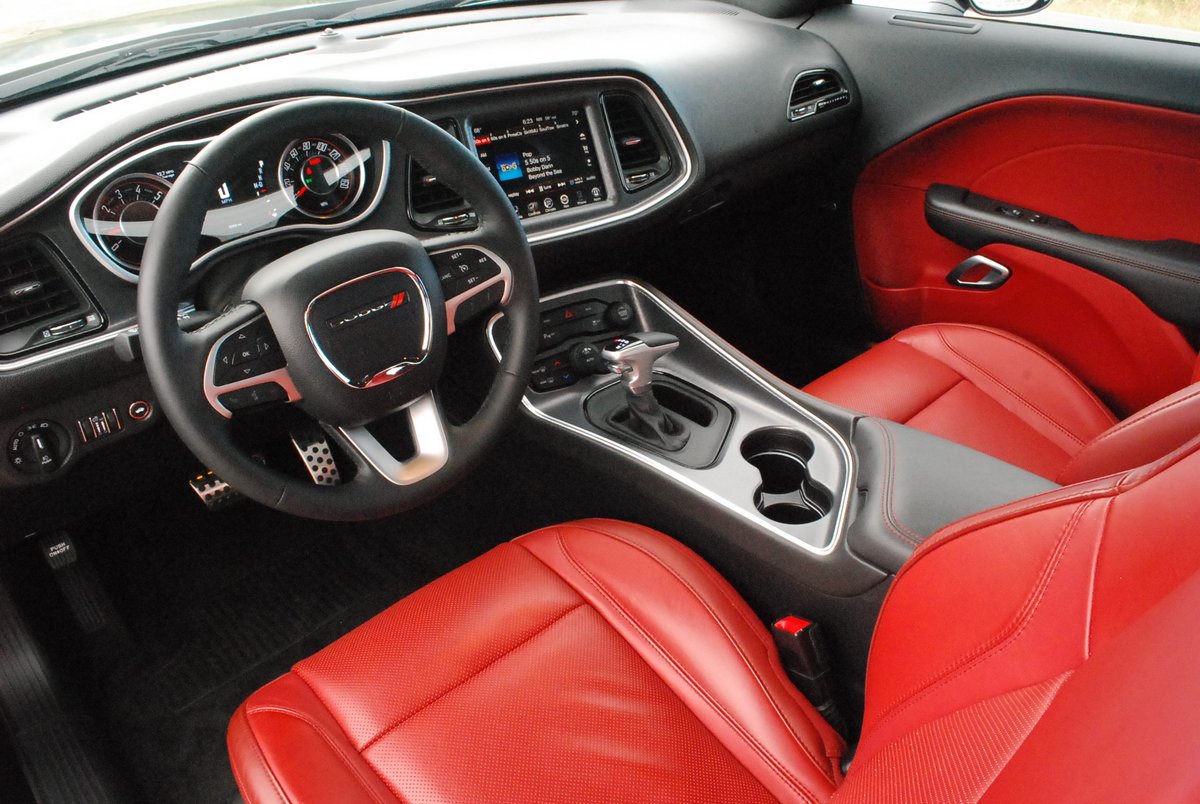 With a length of 16.5 feet, and a wheelbase of 116 inches, the cabin of the Challenger is a spacious enclosure. Although access to the back seat is somewhat impeded by the aft positioning of the front seats, once passengers are ensconced in the rear they will enjoy a moderately pleasurable ride. The Challenger's sheer size also endows it with a flat floored, 16 cubic foot trunk. Rear seat backs can be dropped to access interior space for lengthy items. The heavily sloped rear roof and small backlight limit rear visibility, so the standard Park Sense rear park assist system and standard Park View rear back-up camera are essential safety components for maneuvering the Challenger in tight quarters. Our test example also featured an optional, $1,195 Power Sunroof which helped to shed light on the many black door and dash panels that engulf the Ruby Red seats. For $795, you may also want to upgrade to the Driver Convenience Group, which endows the Challenger with a slick Remote Start System, as well as Blind Spot and Rear Cross Path Detection, plus HID headlamps. The Blind Spot monitors illuminate handily under the rear view mirror stalks, and the Cross Path alert sounds when you are backing out of a parking space into circulating traffic. Both aids are worth having in view of the Dodge's limited rear vision.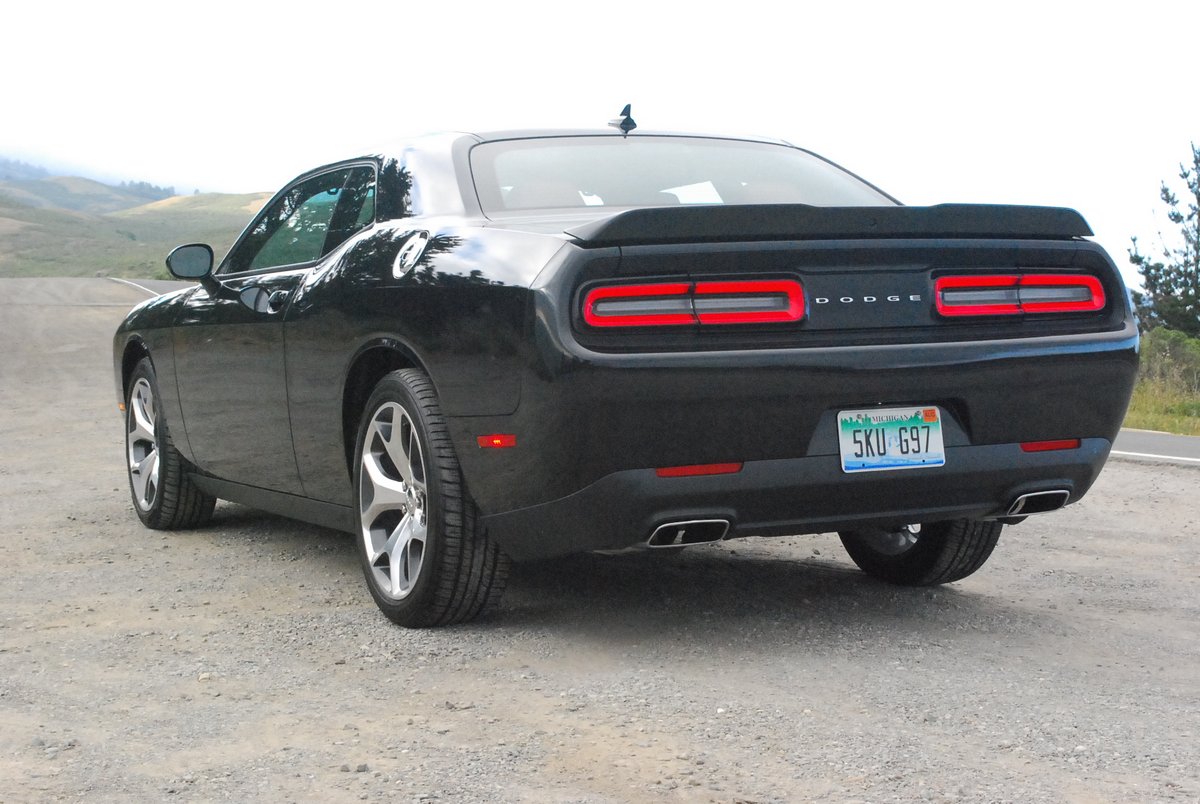 The basic Challenger SXT Plus provides a number of luxurious and surprising standard fitments in a vehicle with a base price of just $29,995. Chief among them are Keyless Enter 'n Go, a terrific system which allows you to forget about fiddling with your key forever more. Just slip the fob into your pocket, and every time you approach your locked Challenger, it opens magically when you touch the door release. A voice activated Uconnect Access system affords voice texting of 140 character messages, plus a mobile Access App (free for the first 6 months) that provides restaurant, hotel, entertainment, gas, bank and parking information. A 7 inch reconfigurable display on the instrument panel makes Uconnect surfing easy.
With its comfy and inviting interior, stealthy exterior, and long list of standard features, the affordable V6 version of the Challenger is the Big Easy of today's muscle cars.
2015 Dodge Challenger SXT Plus
Engine: 3.6 liter V6 with 24 valves and VVT
Horsepower: 305hp
Torque: N/A
Fuel Consumption: 23 MPG City/30 MPG Highway
Price as Tested: $34,175
Star Rating: 9 out of 10 Stars
Related posts: