Hypes: Scintillating Paint/Interior Combo, Racing Gearbox, Turbo Rush
Gripes: Noisy Goodyears
Would you like to own an SUV that handles like a sports sedan and costs less than $30,000? Hyundai has just introduced its Kona line of subcompact SUVs, and if the Lime Twist/ Lime Interior Ultimate AWD example I drove for a week is indicative of this new model's potential, you can forget about spending way more for a Honda HR-V, Mazda CX3, VW Tiguan, BMW X1, or Audi Q3. The lithe and athletic 163″ long Kona has pole position on the rest of the subcompact SUV field.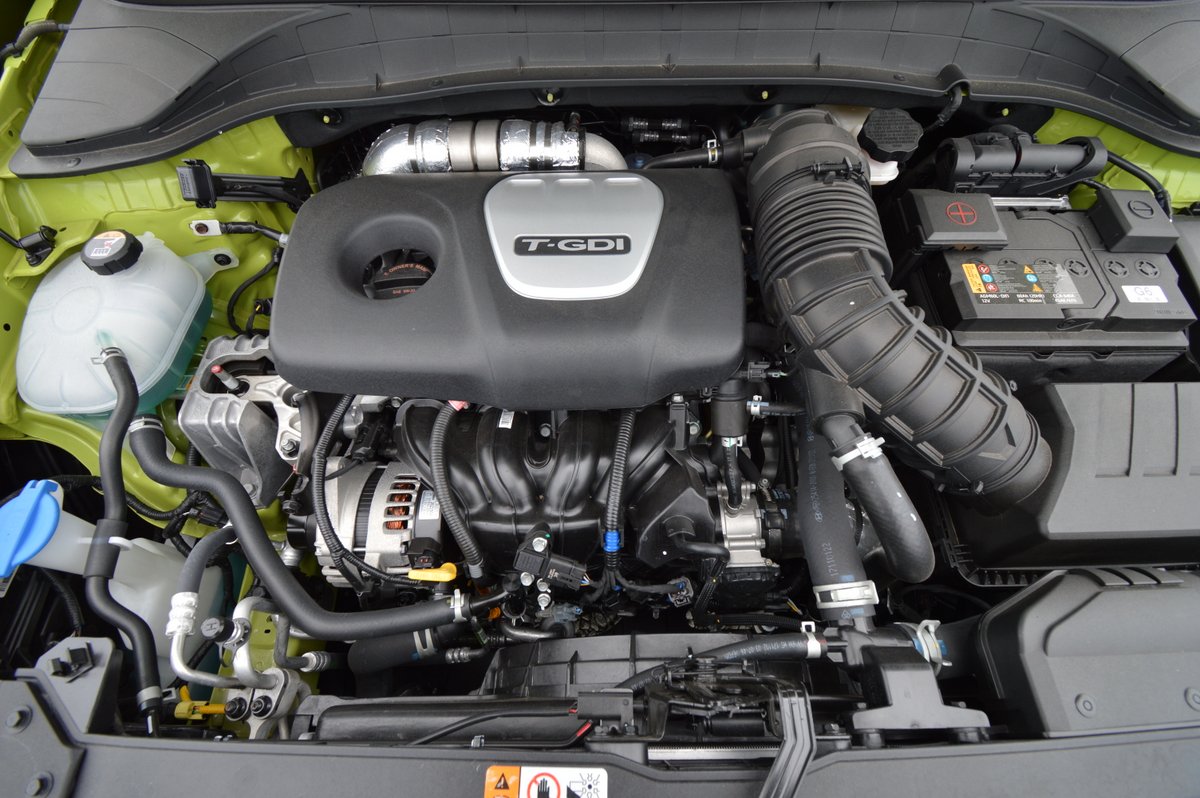 Kona is available in 2 versions. The front wheel drive base model consists of a 2.0 liter, 147hp, 4 cylinder engine connected to a conventional 6 speed automatic. However, the model you'll want to order is the all wheel drive (AWD) Ultimate, with a 175hp, turbocharged, 1.6 liter, 4 cylinder engine driving through a seven speed dual clutch gearbox. The dual clutch unit replaces the normal torque converter found in the base model's automatic transmission. Hyundai says "The dual clutch transmission can be thought of as an automatically shifting manual transmission." Indeed, you can park the console mounted stick in Drive and let the gearbox do all your shifting for you. Or you can slot the stick into its manual operation gate and bang off upshifts and down shifts with immediate effect thanks to the dry plate dual clutch mechanism. Finding such a sophisticated and sporting transmission in an SUV in this price range comes as a stunningly pleasant surprise.
The Kona is chock full of other unanticipated bonuses as well. Take the show car interior. Hyundai stylists have re-imagined the basic black interior by using matte lime twist highlights to outline three dashboard air vents, the starter button, and the shift console. Front and rear seats and headrests are starkly outlined in lime green piping, with a double row of green stitching to accentuate the piping. The steering wheel's leather cover is also stitched with bright green thread. The net effect is startling but far from garish. In fact, this visual symphony is a real treat. The wow factor of the Kona's interior matches the visual sizzle of its shocking Lime Twist (no extra charge) exterior paint. In a boring SUV world of grays, blacks and silvers, our test Kona popped retinas wherever it went.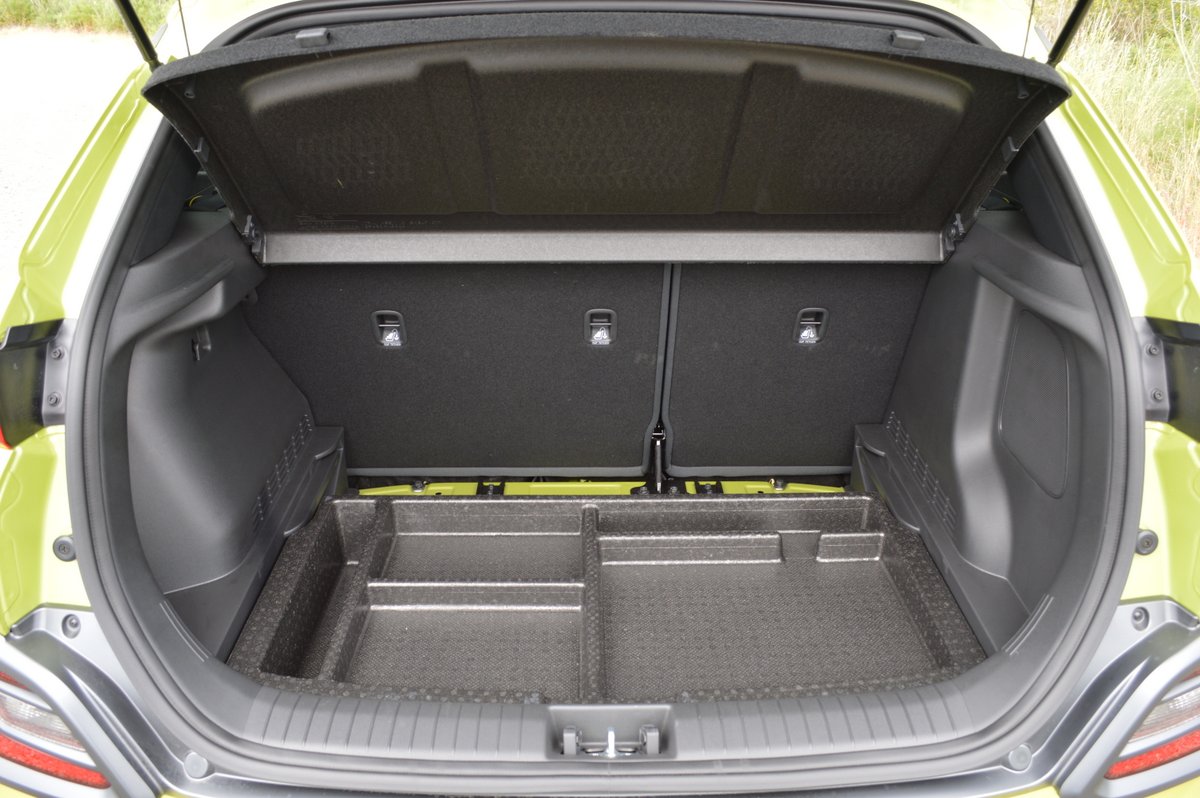 Thanks to unexpected fully independent rear multilink suspension, the Kona handles with precision. Its ride quality is exceptional, with even the most egregious potholes making little impression on Kona occupants. Hyundai does not stint on tire or wheel dimensions for the Kona, with the Ultimate model sticking to apexes with polished resolve. Handsome 5 spoke, 7.5″x18″ alloy rims plant generously sized 235/45R18 Goodyear Eagle Touring tires on the pavement. Although the Goodyears lack an aggressive looking tread design, they maintain traction well when you push the Kona to the limit. Their only drawback is high noise feedback over concrete aggregate pavement.
The 8-way adjustable driver's seats boasts power slide and backrest adjustment as well as power lumbar control. The heated front seats are laterally supportive without cumbersome side bolsters blocking ingress or egress. Eschewing the current craze for burying key operational controls inside layers of menus, Hyundai engineers have instead opted for fixed control switches for all necessary basic commands. We particularly liked the old fashioned fly-off mechanical handbrake, and the two large knobs controlling air temp and fan speed. Of course you will find the obligatory 4.2 inch LCD multi-information display screen dominating the center of the dashboard. This easy-to-read graphic information panel allows easy access for tuning the SiriusXM radio during your free 90 day trial period. The tunes play through a 315 Watt Infinity Premium Audio entertainment system with 8 speakers. Apple CarPlay and Android Auto compatibility are supported, and the system delivers AM/FM/MP3 and HD Radio.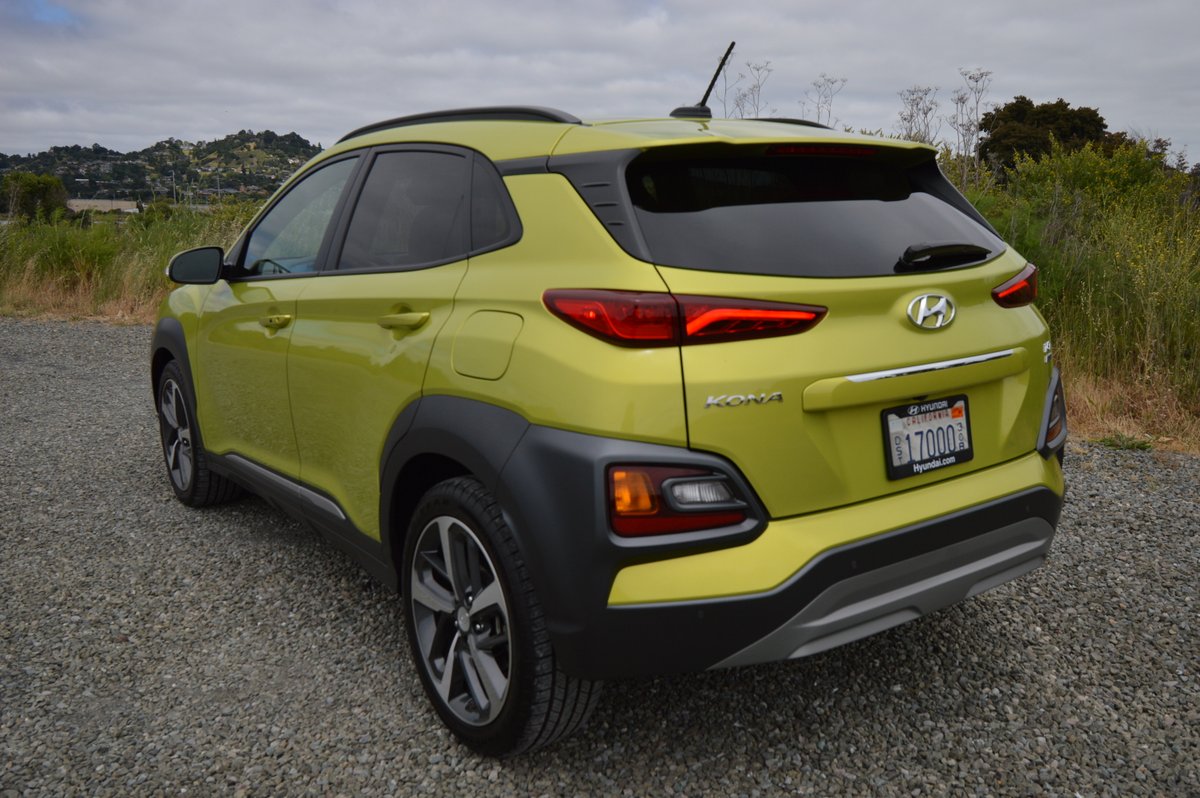 If you examine the Kona's window sticker, you will quickly determine that Hyundai's favorite phrase is "Included." Unlike some of the German competition where pretty much nothing is included in the base price of a vehicle, with this Hyundai, everything is "Included." In fact, beyond a $125 charge for Carpeted Floor Mats," there isn't a single optional item boosting the Kona's base price of $28,700. I challenge you to find another compact SUV that is this much fun to drive, and this delightful to look at, for such an affordable price.
2018 Hyundai Kona Ultimate AWD
Engine: 1.6 liter Turbocharged Gasoline Direct Injection 4 Cylinder
Horsepower: 175hp@5500rpm
Torque: 195lb.-ft. @1500-4500rpm
Fuel Consumption: 26MPG City/29MPG Highway
Price as Tested: $29,775
Star Rating: 10 out of 10 Stars
Related posts: