By David Colman
Hypes: Strong Drivetrain, Useful Interior, Great Price
Gripes: Needs Headlight Flash When Locking/Unlocking
So far, the new Alltrack VW had checked all my boxes. Was it fast enough? Yes. Did it handle well enough? Absolutely. Did it look good inside and out? Check and check again. But as a sportive player, now it would have to pass the bike test. With rear seats folded flat, would the Alltrack have enough room to stow my mountain bike? Yes, with surprising room to spare – as long as the bike's front wheel is folded back 180 degrees. Clearing that final impediment makes the Alltrack as close to perfect as you can get. With its Falken Sincera tires (205/55/R17) churning through slosh and mud, this newest addition to the company stable is good for virtually any foray, off or on road. It deals equally well with either eventuality. And it provides you with lots of driving fun to boot.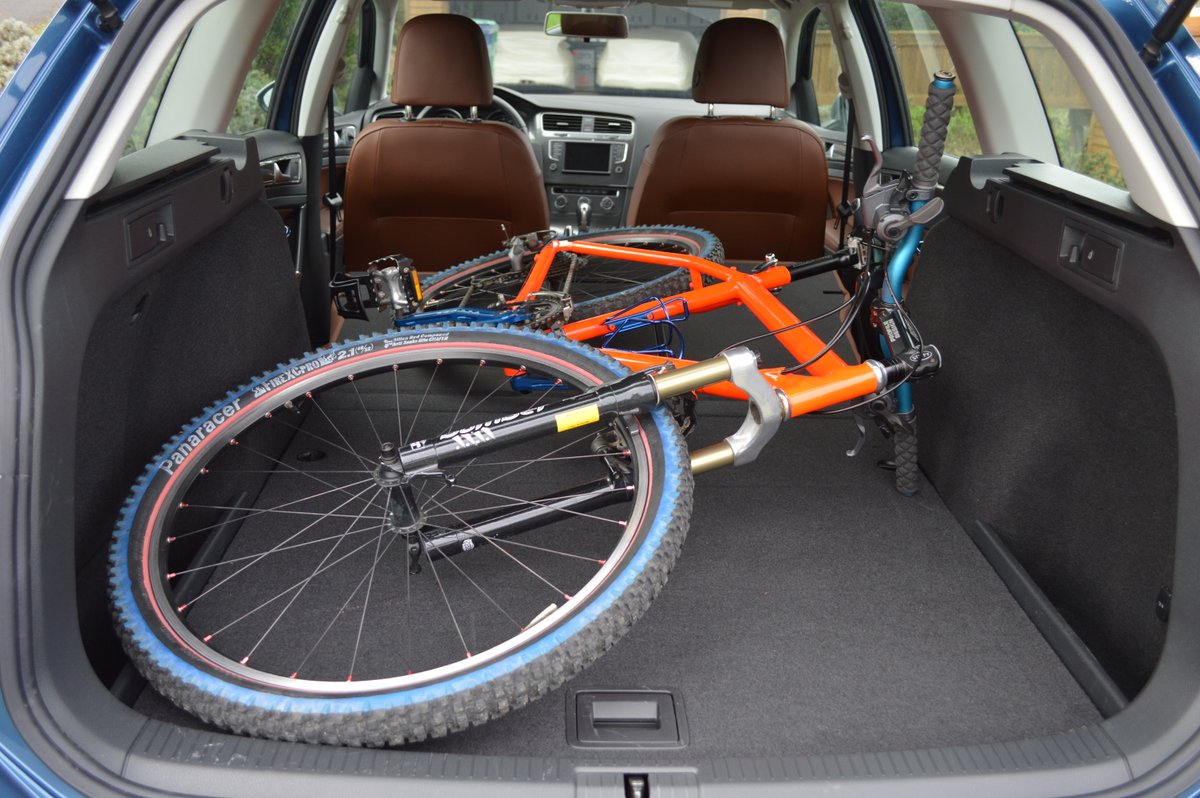 This latest brainchild from Wolfsburg is a crossover of sorts. VW appropriated the basic architecture of the Front Wheel Drive Golf SportWagen, transforming it into an All Wheel Drive variant that excels in all terrain performance. VW calls it "All Whee Drive." In addition to 4Motion (VW's name for all-wheel-drive), engineers have raised the Golf's suspension enough to clear off-road type obstacles. They have even provided an underbody guard to prevent damage in the outback. A "Driving Mode" selector on the center console allows you to chose ride height appropriate for Sport, Normal or Off Road driving adventures. Even though I never ventured far off pavement (VW calls such excursions the "road less graveled"), I did drive this VW for two hours through a pouring rainstorm, where I found its 4Motion traction capable of providing reassuring comfort in even the most adverse conditions.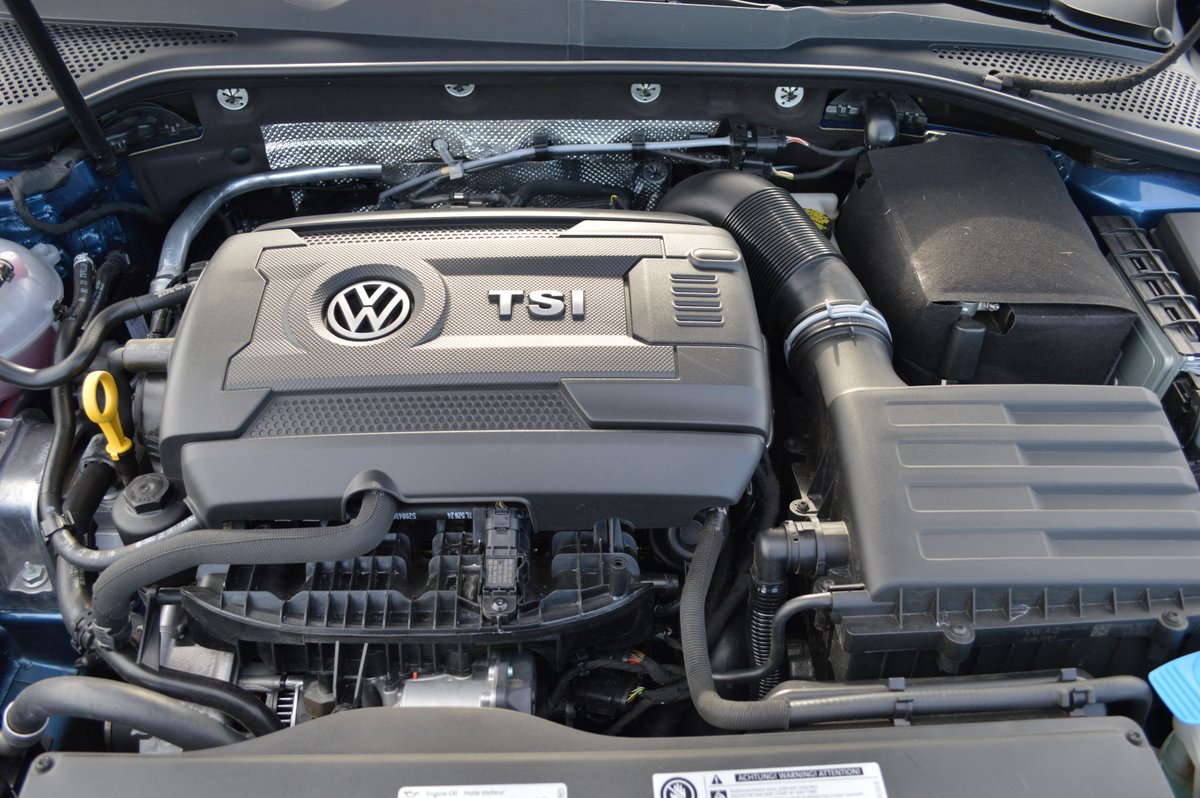 Similar Japanese products I have recently driven seem underpowered compared to the Alltrack, which depends on 1.8 liters of direct fuel injected, turbocharged, "TSI" 4 cylinder power to sprint away from stop lights like its sporty cousin, the Golf GTI. Helping allocate the power is a 6-speed automatic transmission equipped with a manual control gate and small paddles at the 9 and 12 o'clock positions behind the steering wheel. The Alltrack produces 170hp and makes 184lb.-ft. of torque while posting an overall EPA fuel consumption figure of 25 MPG. For the record, we never came close to exhausting this Golf's 14.5 gallon supply, or invoking its 1.3 gallon reserve margin.
A week of nearly constant wet weather operation revealed a few niceties missing from the Alltrack equation. Rain sensing wipers would have been useful, as I spent an inordinate amount of time fiddling with the wiper stalk to keep pace with conditions. The power door locks, operated by the keyfob, lack a proximity sensor, so you need to push the appropriate button on the keyfob. This tends to complicate the boarding process in a downpour. And finally, when you unlock or lock the Alltrack, your action is confirmed by a blink of the turn indicators. But there is no accompanying timed illumination from the headlights. This makes for difficult approach or departure at night.
Despite these minor oversights, the Alltrack is a startlingly well equipped vehicle, especially considering its bargain base price of $26,950. For example, both front seats are heated, with 3 stages of temperature offered. The wipers are also heated, along with the outside rear view mirrors. The Golf has been granted a substantial makeover for 2017, and one of the new features is a larger 6.5 inch touchscreen that displays a sublime level of clarity for operation of the 8 speaker AM/FM/SiriusXM radio unit. Thankfully, VW have avoided the temptation to incorporate all HVAC commands into this digital display.. Instead, the Alltrack provides welcome dial controls for temperature and fan settings, as well as separate buttons for A/C, defrost and rear window heat. It is also thrilling to discover that your seat settings (fore/aft, tilt, height) are all controlled by you, not a series of heavy, expensive and completely unnecessary electric motors. You also need to insert a key in the ignition which is something else of a delightful throwback these days when hard-to-find starter buttons have become the norm. In an era of increasingly overcomplicated auto design, VW takes a refreshing stand for simplicity of operation.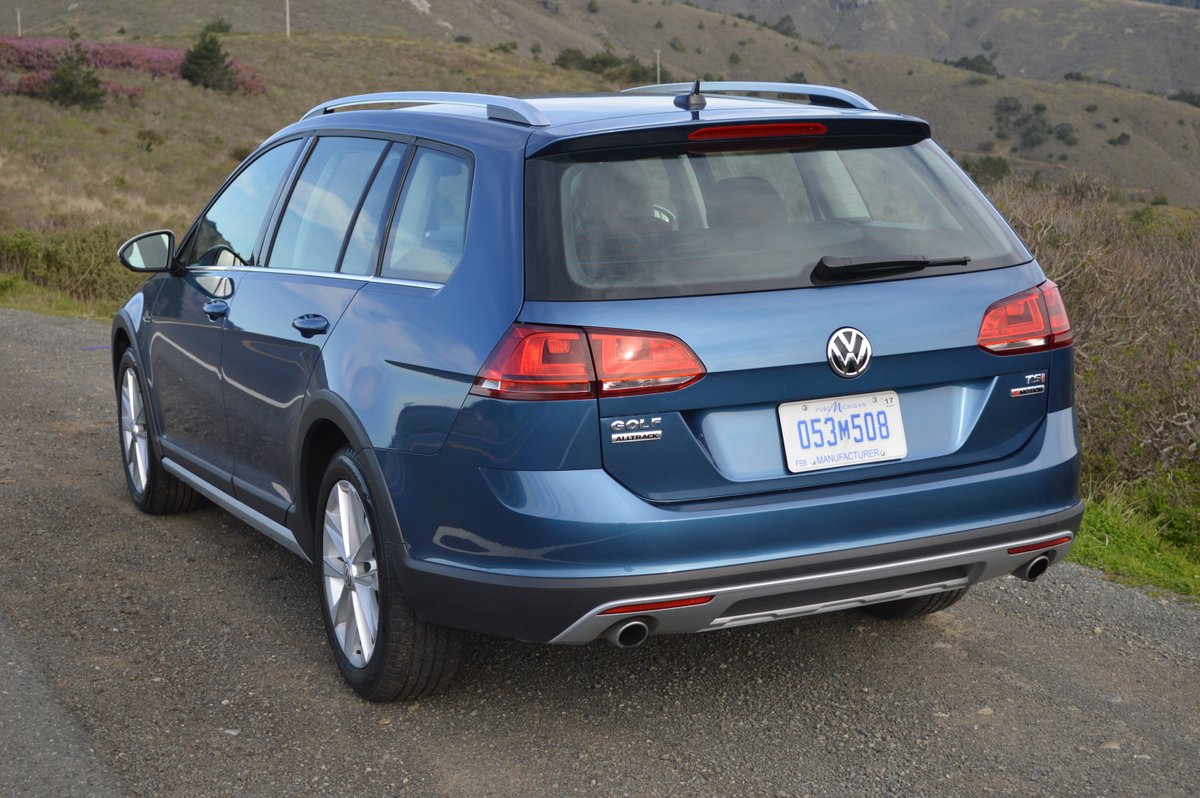 The Alltrack is the perfect answer to a question asked by many families. What vehicle is sporty, all terrain capable, yet not configured like a tippy SUV on stilts? the answer to that quandary is this newest member of the VW clan, the quick, grippy and practical new Alltrack wagon.
2017 Volkswagen Golf TSI Alltrack 4Motion
Engine: 1.8 Liter TSI DOHC inline 4, turbocharged with direct injection
Horsepower: 170hp
Torque: 184lb.-ft.
Fuel Consumption: 22 MPG City/30 MPG Highway
Price as Tested: $27,770
Star Rating: 10 out of 10 Stars
Related posts: