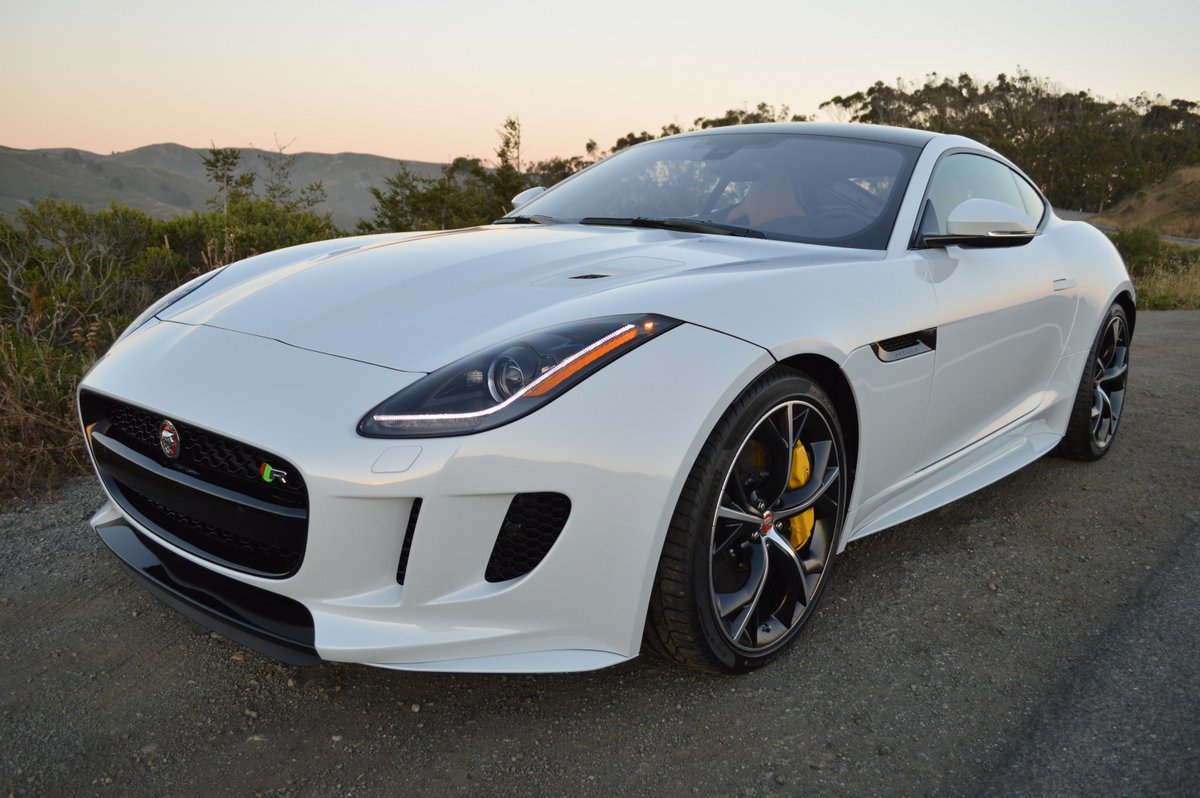 By David Colman
Hypes: Fastest Jag Ever
Gripes: Hard To Fault
This Jaguar is scare yourself to death/go to jail now/do not pass go FAST! Even with the aid of a supercharger, it's remarkable that Jag engineers have managed to extract 550hp and 502 pound-feet of torque from just 5.0 liters (302 cubic inches) of V8. We'll take Motor Trend's word for it when they discovered that the R Type will run the quarter mile in under 12 seconds (11.8 to be exact) with a trap speed of 122.7mph. Sixty miles per hour comes up in 3.6 seconds from a standing start. For sheer speed, the R-Type has very few rivals on the market today, and most of them (Corvette Z-06 excluded) cost twice or thrice the price of this Jag. And comparing this ultra refined, very buttoned down speedster to a Corvette is simply sacrilegious.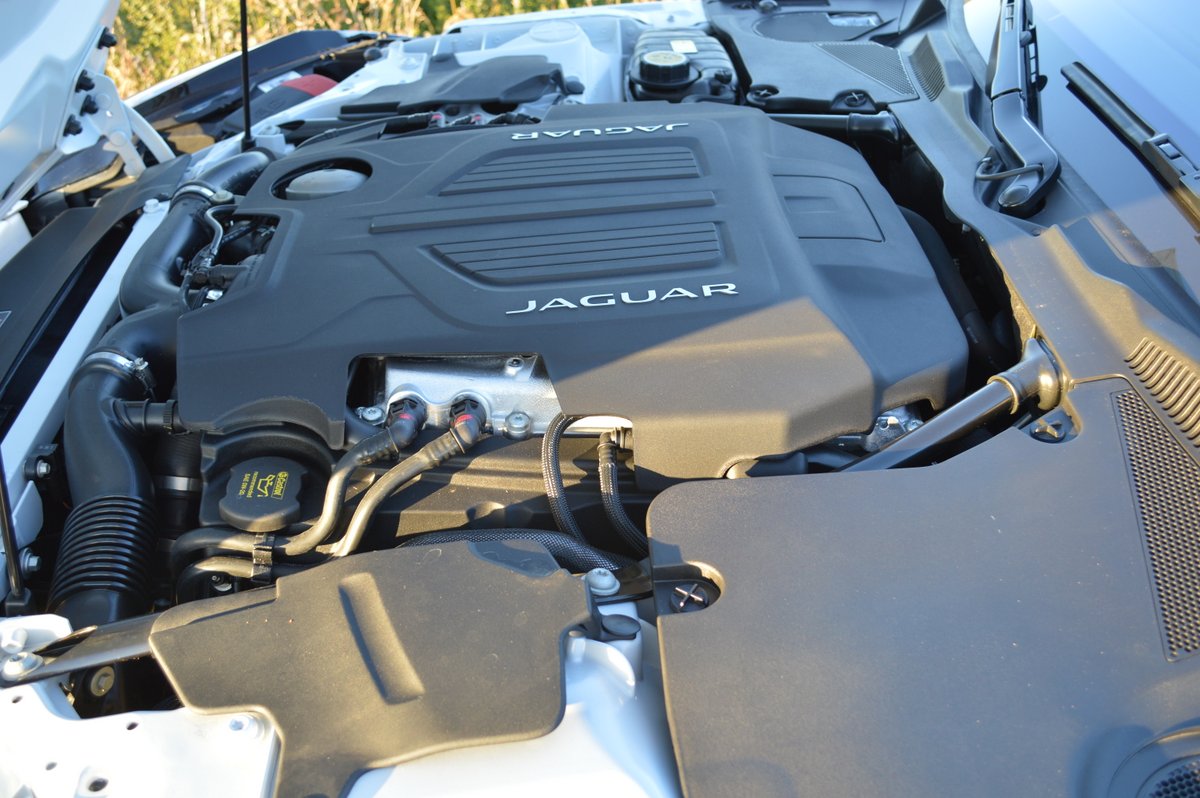 The first thing you notice when you insert yourself into the Jag's tight cockpit is the exquisite level of refinement and design. All the dash surfaces sparkle with a metallic cross hatching that is ever so much more beguiling than passé carbon fiber. When you light the ignition, twin ram air scoops rise mysteriously, not from the hood, but from the dash top to provide air conditioning or heat. When you switch off, the vents restore themselves to their receptacles. It's a welcome bit of British drawing room drama that is simply unforgettable.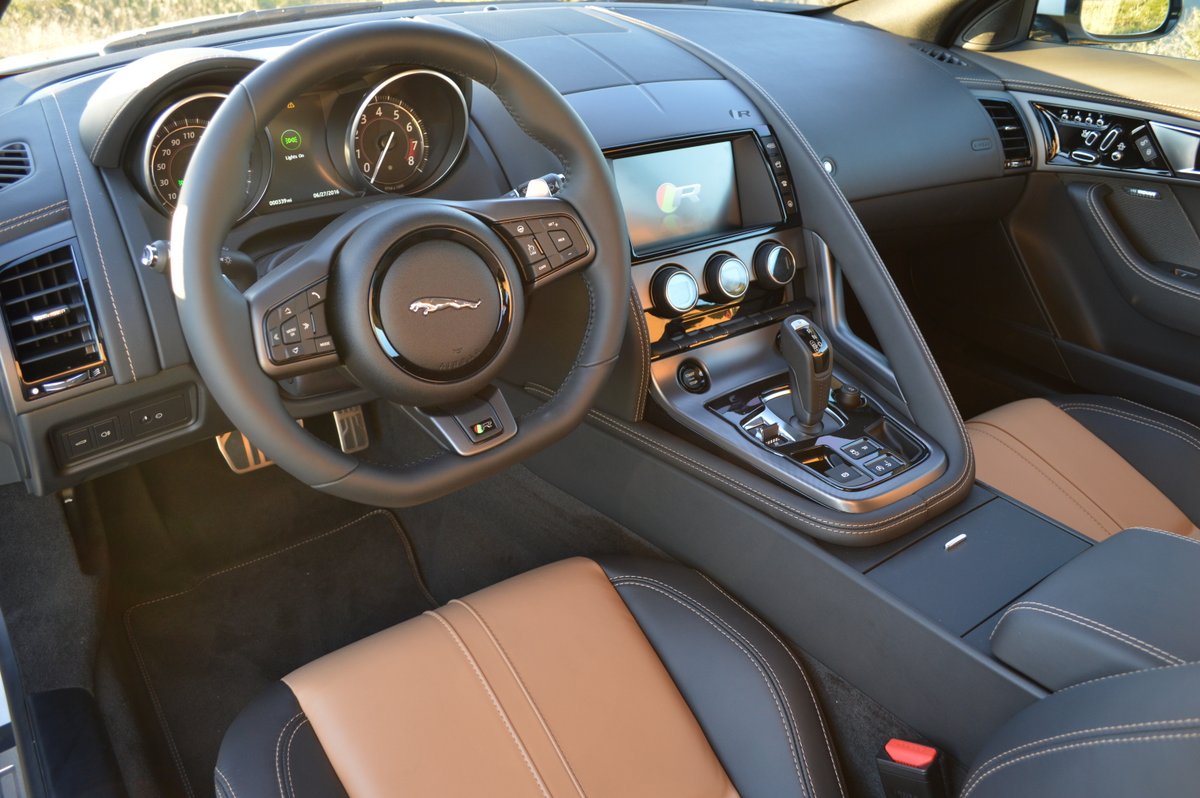 The twin bucket seats are resplendent in mocha and black stripes which Jag terms its "Camel Duo" complete with contrasting colored "Camel Stitch." These exceptionally supportive "Performance" seats are 14-way adjustable, manipulated by a bewildering array of chromed control stalks located on each upper door panel. The instrument binnacle contains a bevy of dazzlingly bright TFT instrument faces which keep you apprised of every mechanical function without requiring you to squint. Due to the abbreviated height of the side windows and the near horizontal plane of the back glass, outward vision is somewhat compromised. You need to be extra careful when docking this Jag as the convoluted and vulnerable front spoiler protrudes more than you might anticipate.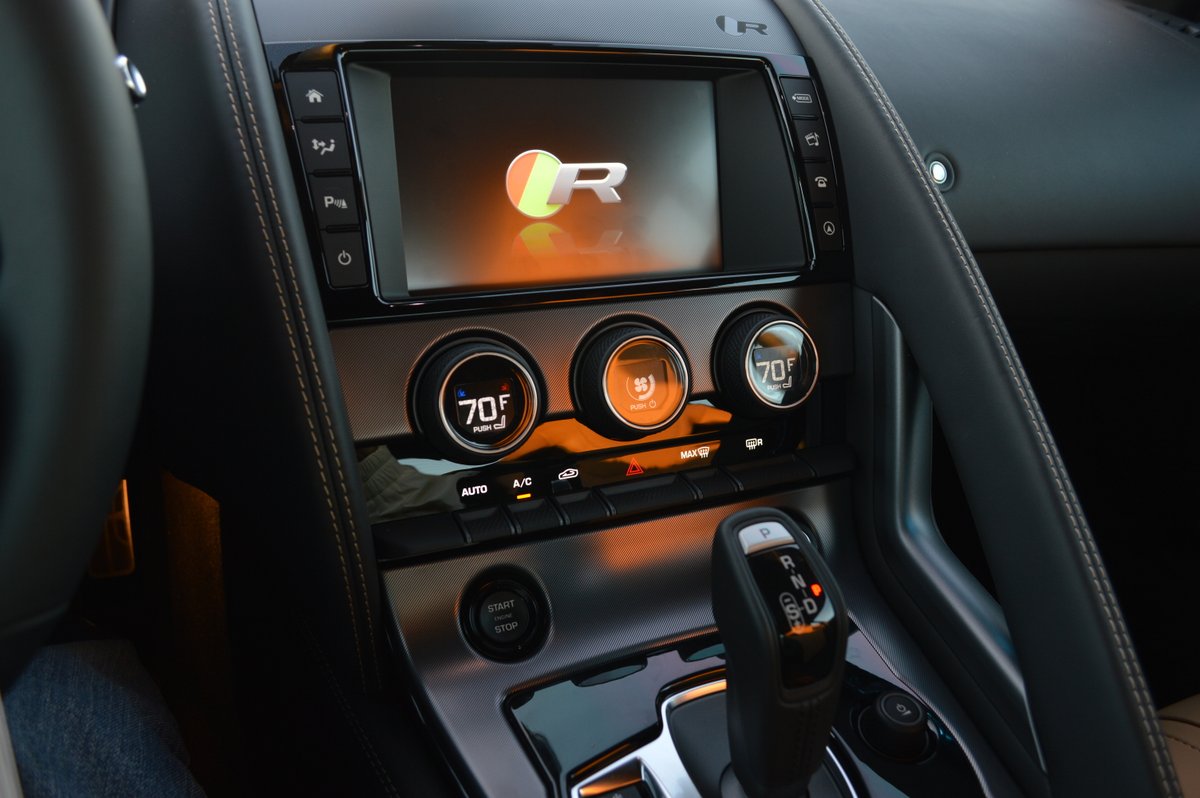 One of the nicest instrumentation features is the inclusion of a huge white meatball displaying an 80 point digit displaying the gear you have selected. Since 8 ratios are available from the "QuickShift" transmission, gear notification is essential information. Thus informed, you will become expert in managing gear changes with a pair of lovely, cool-to-the-touch, aluminum shift paddles located next to the 3 and 9 o'clock grips of the steering wheel. When you have selected full Manual operation of the gearbox, the illuminated gear choice meatball will flash if you reach redline without up-shifting. The QuickShift will not upshift on its own in Manual mode. Some of you may recall those useless "upshift" lights fitted to cars back in the 1980s to improve EPA fuel consumption test cycle results. Think of Jag's meatball version as the drag racers' upshift light
So it's beyond fast and beautifully appointed. But does this rather ponderous, 3,915 pound British missile handle with the aplomb Jags have long been noted for achieving?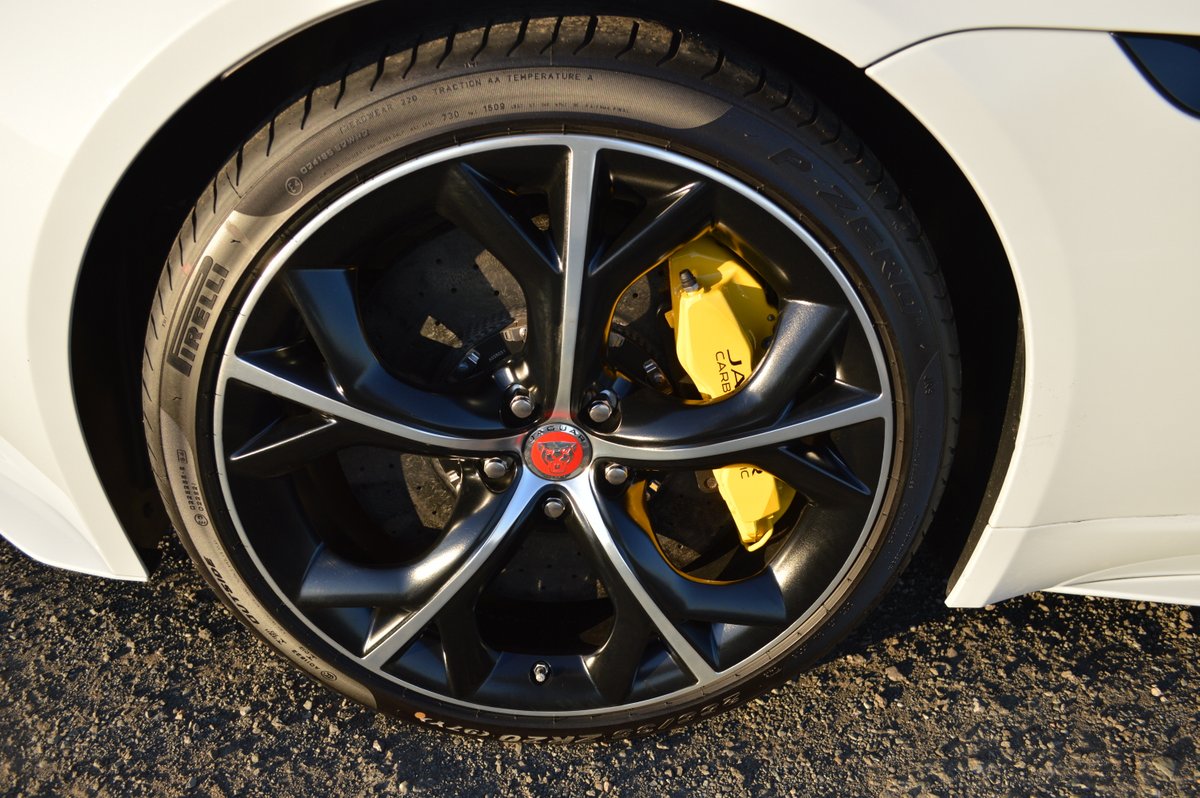 Absolutely. Pinned to the tarmac with Pirelli's best P Zero Nero rubber (255/35/ZR20 front/295/30ZR20 rear), the all-wheel-drive R-Type puts its prodigious power to the pavement with predictable certainty. On decently paved road surfaces, you'll want to select the Dynamic Mode setting from the transmission-tunnel mounted switch. This choice, noted by a checkered flag display on the instrument panel, snubs shock absorber response, allows higher rpm shift points, and confers a sportier note to the exhaust. The R-Type adheres to the road with leach-like tenacity in Dynamic Mode. There is absolutely no slop in any parameter, and the big Jag scats like a cat in full pursuit of prey. On bumpier secondary roads, you'll happy dial back some of this knife edge performance in favor of greater comfort and less driver involvement. On a laid-back trip to Wine Country, we left the Jag in Comfort Mode and never took the transmission out of Drive. Without fuss, the R-Type cantered along, happy to provide a GT ride rather than a race experience.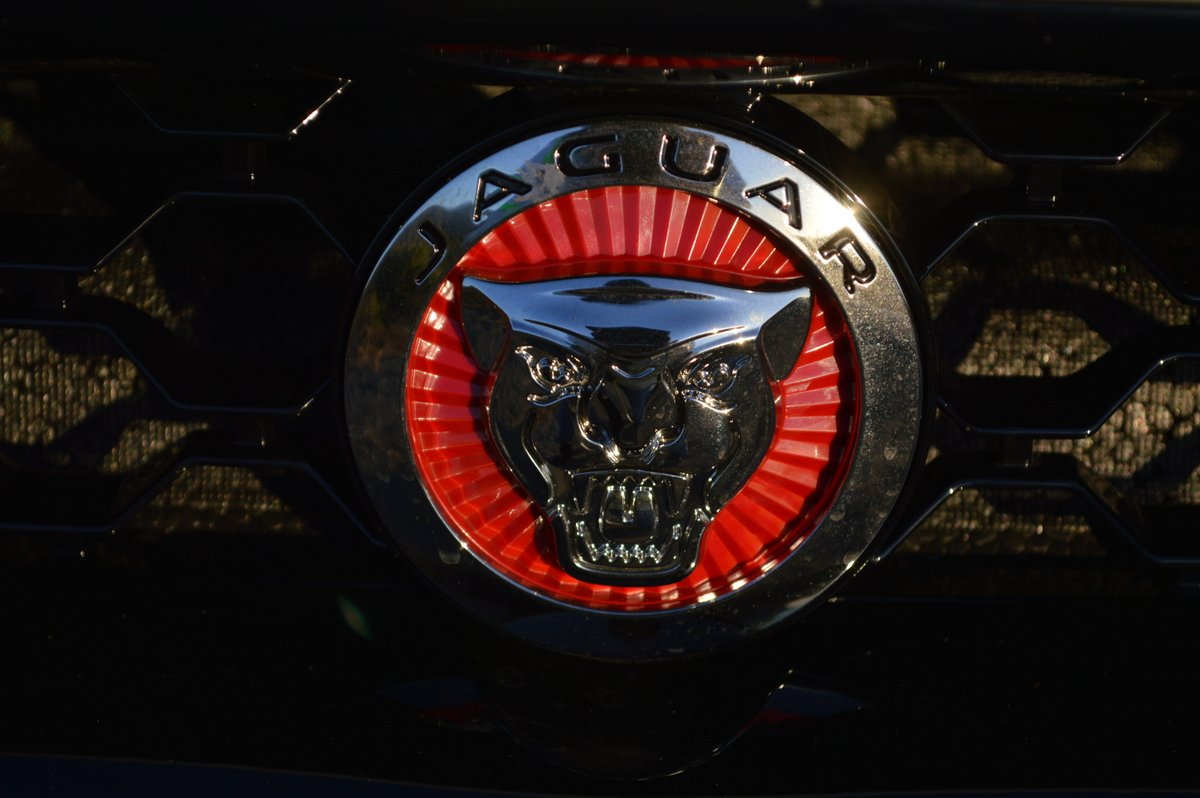 Our 2017 test sample, yet to be priced as to MSRP. did come with a Monroney Sticker showing a charge of $12,000 for a "Carbon Ceramic Matrix Braking System" and "20 Storm Alloy Wheels – Forged." The enormous yellow calipers clamping the carbon discs make a stunning visual counterpoint to the dark tinted Storm alloys. But with these brakes, you need to be extra careful during the warm-up phase, because they require heavy pedal pressure before they reach operating temperature. A couple of experiences taught us quickly that the carbon brakes are initially less responsive than steel rotors. But if you plan to track your cat, there is simply no substitute for carbon during extended hot lap runs.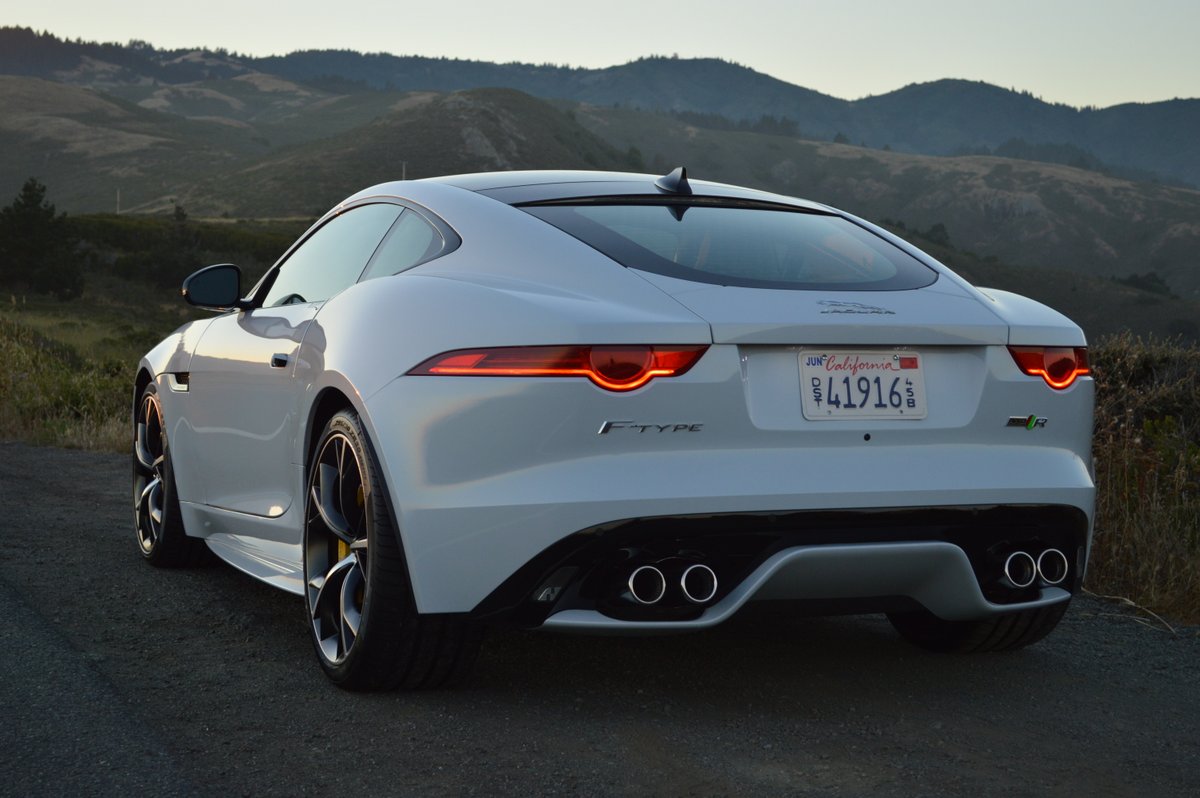 2017 Jaguar XK F-Type R Coupe
Engine: 5.0 liter V8, supercharged, aluminum black and heads
Horsepower: 550hp@6500rpm
Torque: 502lv.-ft.@2500rpm
Fuel Consumption: 15MPG City/23MPG Highway
Price as Tested: $124,895 (est.)
Star Rating: 10 out of 10 Stars
Related posts: