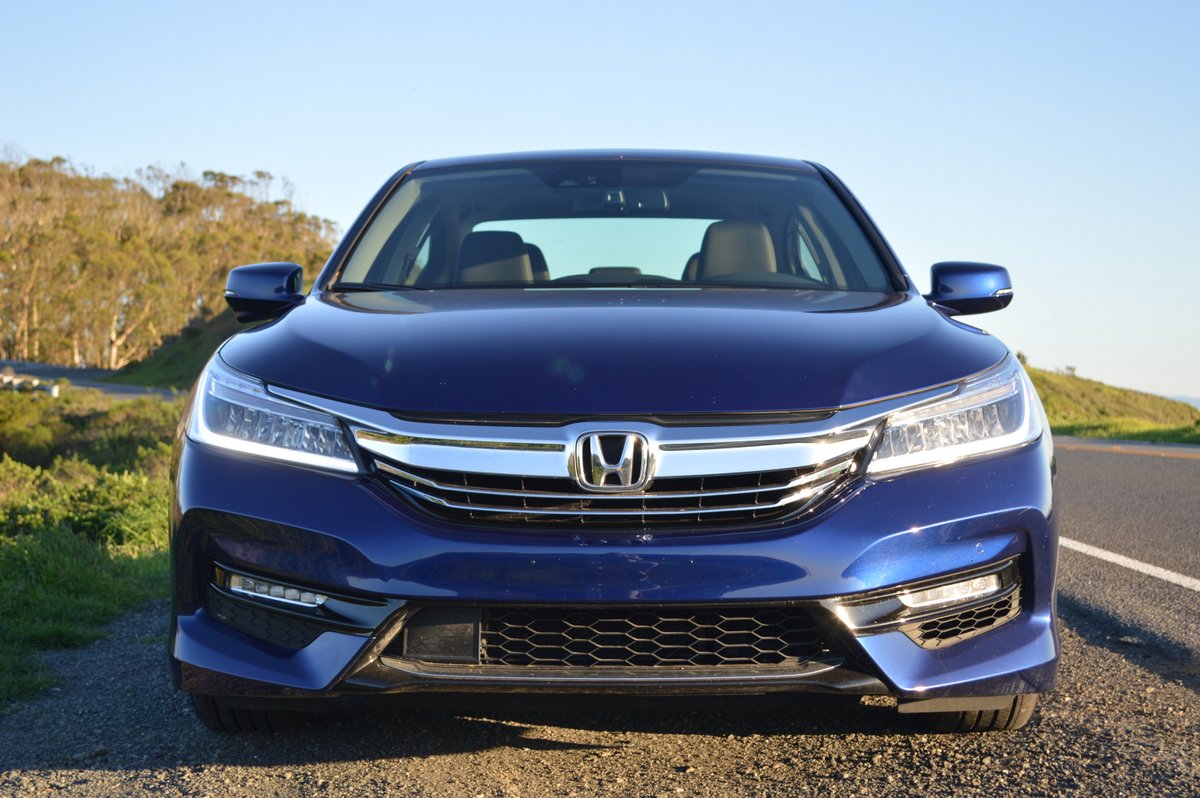 By David Colman
Hypes: Frugal, Practical, Good Regenerative Brake Feel
Gripes: Bring Back the Radio Volume Knob Please
For 2017, Honda has reintroduced the Hybrid version of the Accord, a model last sold in 2015. Notable improvements over the previous version include doubling the number of electric motors. This pair now produces 181hp and 232lb.-ft. of torque. When coupled to the Hybrid's 2.0 liter DOHC gas motor – itself good for 143hp and 129lb.-ft. of torque – the "Earth Dreams" drive system yields a combined rating of 212hp. This marks an increase of 16hp over the discontinued 2015 Hybrid Accord. More importantly, the Hybrid now returns 48MPG in the EPA test cycle for combined city/highway operation.
A CVT (continuously Variable Transmission) meters power to the front wheels only. Since it has no gears, the electronically controlled (hence, eCVT) shifter provides no method for transmission modulation of engine speed. There are no paddles available, so the closest you can come to operational choice here is to select the "Sport" mode which maximizes throttle sensitivity and thus provides quicker engine response. Honda also includes a "B" setting on the eCVT which favors brake regeneration on long downhills.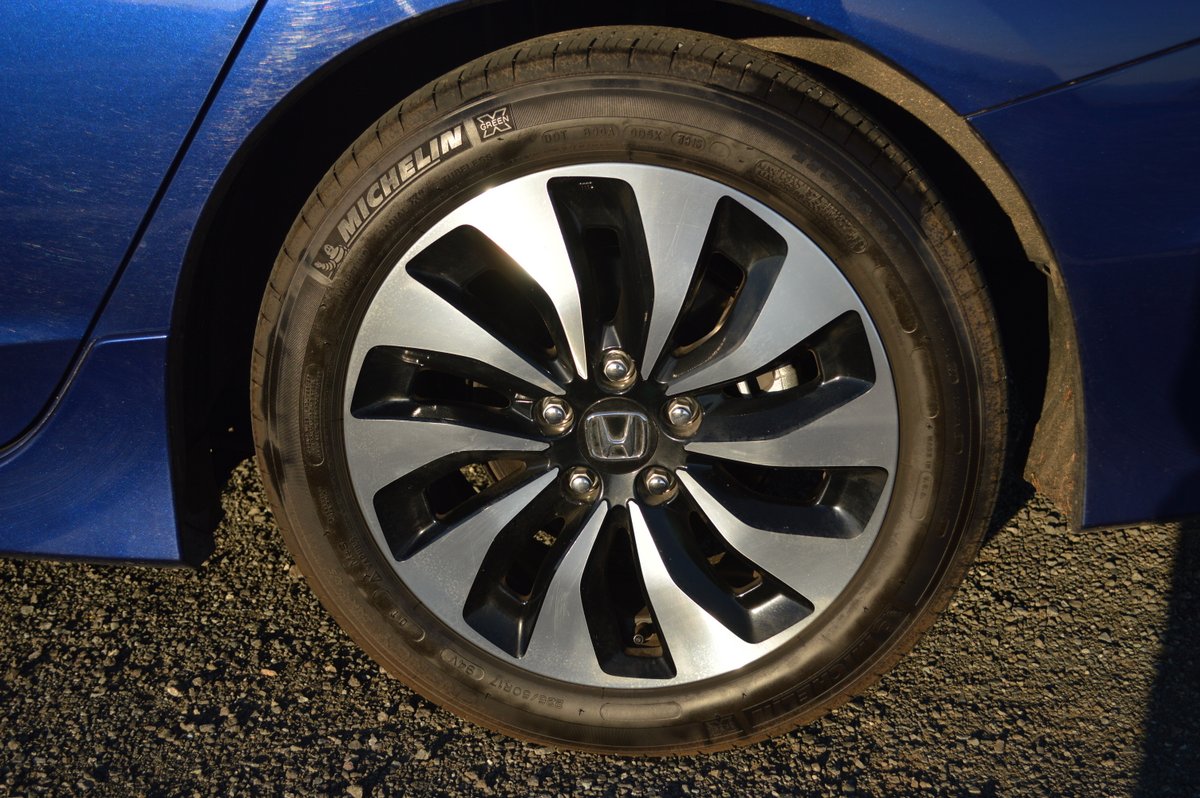 The new Hybrid package is gratifyingly quick in Sport mode, with immediate throttle response prompting a sudden surge of torque from the electric motors. Thanks to the simple minded behavior of its eCVT, however, Honda's latest Hybrid Accord misses the sports sedan mark. This 3,552lb. mid-size sedan records a power-to-weight ratio of 16.75lb/hp. Adequate, but hardly scintillating. Further complicating the fun-to-drive factor are the Hybrid's modestly sized, rock hard Michelin Energy radials (225/50R17) mounted on busy looking alloy rims (7.5″x17″). These all-season Michelins would not be your first choice for carving apexes on back roads, since their tread width (225mm) is skimpy and their compound hard (tread wear rating of480).
If you order the top line Touring Group version of the Accord, Honda equips your sedan with the following features not included on lesser models: heated rear seats, LED headlights with high beam assist, and navigation. You really aren't left wonting for much with this maxed out Touring Accord. A complete suite of safety minders is standard. Called "Honda Sensing," these provide collision braking, adaptive cruise control, lane keeping assist, forward collision warning, and lane departure/ road departure warning. Such are the building blocks of the fully autonomous vehicle which can prove useful in case of an emergency. The best feature is the Accord's very smooth and easily controlled adaptive cruise control which works flawlessly, even in heavy traffic. It allows you to set your following distance, and obediently maintains that gap to traffic without the undue jerkiness characteristic of so many similar systems. Especially informative is a rear camera which projects adjacent right side traffic on a 7 inch display screen when you activate your right hand turn signal. By depressing a button on the signal control stalk, you can play this informative display for your entire drive.
The interior of the Accord is inviting despite its lack of luxury trim. The dash is finished with bands of simulated plastic driftwood that neither excites nor dismays you. The seats are reasonably comfortable, heated, and easy on your back thanks to standard lumbar electric adjustments. Their low side bolsters do little for cornering support, but facilitate ingress and egress. Construction quality is beyond reproach. Honda moved Hybrid build from Marysville, Ohio to Sayama, Japan this year, making this Accord a fully Japanese product.
The Hybrid's 1.3kWh lithium-ion battery pack is substantially smaller than the one supplied to the previous model. Hence, it occupies less trunk space. This savings has increased the trunk to 13.5 cubic feet. However, you are still faced with a raised ridge covering the battery pack that necessitates a fixed partition behind the rear seats. The Hybrid loses 2.5 cubic feet of storage compared to the gas powered Accord. However, the Hybrid's phenomenal 48 miles to the gallon compensates nicely for such minor storage space loss.
2017 Honda Accord Hybrid Touring
Engine: Twin Electric Motors plus 2.0 liter gasoline engine, 16 valves DOHC
Horsepower: 212hp
Torque: 232lb.-ft.
Fuel Consumption: 49MPG City/47 MPG Highway
Price as Tested: $36,790
Star Rating: 8.5 out of 10 Stars
Related posts: