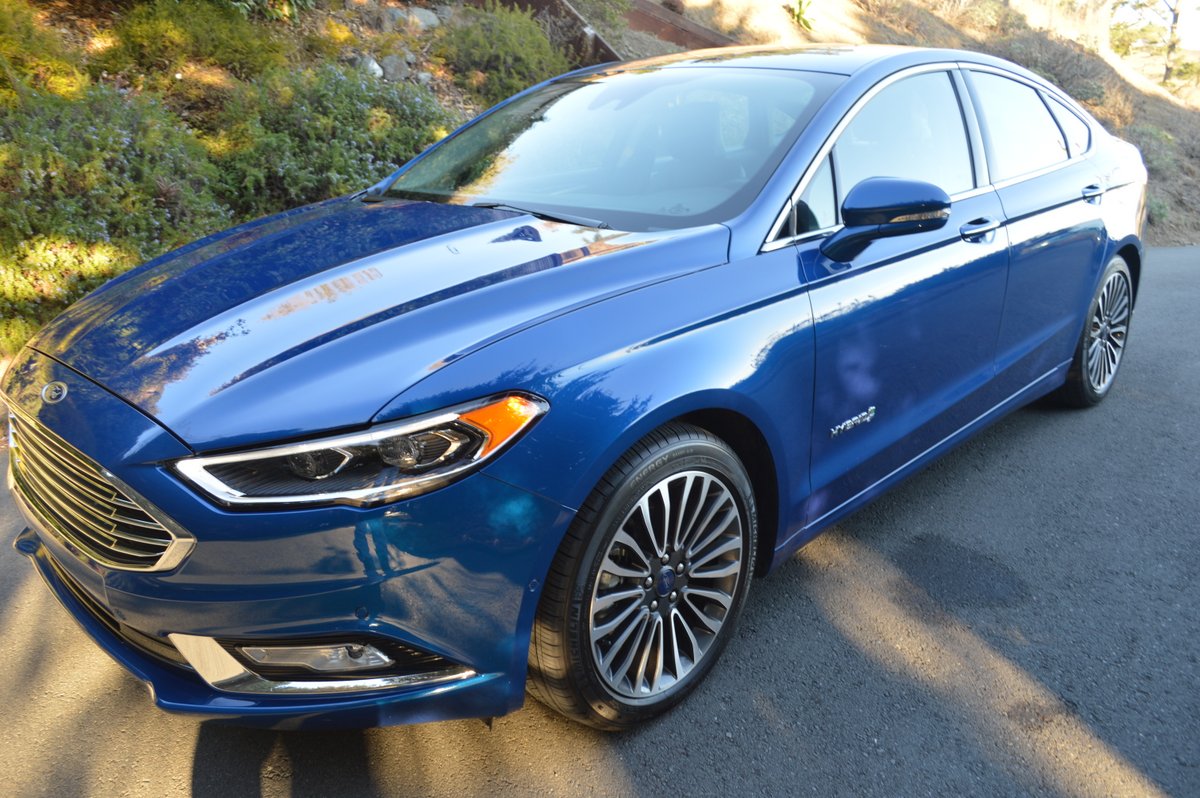 Hypes: Good Looks, Fuel Efficient, Comfy Ride
Gripes: Down On Power, Gearless Transmission
The Fusion Hybrid will laugh its way past a lot of gas stations over the course of your ownership. According to the EPA, this 42 MPG gas miser will save you $2,500 in 5 years over the fuel cost of the average new car. That efficiency gives it a rating of 9 on the EPA's scale of 10 for "Fuel Economy and Greenhouse Gas Rating." The Hybrid also posts an 8 of 10 on Smog Rating, measured at the tailpipe. But how does the Fusion Hybrid rate in everyday driving? I'd give it about a 7. If you're looking for stout performance from this electric/gas combo sedan, you'll want to look elsewhere. 188hp working to propel a chassis weighing 3,505 lbs. works out to 18.64 lbs/hp. That's not quite in the old nag category of giddy-up, but it's close enough to glue factory speed to keep you from passing slower traffic on 2 lane roads with confidence. But fret not, because Ford offers such a wide variety of propulsion systems for the Fusion sedan line that you can buy a real scorcher with 325hp and AWD(Fusion Sport).
Although the Hybrid lacks the Sport's explosive thrust, it does enjoy enough amenities to make you forget about its lack of sheer speed. The Fusion line, from the base model 181hp sedan, through the turbocharged EcoBoost 245hp version, to the Hybrid we tested, plug-in Energi Hybrid, and Sport, all share the same basic good looks, finely tuned handling characteristics, and refined cabin design. These attributes make Fusion a top choice in a 5 passenger American designed family sedan.
Our test Fusion was built by a Ford plant in Hermosillo, Mexico. The base price of our test car ($31,010) seems quite reasonable, considering that its "Platinum" level of trim is the highest of 5 levels Ford offers for this model. Our test car's bottom line swelled to $34,770 thanks to the addition of 3 option groups you could easily do without: $995 for "Enhanced Park Assist," $1,190 for "Adaptive Cruise with Stop & Go," and $1,575 for a "Driver Assist Package" that includes Lane Keeping and Rear Cross Traffic Alert. In fact, I would definitely delete that last package, because the Lane Keeping feature constantly jiggles the steering wheel in your hand whenever you make a lane change without signaling first. This haptic feedback becomes annoying in very short order.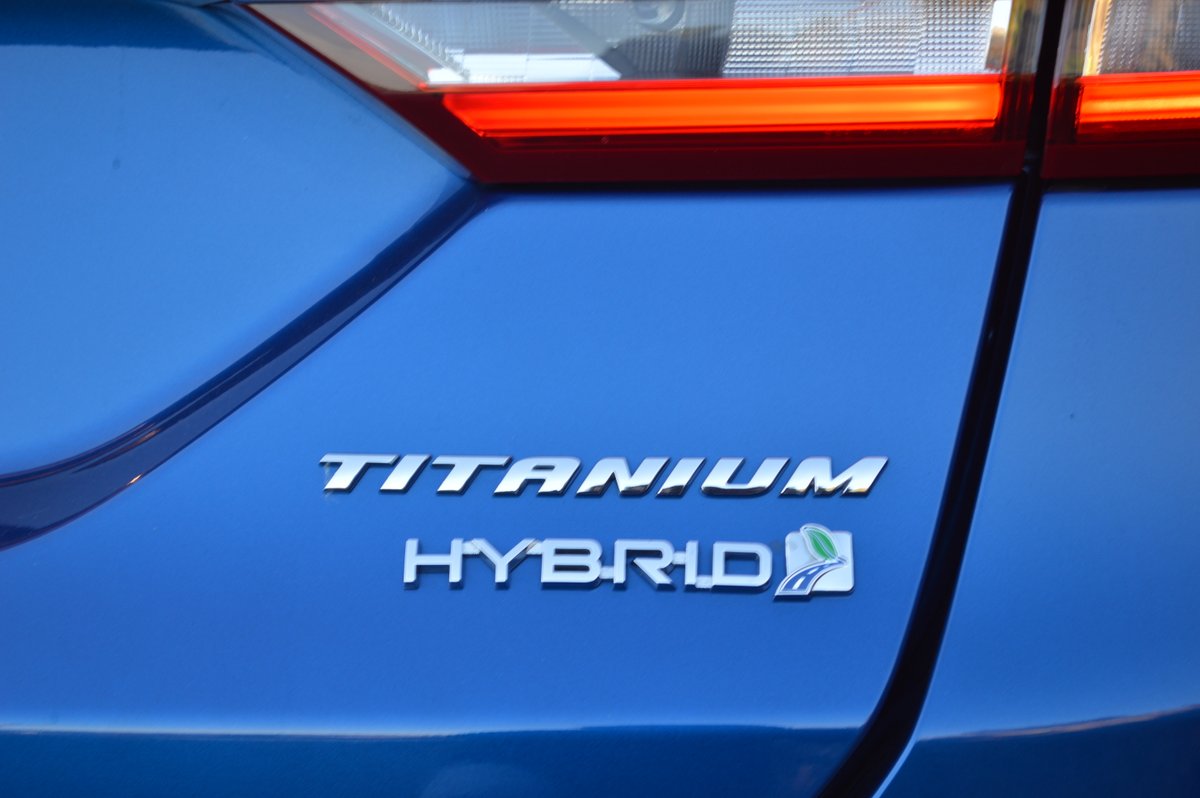 There's substantial battery and electric motor technology lurking beneath the passenger compartment and under the raised trunk floor. If you opt for the Hybrid, you must be willing to sacrifice at least a third of the non-Hybrid's 16 cubic feet of trunk space to accommodate the electrics beneath the trunk floor. For 2017, Ford improved the output and performance of the Hybrid's electric motor. When you spool up the throttle, the electric motor issues an ethereal whine, not unlike your blender set to Liquefy. Appended to this propulsion unit is a "Powersplit" CVT transmission that is controlled by a circular dial mounted between the front seats. Because this CVT has no actual gears, Ford does not bother with the charade of defining artificial rpm splits that deceive you into thinking you're shifting gears. Hence, there are no paddle on the steering wheel, nor any manual override setting on that rotary transmission dial. If you're really slogging along at low speeds, however, you can dial up a "Low" range setting.
Ford has perfected the ride control of this Fusion. They equip its with no-extra-cost machined aluminum wheels with painted pockets. These handsome components are shod with Michelin Green X Energy radials (255/45R18) that run silent, provide good grip, and promise long tread life with a wear rating of TW 480. At the Titanium trim level, the Fusion is equipped with a slew of features that make daily use easy. We particularly appreciated the Intelligent Access keyfob, which never needed button prompting to open the doors automatically. Both front seats are heated and offer electronic 10-way positioning. All windows take just one push of the button to raise or lower. New LED headlights and a revamped mesh front grill for 2017 refine the frontal aspect of what was already a very clean looking design. Consumer Reports assessment of the 2014-2016 Fusion shows nothing but green arrows, so you can expect better than average reliability. In fact, CR endorses the latest Fusion with a Recommended check mark, and we would have to concur with their assessment.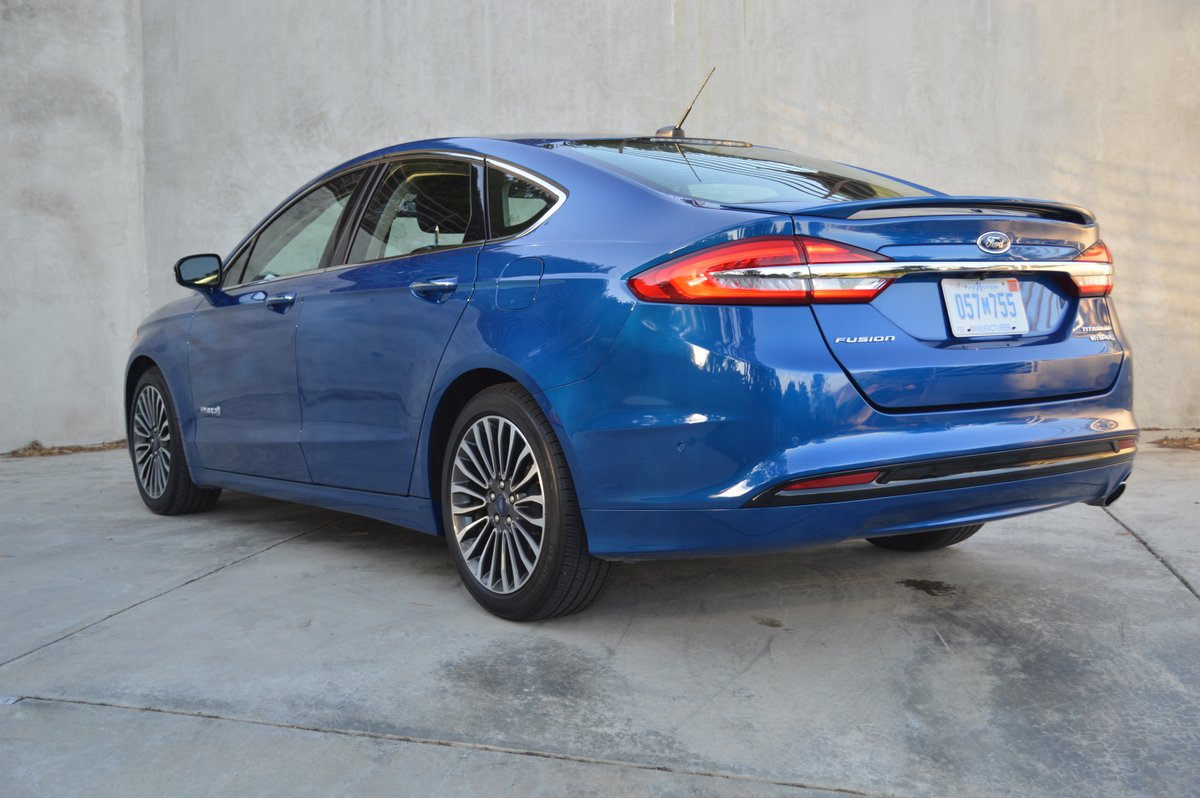 2017 Ford Fusion Platinum Hybrid
Engine: 2.0 Liter inline 4 + Electric Motor
Horsepower: 188hp
Torque: N/A
Fuel Consumption: 43 MPG City/42 MPG Highway
Price as Tested: $35,645
Star Rating: 8 out of 10 Stars
Related posts: