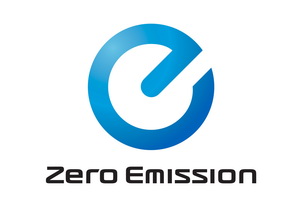 Nissan Motor Co., Ltd. unveiled Nissan LEAF, the world's first affordable, zero-emission car.  Designed specifically for a lithium-ion battery-powered chassis, Nissan LEAF is a medium-size hatchback that comfortably seats five adults and has a range of more than 100 miles (160km) to satisfy real-world consumer requirements. Slated for launch in late 2010 in Japan, the United States, and Europe, Nissan LEAF ushers in a new era of mobility – the zero-emission era.
"Nissan LEAF is a tremendous accomplishment – one in which all Nissan employees can take great pride," said Nissan President and CEO Carlos Ghosn.  "We have been working tirelessly to make this day a reality –  the unveiling of a real-world car that has zero – not simply reduced – emissions.  It's the first step in what is sure to be an exciting journey – for people all over the world, for Nissan and for the industry."
Video of the Nissan Leaf reveal event after the jump.
Key characteristics of the LEAF include:
Zero-emission power train and platform
Affordable pricing
Distinctive design
Real-world range autonomy – 100 miles (160km)
Connected Mobility: Advanced intelligent transportation (IT) system
ZERO-EMISSION MOBILITY
Nissan LEAF is powered by laminated compact lithium-ion batteries, which generate power output of over 90kW, while its electric motor delivers 80kW/280Nm.  This ensures a highly responsive, fun-to-drive experience that is in keeping with what consumers have come to expect from traditional, gasoline-powered automobiles.
A combination of Nissan LEAF's regenerative braking system and innovative lithium-ion battery packs enables the car to deliver a driving range of more than 100 miles (160km) on one full charge*.  (*US LA4 mode)
Extensive consumer research demonstrates that this range satisfies the daily driving requirements of more than 70% of the world's consumers who drive cars.
And, Nissan's approach makes charging easy and convenient.  Nissan LEAF can be charged up to 80% of its full capacity in just under 30 minutes with a quick charger.  Charging at home through a 200V outlet is estimated to take approximately eight hours – ample time to enable an overnight refresh for consumer and car alike.
DISTINCTIVE DESIGN
Nissan LEAF's frontal styling is characterized by a sharp, upright V-shaped design featuring long, up-slanting light-emitting diode (LED) headlights that employ a blue internal reflective design that announces, "This car is special."  But the headlights do more than make a statement.  They are also designed to cleverly split and redirect airflow away from the door mirrors, thus reducing wind noise and drag.  And, the headlights provide yet one more benefit in that they consume about 50 percent of the electricity of conventional lamps, which helps Nissan LEAF to achieve its world-class range autonomy.
Through bright trim colors inside, Nissan LEAF creates a pleasing and stylish cabin environment.  An environmentally friendly "blue earth" color theme originates from the Aqua Globe body color of Nissan LEAF's introductory model.  This theme is carried into the interior through blue dashboard highlights and instrument illumination.
CONNECTED MOBILITY IT SYSTEM
Nissan LEAF employs an exclusive advanced IT system.  Connected to a global data center, the system can provide support, information, and entertainment for drivers 24 hours a day.
The dash-mounted monitor displays Nissan LEAF's remaining power – or "reachable area" – in addition to showing a selection of nearby charging stations.
Another state-of-the-art feature is the ability to use mobile phones to turn on air-conditioning and set charging functions – even when Nissan LEAF is powered down.  An on-board remote-controlled timer can also be pre-programmed to recharge batteries.
ZERO-EMISSION VEHICLE PRODUCTION
Nissan LEAF is the first in the company's forthcoming line of EVs and is a major milestone in the realization of the Renault-Nissan Alliance's vision for zero-emission mobility.  The first of Nissan's EV's will be manufactured at Oppama, Japan, with additional capacity planned for Smyrna, Tennessee, USA.  Meanwhile, lithium-ion batteries are being produced in Zama, Japan, with additional capacity planned for the USA, the UK and Portugal, and other sites for investment are under study around the world.
Related posts: