By David Colman
Hypes: Marvelous Color, Marvelous Motor
Gripes: Cargo Screen Look and Feel Cheap
Every model year sees one manufacturer innovate a new color so scintillating you wonder why no one thought of it before. This year, the tribute goes to Ford for their splendid shade of eye candy called Electric Spice Metallic. This incredible hue which bridges the gap between copper and gold, causes the very smart looking Edge to levitate visually on its equally handsome 21 inch graphite painted alloys. Now Electric Spice Metallic is a color some noted German and British SUV makers would be happy to charge you at least $1,000 extra to mix and apply. But Ford remarkably offers it as one of their standard Edge tints. You will, however, be asked to ante up for those impressively monumental alloys. The "21 inch Premium Painted Alloy Wheels" go for $995, or 4 for about the price you'd pay for 2 in the aftermarket. You'll also be required to front another $995 for 265/40R21 Pirelli Scorpion Verde tires, also available below aftermarket book value.
The wheel/tire combo does much more than simply liven the looks of this Edge. Pirelli Scorpion tires are premium grade equipment. Though they will function admirably in wet weather, they are primarily "summer rated" and most at home on dry paved roads. Their fat tread pattern definitely gives a decisive handling edge to the Edge Sport. With 9 out of 10 SUVs, the "sport" aspect of the vehicle plays a distant second fiddle to the utility aspect. This is not at all the case with the Pirelli-shod Edge, which really lives up to its "Sport" designation. In fact, this Ford, with its "sport-tuned suspension," is capable of carving corners with such panache that it will surprise more than a few pricey foreign sports sedans on a backroad.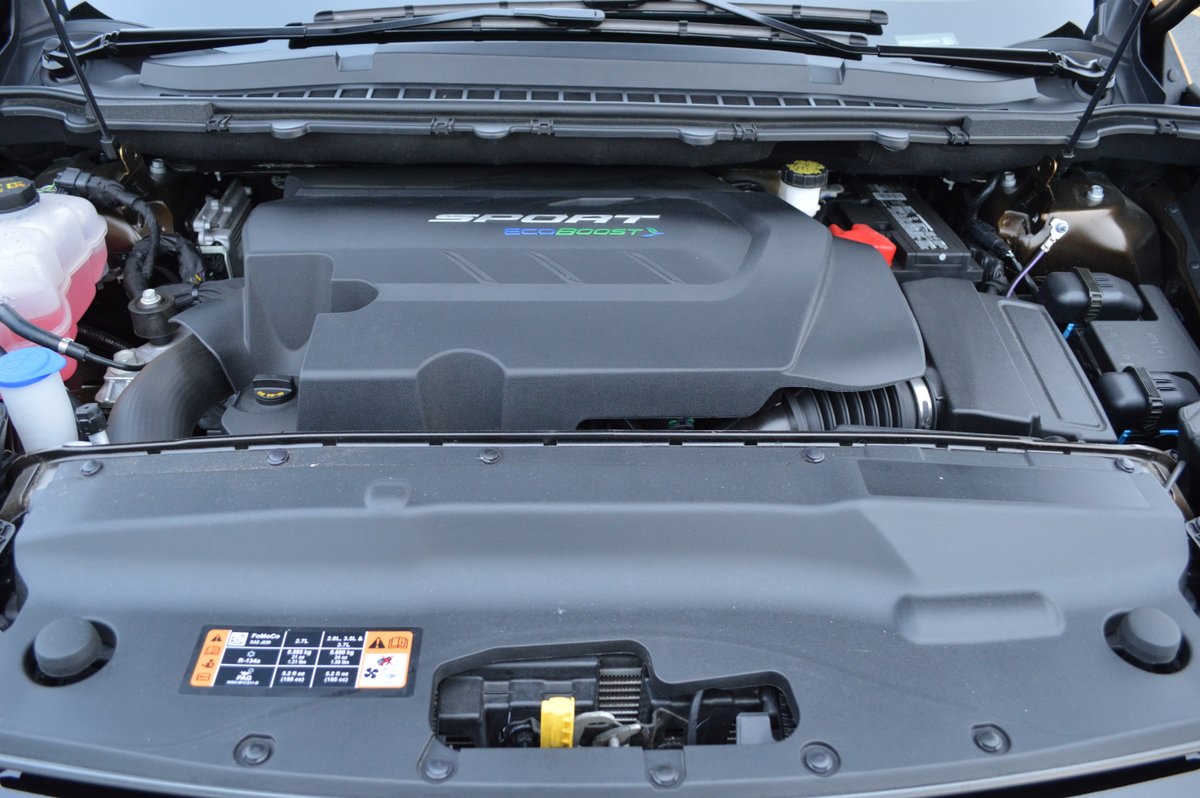 For scintillating motivation, our test Edge depended on a 325hp turbo V6 that produces 375lb.-ft. of torque. Judiciously dispersed through the 6 ratios of a proper gearbox (no CVT here, thank you), the V6 Edge is a lithe scythe through traffic, with enough muscle to meet every passing need you will encounter. The turbo returns 20 MPG in overall usage and offers the most powerful drive unit in the Edge arsenal. A 240hp inline 4 turbo, and a non-turbo V6 rated at 283hp are also offered, but the 2.7 liter EcoBoost turbo V6 is definitely the way to go in this application.
A gander at the interior fitment will have you wondering whether you somehow paid for an Edge but brought home a Range Rover. Yes, the trim, comfort and aesthetic level is so good that the interior looks twice as expensive as it actually is. The ebony leather seats, beyond their supportive comfort, feature perforated suede surfaces interspersed with tanned black leather inserts. Subdued gray leather stitching knits the unit together and imparts a fine English riding saddle look to the cabin. Careful application of matte aluminum trim rings on the HVAC outlets, shift console and door panels integrate nicely with the patterned carbon look insert above the glovebox. A splendidly huge Panoramic Vista Roof ($1,595) slides so far rearwards that the entire front seat row is exposed to open air, while the rear passengers enjoy unprecedented overhead vision through the fixed rear panel that stretches nearly to the tailgate. And that tailgate is actually a "Hands Free Liftgate," a standard feature that opens via keyfob input. A button on the tailgate door initiates automatic closure.
For those who need the storage attributes of a sports utility, but are unwilling to accept slow go, and cumbersome handling, the Edge Sport presents the perfect compromise. It will load 39 cubic feet of cargo if you fold the 60/40 rear seats flat, it will transport 5 passengers without breaking a sweat, it will tow 3,500 pounds, and best of all it will provide real feedback and driving pleasure on twisty roads where most SUVs quickly lose their grip on reality.
2016 Ford Edge Sport AWD
Engine: 2.7 liter EcoBoost V6 turbo
Horsepower: 325hp
Torque: 375lb.-ft.
Fuel Consumption: 17 MPG City/24 MPG Highway
Price as Tested: $49,990
Star Rating: 10+ out of 10 Stars
Related posts: