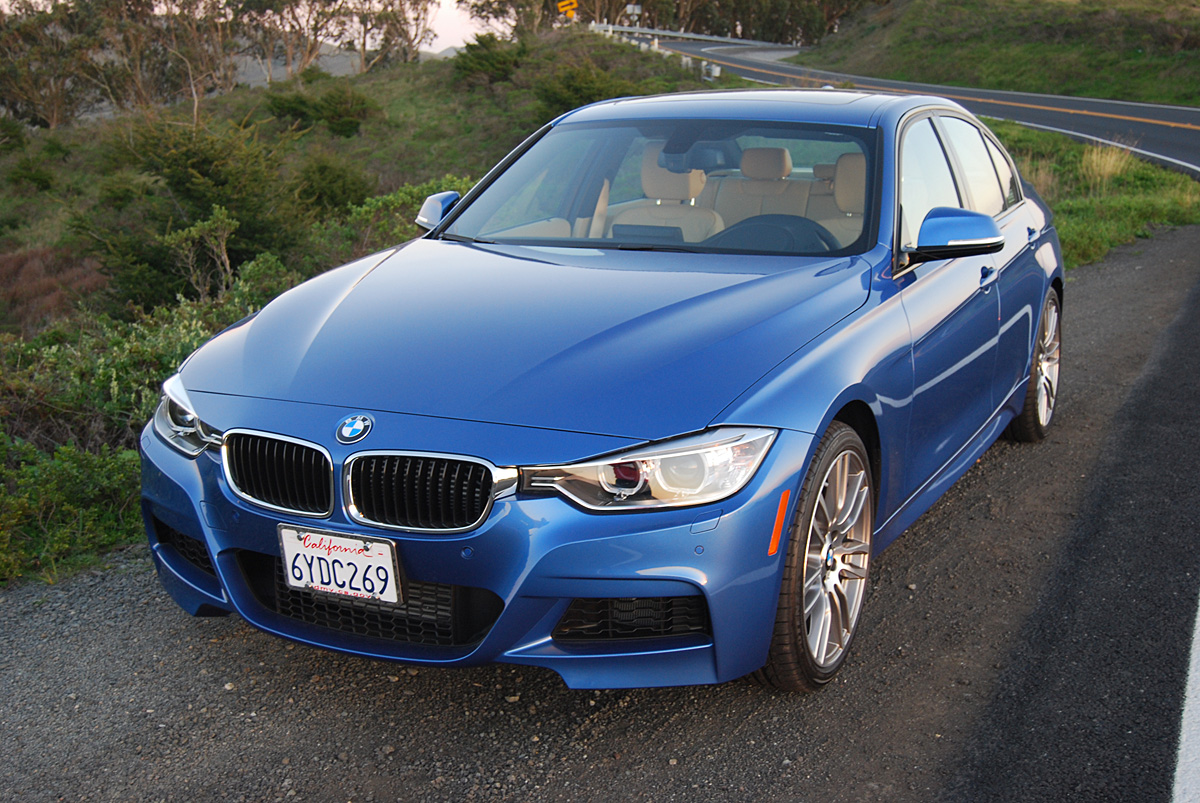 By David Colman
Hypes: Delicious M Sport Line, Best Seats, Planted Handling
Gripes: Auto Start/Stop Perplexing
You can just about buy a brand new Kia Rio for the $11,700 worth of "Options and Additional Charges" that bump the base price of this BMW 335i from $43,150 to $57,595. Ka-Ching starts ringing with the M Sport Line ($3,200), the Cold Weather Package ($950), the Driver Assistance Package ($1,900) and the Technology Package ($3,100). What exactly do you get when you order options that add more than 20 percent to the car's base price? A delicious looking sedan that is so packed with technology that your lease will expire before you discover all of its myriad secrets.
BMW now relies exclusively on turbocharging to produce exceptional horsepower plus excellent fuel economy. The 335i's inline 6 cylinder, twin turbocharged engine displaces just 3.0 liters, but produces 300hp while returning 26 MPG in combined city/freeway driving. The direct injection engine benefits from stepless variable valve timing on both intake and exhaust cams to extract every last molecule of energy from the 91 octane fuel BMW recommends for this motor. When you jump on the accelerator to complete a pass or merge with freeway traffic, the 335i instantly kicks down a gear or two (it has 8 of them), then surges seamlessly ahead.
All 335 sedans feature a console-mounted "Driving Dynamics Control" which allows you to select your desired performance level from these options: Eco Pro, Comfort, Sport and Sport Plus. In Eco Pro, the sedan feels somewhat lethargic, with relaxed steering feedback matching a slow reacting throttle. In Comfort, the sedan feels reasonably spry, but when you flip to Sport or Sport Plus, this Bimmer is really ready to boogie. In these Sport modes, the steering becomes heavier but more informative, while throttle response zings into a hyper responsive algorithm that makes you want to lace your driving shoes tighter.
If you seek to extract maximum driving pleasure from your 335i, you'll definitely want to invest in the $3,200 M Sport Line which pays you a dividend on every curve. Included are a thicker rimmed M Sport steering wheel, aerodynamically refined body cladding, and M-badged alloy wheels measuring 8 x 19 inches front and 8.5 x 19 rear. Bridgestone supplies a set of run-flat Potenza S001 tires sized 225/40R19 front and 255/35R19 rear. These high performance tires work in consort with M suspension components upgraded for sports operation. Even the seats are M-contoured to keep your butt firmly planted during hard cornering. But these Venetian Beige Dakota Leather seats are gratifyingly supportive all the time, not just when you're carving corners.
The cabin of the 335i is a splendid amalgam of brushed aluminum set off by painted strips that match the car's lovely exterior shade of Estoril Blue ($550 extra). The spacious cabin serves the touring needs of 4 adults, or 5 in a pinch, supplying the group with ample trunk space and expansive windows. The back seats split and fold to allow pass-through storage of bulky items.
If there's a single annoying drawback to the 335i experience, it's BMW's Auto Start/Stop technology, which kills the engine if you're stopped while your foot is on the brake pedal. The sedan judders when it turns itself off and again when it refires. You can delete this by pressing a small button located directly above the large Start/Stop button, but the system reverts to "Auto" operation with every new trip. Unfortunately, the delete button is located directly behind both the wiper stalk and the paddle shift, so you can't see what you're doing. While waiting for a traffic light to change to green, I mistakenly turned the car off instead of deactivating Auto Start/Stop. It took me so long to get the 335i refired that I missed the green light. The deactivation button needs to be relocated.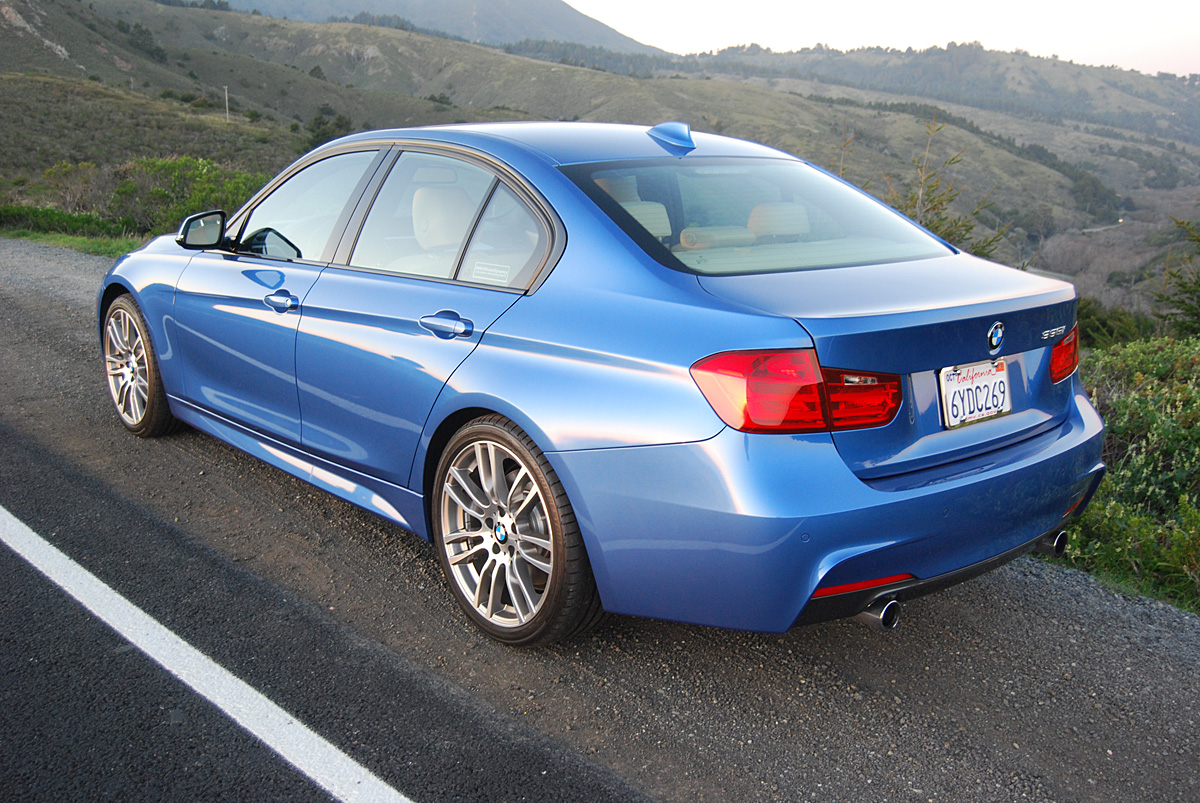 This, however, is a minor matter in the grand scheme of things because a fully optioned 335i is a truly a thing of beauty. It's handsome, comfortable, practical and fast. There's little more you can ask from a sports sedan, even if you do spend a Kia Rio's worth of bucks on options.
2013 BMW 335i Sedan
Engine: 24-Valve, DOHC 3.0 liter inline 6, with Double-VANOS and twin turbos
Horsepower: 300hp
Torque: 300 lb.-ft.
Fuel Consumption: 23 MPG City/33 MPG Highway
Price as Tested: $57,595
Star Rating: 9 out of 10 Stars
Related posts: