Interior Comfort and Ergonomics
The first thing I noticed when I sat down in the driver's seat (without making any adjustments) was how comfortable it was. It cradled my body and was cushy, but not soft. A few adjustments later with the power seat and the steering column adjustments, I had my ideal driver's position.
One complaint with the seating is the manual lumbar adjustment on the right side of the seatback: it's so close to the center console that I had to move the seat all the way back in order to turn the knob.
The cockpit is well designed with everything in reach. The center stack is well laid out with four round knobs flanking a controls keypad/buttons. The dual-zone HVAC system worked flawlessly keeping each of us at our desired temperature during the cold and cloudy road trip.
When I tried to pair my phone, it repeatedly failed. It turns out that you have to manually put the car into "discoverable" mode – every other car I've tested automatically did this when pairing. After finally figuring this out (by navigating the Car Settings in the LCD display) and wasting 5-minutes, it paired easily.
The navigation system left something to be desired. The maps lacked individual street names (it did have them for major roads/highways), but I longed to know what street was approaching prior to getting there or to get a sense of where I based on the surrounding street names. Inputting destination data was quite the task. Once to the input stage, you rotated the input dial to select letters laid out in a circular pattern selecting one letter or number at a time. The procedure wouldn't be that bad except for the delay in-between making a selection and the system actually accepting it. My tech-savvy 13-year old nephew summed it up when trying to input his home address: "I could do this way faster if it didn't have the lag."
Performance
When I read the specs that this car weighed almost 4,000 pounds, I was surprised because it doesn't feel that heavy. The car accelerates like a rocket with 0-60 times around 5.5 seconds – very fast! Throttle is light and linear making it easy to modulate whether at a stop sign or passing on the freeway. The S60 is weight-biased towards the front (~60%), and under hard braking there is a bit of dive. During repeated stops from high speed, the Volvo stopped effortlessly and quickly with zero fade.
Handling
Lucky for me, the T6 AWD comes standard with the Touring Chassis, and endows the car with a firm suspension that hugs the road. Flooring the gas on curving merge lane, I remember the car's body remaining flat while Twain quickly reached for something to hold onto mid turn – even with a speed of about 80-mph, the S60 remained composed. Strangely, this Volvo did not include the Four-C Chassis feature enabling the driver to set the shock settings with a button leaving me wondering if the Advanced setting would be markedly different from what I tested. Even without, I was very pleased with the flexibility and agility of the S60 whether navigating curvy mountain roads or fast clover leafs. The 235/40R18 ContiSport Contact 3 tires provide superb traction with their large tread blocks instilling confidence on all surfaces despite being high performance summer tires.
Styling
Vibrant Copper Metallic. Even the mental image of the color speaks loudly, and on the Volvo, it does demand attention. When my wife saw the color, she immediately did not appreciate its boldness. I, however, did like the color and the complementary Beechwood Brown interior. The body is now more slender (and less boxy) than past Volvo bodies, and possesses a certain compact sleekness about it. The new body makes it look less substantial (even though it weighs almost 2 tons) and more athletic matching the suspension dynamics.
Value
Ironically, this particular S60 T6 AWD tester included every option package available:
Technology Package ($2100)
Premium Package ($1500)
Multimedia Package ($2700)
Climate Package ($800)
All of this together added up to a sticker of $46,200. That's a lot of money, yet it doesn't include BLIS (Blind Spot Information System) or keyless entry (both are options for more $$). I've driven cars costing a fraction of the S60 with keyless entry. Even the $40k Honda Pilot had a blind spot system. Overall, despite its sporty nature, the large trunk and folding rear seats do offer utilitarian value and makes it perfect for long weekend camping or snowboarding trips.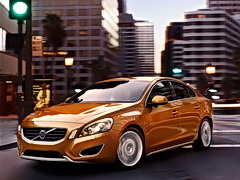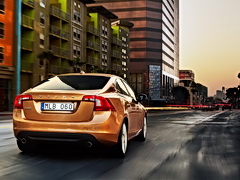 Not My Father's Volvo
Volvo finally has figured out how to make a sports car that has plenty of power and hugs the tarmac. I love the new body that jettisons the stodgy and boxy previous shape for a thing of beauty and elegance. You'll also get Volvo's phenomenal vehicle coverage: 5-year warranty, 5-year wear and tear coverage (brakes, rotors, and wiper blades), 5-year complimentary maintenance and 5-year roadside assistance PLUS Volvo's arsenal of safety features and equipment. Their coverage plans add up and effectively lower the cost of ownership for those 5-years. Despite the extra charge for keyless entry, BLIS, and the clunky navigation system, I'd definitely buy this car because it is simply fun to drive any day of the week.
| | | | | | | | |
| --- | --- | --- | --- | --- | --- | --- | --- |
| | BUILD | INTERIOR | PERFORMANCE | HANDLING | STYLING | VALUE | OVERALL |
| Rating | 4.25 | 4.5 | 4.5 | 4.5 | 4.25 | 4.0 | 4.33/B+ |
Related posts: