Thanks to that torque, the Hybrid would make an ideal tow vehicle. The 8-speed Tiptronic transmission offers a ratio for every situation, with immediate selection on tap via buttons affixed to the leather trimmed 3-spoke steering wheel. The Cayenne S interior is an ideal place to spend long hours behind the wheel. Once you're ensconced in the sumptuous bucket seats of the optional ($3,655) leather interior, you'll never want to leave. The Cayenne's command position is daunting, with excellent line of sight in all directions. Optional air suspension ($3,655) allows you to tailor your ride height to specific loads, or off-road work, with just the twist of a dial on the transmission tunnel. Interior appointments are elegant in Porsche's typically understated way, with electric moonroof and power liftgate standard at the vehicle's $67,700 base price.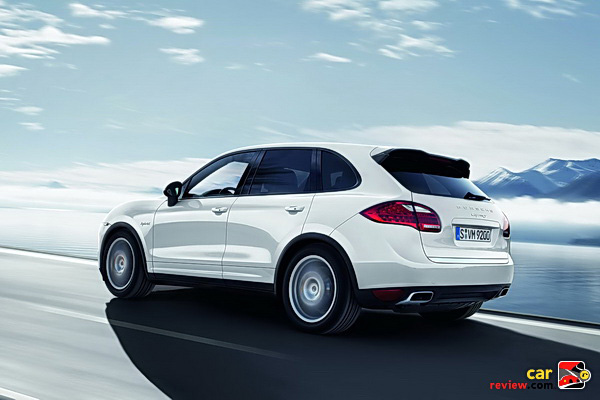 There are some small prices to pay for becoming an early adaptor to Hybrid propulsion. For example, you can chose to rely only on electric power under 37mph by pressing the E-Power button on the dash, but when the gas motor kicks in above that speed you'll feel the transition. Likewise, the tremor produced by the auto stop/start feature which saves gas at stoplights is a bit disconcerting, and the regenerative brakes sometimes yield a mushy pedal. But these are small prices to pay in view of the Hybrid's many other benefits.
ENGINE: Supercharged DOHC V6 plus 34kW electric motor
HORSEPOWER: 333 hp from 5500 – 6500 rpm (V6), 47 hp from 1150 rpm (electric motor), 380hp (combined)
TORQUE: 324 lb-ft from 3000 – 5250 rpm (V6), 295 lb-ft up to 1150 rpm (electric motor), 428 lb-ft @ 1,000rpm (combined)
TRANSMISSION: 8-speed Tiptronic S
FUEL CONSUMPTION: 20 City MPG/24 Highway MPG
0-60 TIME: 6.1 seconds
TOP SPEED: 150 mph
PRICE AS TESTED: $86,110
###
David Colman has been writing vehicle tests for 25 years. His work has been featured in AutoWeek, the San Francisco Chronicle, San Francisco Examiner, and Marin Independent Journal. In 1987, he helped start Excellence, The Magazine About Porsche, which he edited for many years. He has been an active participant in racing and Solo events since 1961.
---
MORE EXPERT REVIEWS
2011 Porsche Cayenne S Tiptronic Review – The Ultimate Familying Machine?
Rating:
By Danny Chang and Derek Mau

"The Cayenne S met and exceeded my expectations on several fronts. The performance is worthy of the Porsche name, and the ride and handling is simply superb. The interior is comfortable and futuristic, and the exterior styling is a big improvement over the first generation."

2008 Porsche Cayenne Review – Medium bodied, well balanced, and silky on the palate
Rating:
By Derek Mau

"The 2008 Cayenne is a step up from previous years with a boost in power, a suspension that works hard keeping a 5,000 pound behemoth agile on the road, and a exterior look that is easy on the eyes."

PORSCHE CAYENNE PHOTO GALLERIES
2011 Porsche Cayenne S | 2008 Porsche Cayenne
Related posts: