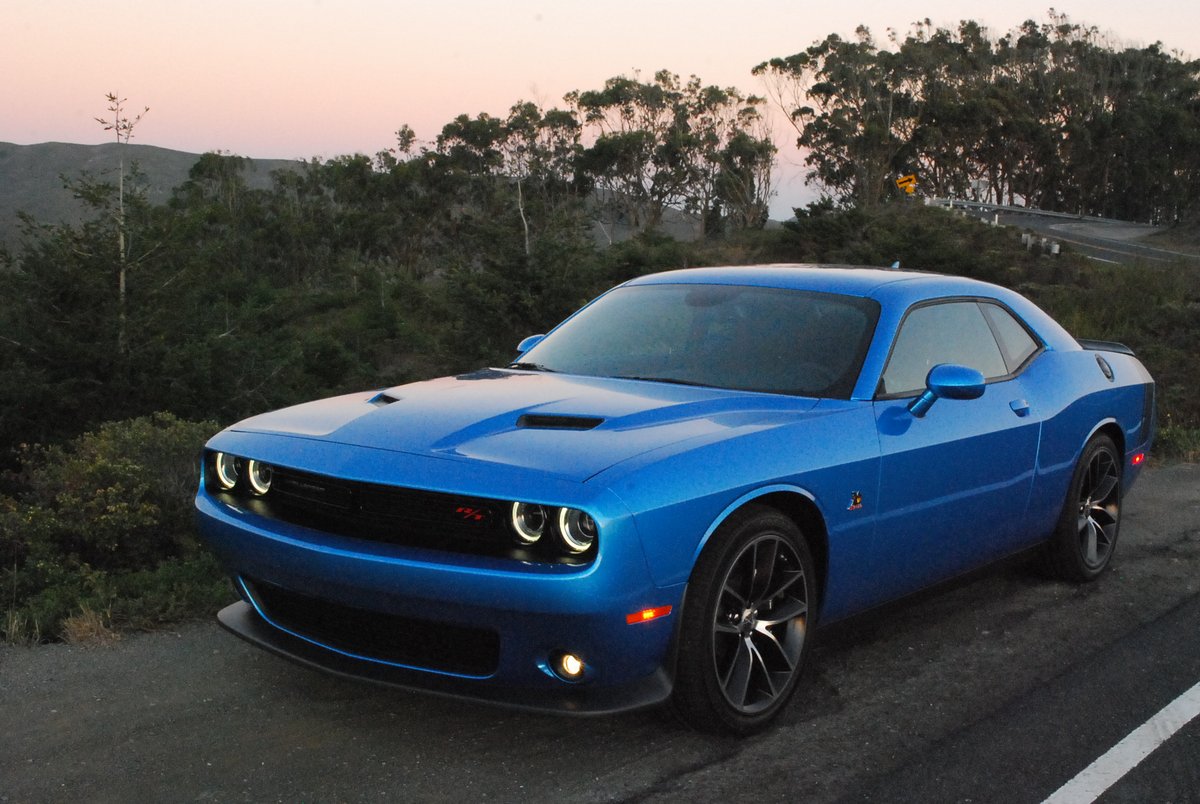 By David Colman
Hypes: 12 second quarter mile runs
Gripes: Could use a rear wiper
Some test cars are easy to forget. But this Dodge is not one of them. The Scat Pack Challenger is the most incredible performance bargain on the market today. A genuine four seat muscle car capable of cranking out 12 second quarter miles, yet costing just $41,490. And to top it off, the exterior design is so alluring it could win a modern art competition. Even the basic 6 cylinder Challenger is a stunning automobile. But as you work your way up the food chain at Dodge, the embellishments to the mechanical and visual package make the Scat Pack version irresistible. Under the twin nostril hood you'll find Chrysler's king pin power plant, an SRT massaged 6.4 liter HEMI producing 485hp. A pair of vintage looking Super Bee emblems aft of the front fenders remind observers what you already know: this Dodge means business. In fact we were accosted at one of our frequent fill-ups of this 18MPG ride by an adjacent gas customer, who took one look at our Challenger and launched into a delightful story about his own first car, a 1969 Super Bee Dodge. That original model carried the same logo and bumblebee tail wrap as today's Challenger. The entire project is a brilliant heritage marketing coup for the Dodge Division.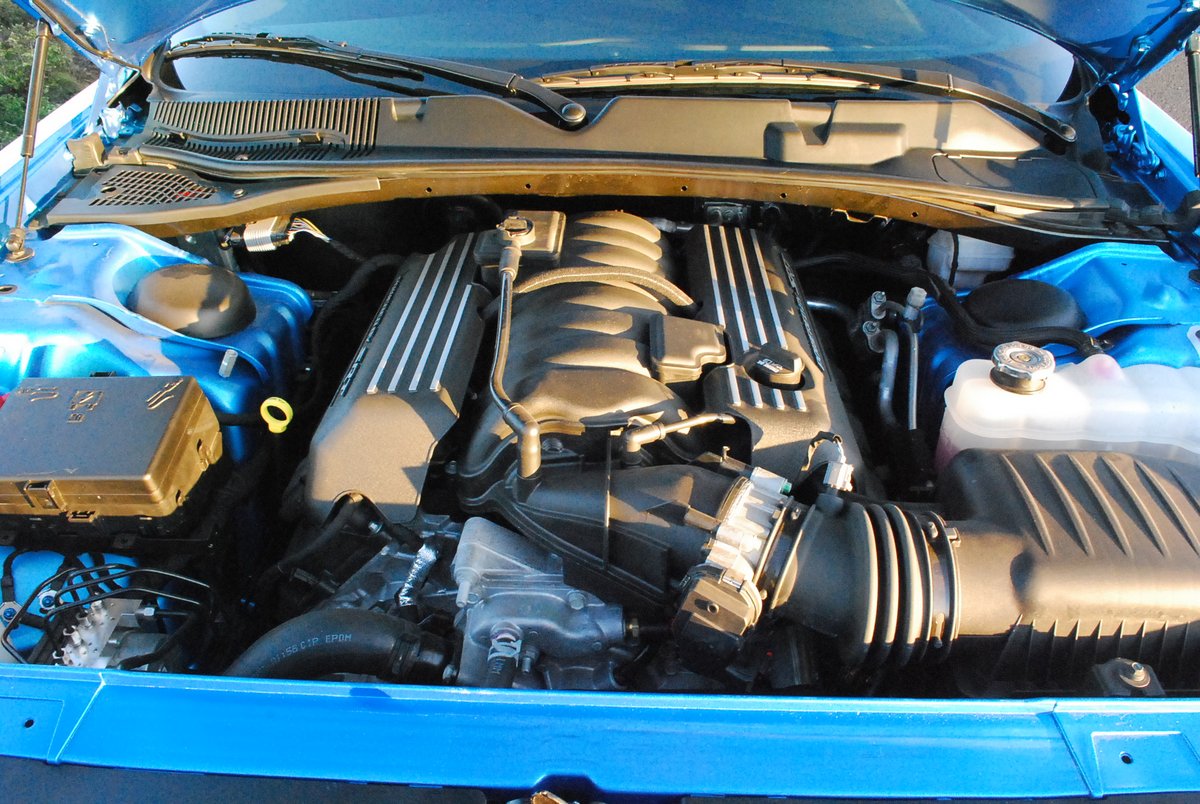 In order to cope with the ferocious torque output of the HEMI, our Challenger harnessed its output through an optional ($1,400) TorqueFlight 8-speed automatic gearbox with paddle shifters. The stubby floor shift mounted between the heavily bolstered front seats boasts two separate gates. This "AutoStick" transmission offers fully manual shifting in the left gate, and fully automatic gear changes in the right gate. However, you can always engage a specific gear at any time in either gate by popping the paddle shifters on the steering wheel. This set up is so foolproof that you'll enjoy it as much if not more than the 6-speed manual gearbox which is available at no extra cost. The only other option on our test vehicle was the $1,100 "R/T Scat Pack 6.4L HEMI V8″ which includes an Appearance Group that adds super bee emblems to the seat headrests, a satin black fuel filler door, very foxy looking high energy discharge headlamps, the afore mentioned bumblebee tail stripe, thick logo floor mats, and a massive performance steering wheel with hefty pistol grips next to the paddle shifts.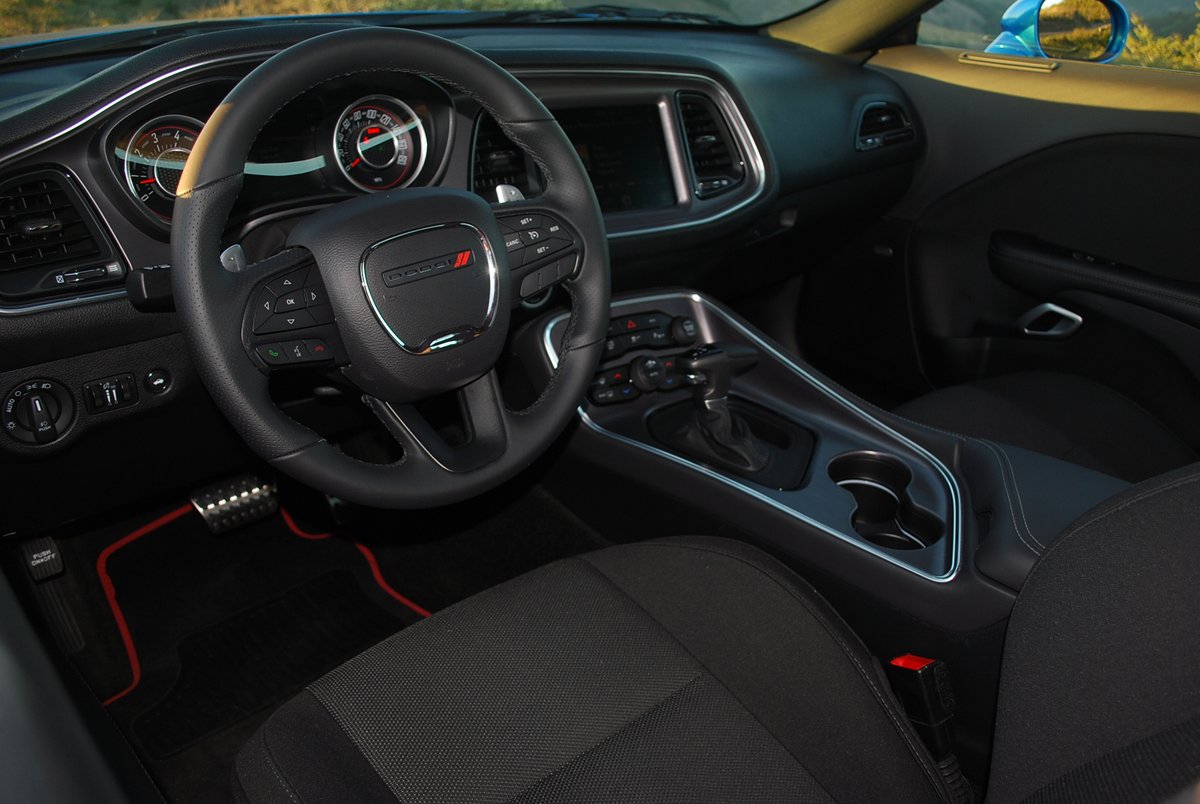 Nor does Dodge ignore this hefty coupe's suspension. Premium Bilstein shock absorbers monitor every corner, reacting with persuasive authority to road and wheel camber changes. Giant Brembo brakes stop the action like an arresting hook on an aircraft carrier. Massive 9 inch wide, 20 inch diameter alloys, with polished spokes and black pockets, mount Goodyear's best rubber: 245/45R20 Eagle F1 tires. Although it's been quite a while since Goodyear's been involved in Formula 1, they once owned the World Championship, and these tires still reflect that hard earned pedigree. The Challenger corners hard and flat, with no understeer at all thanks to the mid-ship placement of the HEMI. Even the Sport Mode stability and traction control programs are tailored to let you hang the tail out under full acceleration before they intercede. This car offers the best compromise between traction control and enthusiast driving I have experienced. And to top it all off, the firm ride is infallibly comfortable. The Challenger simply never loses its composure, whether you're blasting off for a quarter-mile run, or tackling some nasty turns.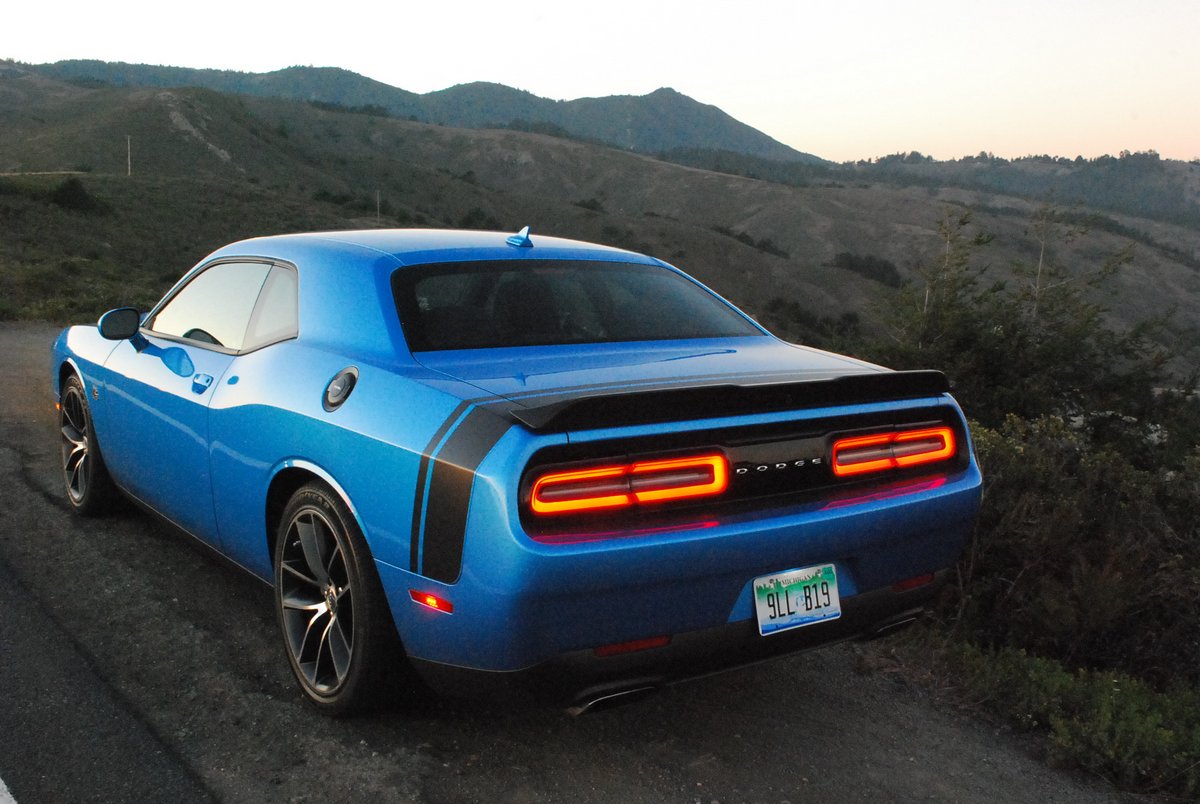 You can have a lot of fun with the special performance evaluation programs Dodge builds into the instrumentation here. You can manipulate the Driver Information Display (DID) to exhibit the following performance aspects: 0-60mph, 0-100mph, 1/8 and 1/4 mile times, braking distance, current and peak G-Force, lap time and lap time history, and top speed. All information gleaned will be sent directly to your insurance carrier. Just kidding. For gear heads, this cornucopia of data is cat nip nirvana. Dodge has built an affordable, good looking, stinking fast hot rod that not only pays tribute to a storied past, but betters it with a massive infusion of technology that could only have been dreamt of back in 1969.
2015 Dodge Challenger Scat Pack
Engine: 6.4 liter SRT V8 MDS HEMI
Horsepower: 485hp
Torque: 475lb.-ft
Fuel Consumption: 15MPG City/25MPG Highway
Price as Tested: $41,490
Star Rating: 10+ out of 10 Stars
Related posts: