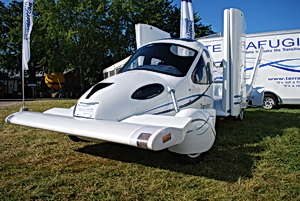 The Terrafugia Transition, the amazing flying car, is something you would expect Luke Skywalker to drive (or fly) up in. There have been designs and prototypes similar to this in the past, but nothing has come this close to becoming a production vehicle/plane that Joe Plumber can actually afford. Well, maybe not Joe Plumber. At $200,000 you'd most likely have to be Joe CEO or John Travolta to afford a Transition.
Terrafugia has been perfecting and refining the Transition for several years. It was developed by NASA engineers and runs on unleaded fuel. You can get 500 miles on a single tank of gas, so it's fairly green as well.
The plane-car comes with two drawbacks: 1.) Getting insurance. Even the Geico lizard doesn't know how much to charge to insure this thing and 2.) Driving and flying it legally. The only state where it's legal to take off from a road is Alaska. Maybe Sarah Palin will buy one so she can view her Road to Nowhere from the sky.
When it comes to new ground-breaking technology of any kind, the first few forays set the table. After those first models hit the market, this technology is likely to evolve at a rapid rate. Once other companies start throwing money at this concept, it's sure to take flight exponentially.
In ten years, we'll look back on the Terrafugia Transition the same way we now look at the very first home computers (does anyone remember the Osborne?) or the very first calculators that retailed for more than $200 in the 1970′s. (Texas Instruments).
When the first Buck Rodgers comic strips and movies came out showing flying saucers, people at the time said it would never happen. When Dick Tracy started using a video watch to communicate, naysayers thought it was crazy. Now we have those things. The Transition is just another milestone in the technological exodus we're taking as a culture. And I don't know about you, but I can't wait to see where it goes.
Read the article that appeared in the Huffington Post after the jump:
Related posts: