Held each year in Las Vegas, Nevada, the SEMA Show 2010 is an industry event for the Specialty Equipment Manufacturers Association.
Much more than just a trade show, SEMA brings together tuners and parts suppliers from across the auto industry to display their latest products using some of the most highly-modified and colorful vehicles anywhere in the world. Sometimes these creations are things of beauty, and some time they are outright disasters, which is part of what makes the SEMA Show so entertaining. Sharing the trade show floor along with the modified hot rods, muscle cars and sport compact cars, will be some mainstream automakers that are bringing an increasingly important presence at SEMA.
For 2010, MicroCarMag is going large and building a customized Nissan Cube for the  SEMA show. This LoganBuilt Cube is designed by MicroCarMag founder Thomas "Logan" Musante and will feature graphics and exterior accents by Forjworks, wheels by Five:Ad, suspension upgrades from Tein and Tokico shocks, and a long list of super goodies that will be assembled and installed by the LoganBuilt team and Agundis Tire Shop. Photos of the unmodified juice-box before being assaulted by air ratchets and torque wrenches were taken by Jeff Cabacungan of Photoshootmycar.com.
Full details and photos of the LoganBuilt Nissan Cube will be feature here on CarReview when the SEMA 2010 show begins on November 2. In addition, MicroCarMag is sending us photos and video of the over-the-top customized cars and the models, standing in their 3 inch heels, showing off the latest gear to pimp your ride directly from the trade show floor.
This year's show includes major displays from Ford (highlighting the Fiesta and Mustang), Chevy (highlighting the Camaro and Silverado HD), Honda (CR-Z), Scion, Chrysler, Dodge, Hyundai, Subaru, Kia and Lexus.
Audi is planning to draw crowds with its autonomous TTS Pikes Peak car, a custom R8 Spyder modified by Stasis Engineering and a selection of vehicles outfitted with, "a sophisticated lineup of after Sales and electronics products that enhance connectivity and entertainment." No doubt the Stasis R8 will no doubt steal the show with a supercharger mated to the 5.2-liter V10 making 710-hp! To fill up their booth, Audi has partnered with Stasis Engineering and is bringing six Stasis Signature Series-tuned vehicles to the SEMA 2010 show, showing off to the world just how great customized Audis can look and perform.
An S5 Cabriolet will feature performance modifications that help it put out 410-hp instead of the factory 333-hp. These upgrades also enhance torque by 26 ft-lbs and SEMA visitors will be able to admire the six-piston Alcon calipers up close and personal. For the SUV lovers out there, Stasis' Audi Q5 puts out 310-hp with upgrades to its handling and braking capabilities. Lastly, the popular S4 sedan has close to 80-hp more than the factory to go along with its suspension and brake upgrades.
As for the Autonomous Audi TTS Pikes Peak car, Audi plans a demonstration with the vehicle outside of the convention center on the 2nd.
Stasis Engineering products are all sold at Audi dealerships nationwide, offering up to a 25-percent increase in performance for various Audi models. This is in addition to their suspension, brake and driveline enhancing products. All Stasis Engineering products installed by a certified Audi dealership are backed with a 4-year, 50,000-mile warranty.
As SEMA approaches Chevy released a teaser video showing its official lineup of vehicles, which will join a long list of other creations from different aftermarket tuners in the GM booth.
"Great show cars that translate into products you can buy down the road." In other words, while we're not likely to see the cars make it from concept to production, some of the items included on them will be.
The focus of the booth will be a long list of Camaros with all sorts of extra goodies – many of which will be made available to consumers in the future. Also teased is a Z71 off-road version of the Silverado HD. Most exciting, however, is the "Jake" Corvette. For those who don't follow Corvette Racing, "Jake" is the mascot of the team, indicating that Chevy may look to offer some Corvette Racing inspired accessories to owners of America's iconic sports car.
Ford announced its SEMA lineup of custom cars, bringing eight Fiestas to display at Ford's usually huge presence at the aftermarket expo. Along with a mishmash of other customized Fords, the Blue Oval will use the show to limelight its new 2011 Explorer crossover, showing off three modified versions of the "truck" in three different styles: Urban, Luxury and Adventure.
Not surprisingly the Urban Explorer was created by Funkmaster Flex, while Galpin Auto Sports built the Luxury model (above), complete with 24-inch wheels. Finally there's the Lifestyle model built by CGS Motorsports with some up-scale touches while also highlighting the adventurous side of the crossover with items like carbon fiber bicycles.
Eight modified Fiestas will be on display and a Ford Racing Performance Parts version of the feisty sub-compact that will make 350-hp thanks to a 2.3-liter version of Ford's 2.0-liter EcoBoost engine is going to be center stage.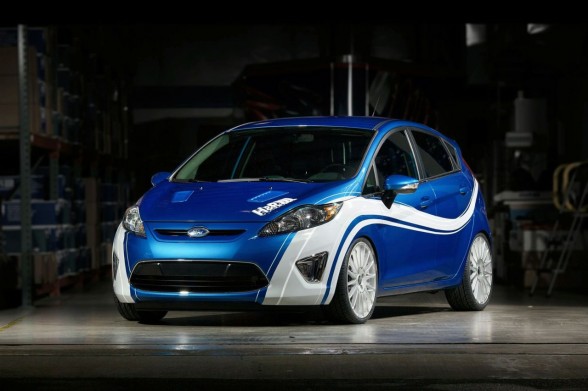 "The goal of our 350-horsepower Fiesta is really twofold – first to reinforce Fiesta's fun-to-drive nature with an extreme version that captures the attention of the influential enthusiast, and second, to introduce the Ford Racing/EcoBoost connection in a way that's unexpected and outrageous," said Mickey Matus, Ford Racing Performance group marketing manager. "In both cases, we're targeting the discriminating performance enthusiast with our message. After all, they are the people others rely on for automotive expertise and recommendations."
In addition to the Explorer and Fiestas, Ford will also have on hand two Taurus SHOs, including one built by H&R Springs and another by Rick Bottom Designs with a 16,000 watt audio system. A tacky looking Ford Edge by K-Daddy Kustomz will also be a part of the display, as will a Ford Fusion Sport by Steeda Autosports with plenty of suspension upgrades. And finally, there's the impressive looking "Urban Assault Vehicle" Lincoln MKX by the ID Agency.
Related posts: