The 2010 SEMA show is the world's largest aftermarket expo and this year boasts significant participation by more than a few major automakers. New ideas, renewed enthusiasm, and the penchant for going bigger while being eco-conscious all in the same breath. Below are a few photos that our friends from Microcarmag.com sent us. The full set of photos from Day 1 can be found in the CarReview SEMA 2010 photo gallery.
One example of a major carmaker having a presence is Honda having a grand total of 12 different CR-Zs on display at this year's SEMA show. In addition to the Mugen and Hybrid R, big name companies like Bisimoto Engineering, DSO Eyewear, Eibach Springs, Fortune Motorsports and Konig Wheels have created their own one-off CR-Zs, accounting for a little less than half of Honda's overall showing. Two special project CR-Zs are on hand, as well, done up by the folks from Honda Tuning Magazine and the Los Angeles Auto Show.
The Honda Performance Development CR-Z Racer looks like a true racing machine with its fully stripped-down body, a lowered suspension, functional aerokit, and a set of 17-inch wheels with meaty racing slicks.
But the truly exciting mods are found under the hood, where Honda strapped a Borg Warner turbo to the 1.5-liter 4-cylinder to pump out 175-hp and 155 ft-lbs of torque. But that's not all, Honda also rejigged the Integrated Motor Assist hybrid setup to produce added power that's available with a Indy Car styled push-to-pass button. When pressed, the CR-Z makes a total of 200-hp and 175 ft-lbs of torque.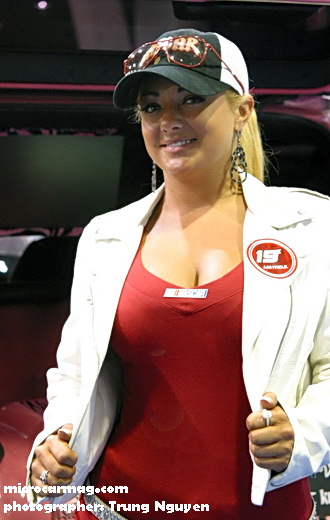 A car show would not be complete without the pretty faces and long legs occupying the booth space alongside the cars. And at many of the booths, there were company spokesmodels who were charming and friendly and quite easy on the eyes in many cases. When you're wearing a media badge and carrying a camera, they practically jump into position to pose for you, all in the interest of showing off their products and services to their best advantage. We assembled a small gallery of some of these "booth babes" to give you a taste of what SEMA offers. We hope you enjoy the pics at least as much as the ladies enjoyed being there and posing. Clicking on the image will take you to the photo gallery setup specially for the booth babes.
More interesting tidbits and a lot more exciting stuff to follow in the next few days. Click on the thumbnail below to view the fullsize image.
Photo credit: Trung Nguyen@MicroCarMag.com
Related posts: