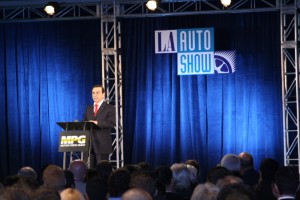 By Kurt Gensheimer
The start of Press Days at the LA Auto Show found Nissan/Renault CEO Carlos Ghosn addressing a throng of media folk. He started predictably, recapping the woes we've heard on TV, radio, print, web, street corners, barber shops and smoke signal – the economy is in the crapper and job number one for car companies should be to conserve cash. Strip the bathrooms of TP, take away free coffee, whatever it takes, save cash and ride out the current financial storm, with one caveat – don't stifle innovation and technology. Because once the turnaround happens, you don't want to be caught still ripping Cottonelle out of the crappers.
The far more encouraging segment of Ghosn's keynote was his piece about the future of electric vehicles, and the buzz phrase he kept sprinkling in – "sustainable mobility". Ghosn pointed out the explosive growth of automobiles by 2050 due to emerging economies like India and China combined with a far more environmentally conscious younger generation will require car companies to not just produce low-emissions vehicles, but zero emissions vehicles; a strategy Ghosn announced will be on Nissan's 5-year business plan. Nissan plans to have a 100% electric vehicle for sale by 2012. It seems Nissan is on an aggressive path to a zero emissions strategy.
They can't be ugly, or bulbous or a car you absolutely wouldn't drive save the fact that it's electric. Ghosn believes that the EV part should be the 'cherry on top' of an exceptionally beautiful, well-appointed and desirable car. In other words, something you actually want to be seen driving.
And by going beyond just making EV cars, car makers should work with governments and industry to help foster infrastructure and tax incentives to further motivate consumers to buy EVs. To further emphasize this, Ghosn today announced an agreement between the State of Oregon and Nissan to get EV infrastructure in place and EVs on the road in Oregon by 2010. The eventual goal, Ghosn said, is to see 10 percent of the auto market fully electric by 2020. Is it doable? It's gonna depend largely on adoption and low cost of ownership.
The most interesting part of Ghosn's address came in the Q&A when he brought up the concept of leasing batteries. It works like this: Instead of being stuck with one battery that has say, 120 miles of range, for the entire life of the car, a consumer can upgrade to a new battery with more range as technology develops. This makes it easier for consumers to adopt an EV and enables automakers a revenue stream while also having the ability to recycle the batteries once their service life has expired.
Ghosn is one of the most respected CEO's in all of autotopia, and if its EVs he envisions, then it's EVs we'll most likely get. When? Now that's the next big question.
Related posts: