By David Colman
Hypes: Massive Power Band, Hauling Capacity
Gripes: Still a Few Sharp Edges
This is not your daily driver. Let's start with its length of 247 inches, which you would be hard pressed to park in a diagonal slot let alone parallel park. Then there's the curb weight of 7,745 pounds, close to four tons. How about its cab height of 80 inches? Even with illuminated running boards and grab handles, it's still a chore to climb aboard. And its width of 80 inches matches its height, so you won't have an easy time trying to locate the distance of your wheels to the curb when parking this behemoth rig.
Of course, once ensconced in the elevated driver's throne, the view of the surrounding roadside is unparalleled. You're pretty much on eyeball height with 18 wheel operators. And with the King Ranch model (a $6,970 premium over Lariat grade), the interior is done up Wild West style with fancy tooled leather everywhere you look. All the floor mats bear the King Ranch's distinctive "w" brand, even the chrome hubs of the 20 inch "premium cast aluminum wheels" ($1,172) carry the logo. Wrapped around those splendid rims are Michelin LTX A/T tires measuring 275/65R20, carrying white side letters which add to the visual medley.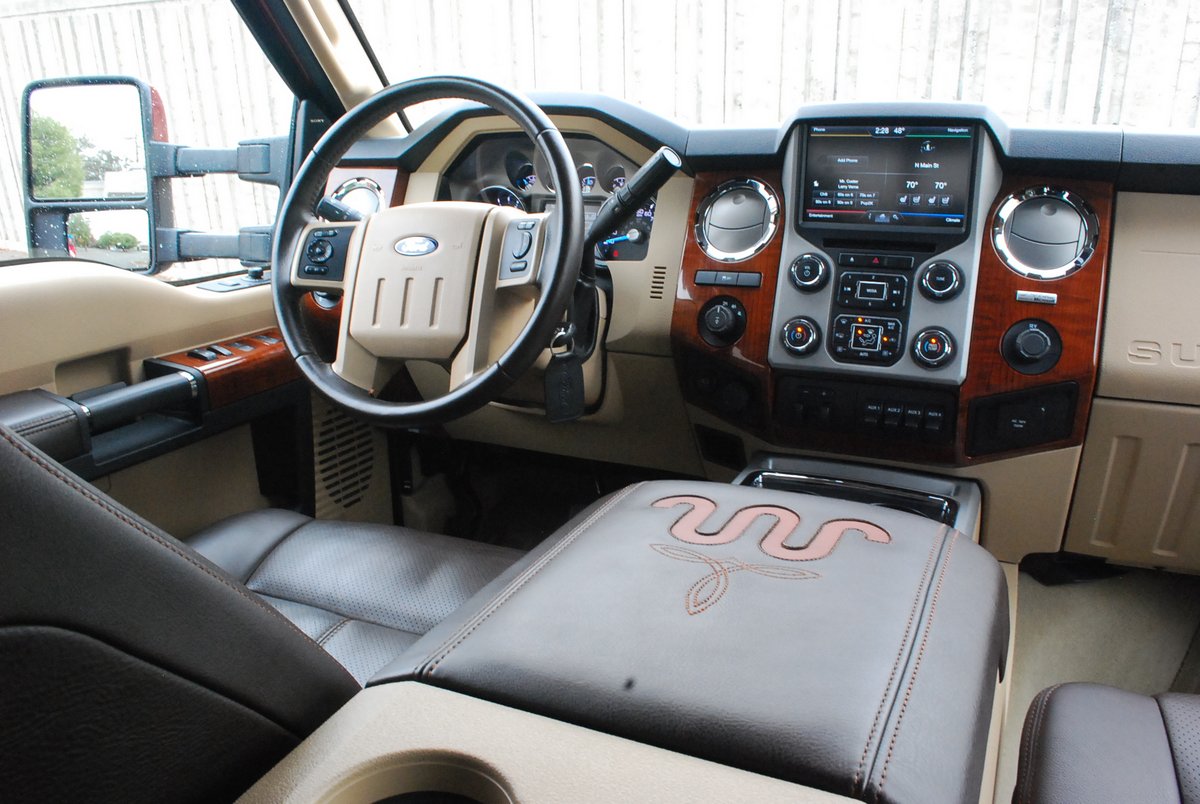 The large center console between the front seats displays a recessed cordovan leather "w" which contrasts with the handsome adobe interior. The Gay 90s feel of the cab makes you feel like a ranch hand on a cattle drive. But there are a few flies on the cows. For example, the first time I went to release the emergency brake, my fingers discovered a knife edge sharp protrusion under the dash, located right next to the brake release pull. It's a design flaw that should never have passed muster. Also, a section of lower dash fascia had separated itself from the upper dash panel. In its defense, this truck had accumulated a lot of hard miles (23,000) by the time it reached me.
This "one ton" Ford is designed for two primary chores in life. The first is toting heavy loads in its gaping cargo bed, which is rated to carry 2,080 pounds (hence the one ton tag). The second is towing a trailer. For 2015, Ford upped the F350′s trailer rating from a mere 23,200 pounds to 26,500 pounds. The Super Duty model we drove is good for the full rating because it's equipped with the optional ($7,229) 6.7 liter "Power Stroke Diesel" B20 engine, turbocharged to make 440hp. Despite the Ford's 4 ton weight, this torque monster of an engine, driving its 3.55:1 electronic locking rear axle through a 6 speed automatic transmission, will make short work of any acceleration need, no matter what you're towing. When you floor the diesel's throttle, the instant infusion of torque transfers 800 lb.-ft. of honking grunt to all 4 Michelin contact patches simultaneously. The F350 launches forward with such a wallop that you'd think it was a half ton pickup with a muscle car motor.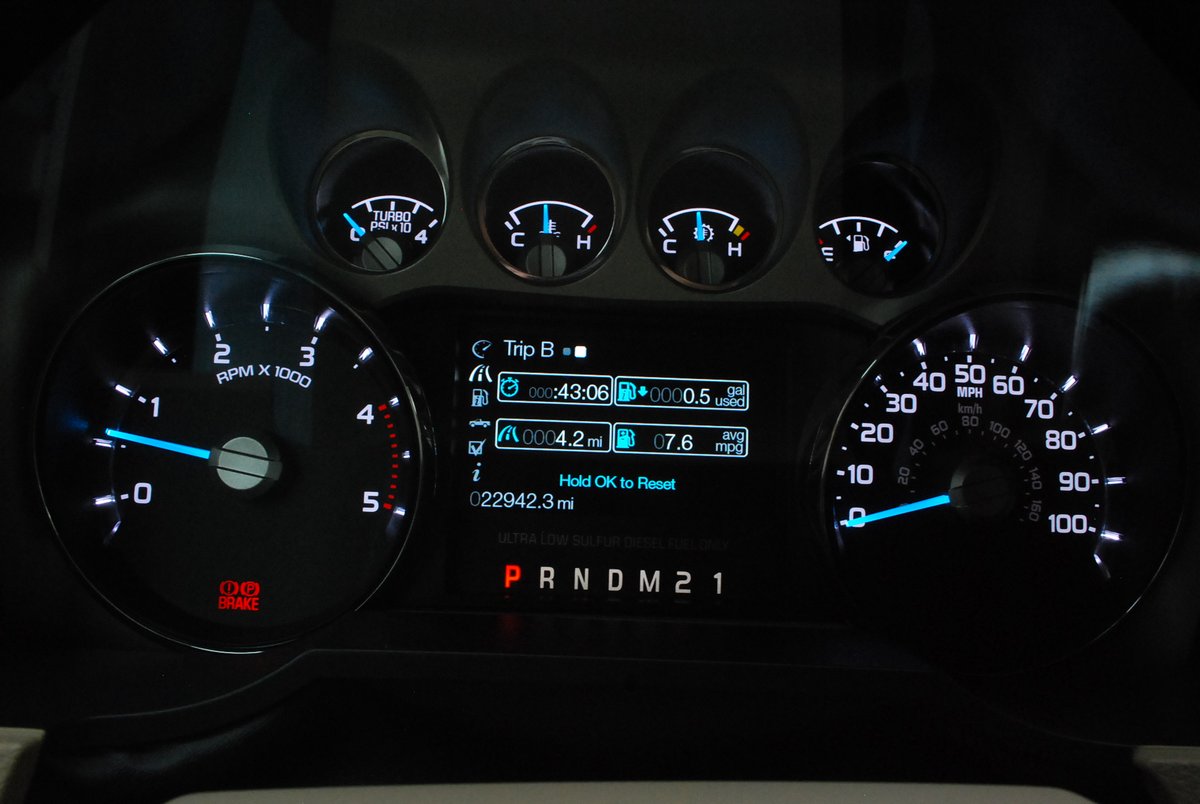 Ford takes good care of you with a bevy of informative gages spread out across the instrument panel to monitor every facet of the diesel's behavior. In a world more where old fashioned instrumentation has been relegated to the scrap heap of history, Ford persists in keeping you apprised of this truck's operational life signs: turbo boost, oil temp, water temp and fuel level are always on view, with no need to resort to any menu-driven nonsense. If you're serious about pulling a trailer, this rig affords standard trailer brake controller and sway controller, plus a reverse camera to help you position your hitch. It's also equipped with a "fifth wheel prep package" so if your Airstream is destined for the F350′s bed mount, you'll find all the fixings already present.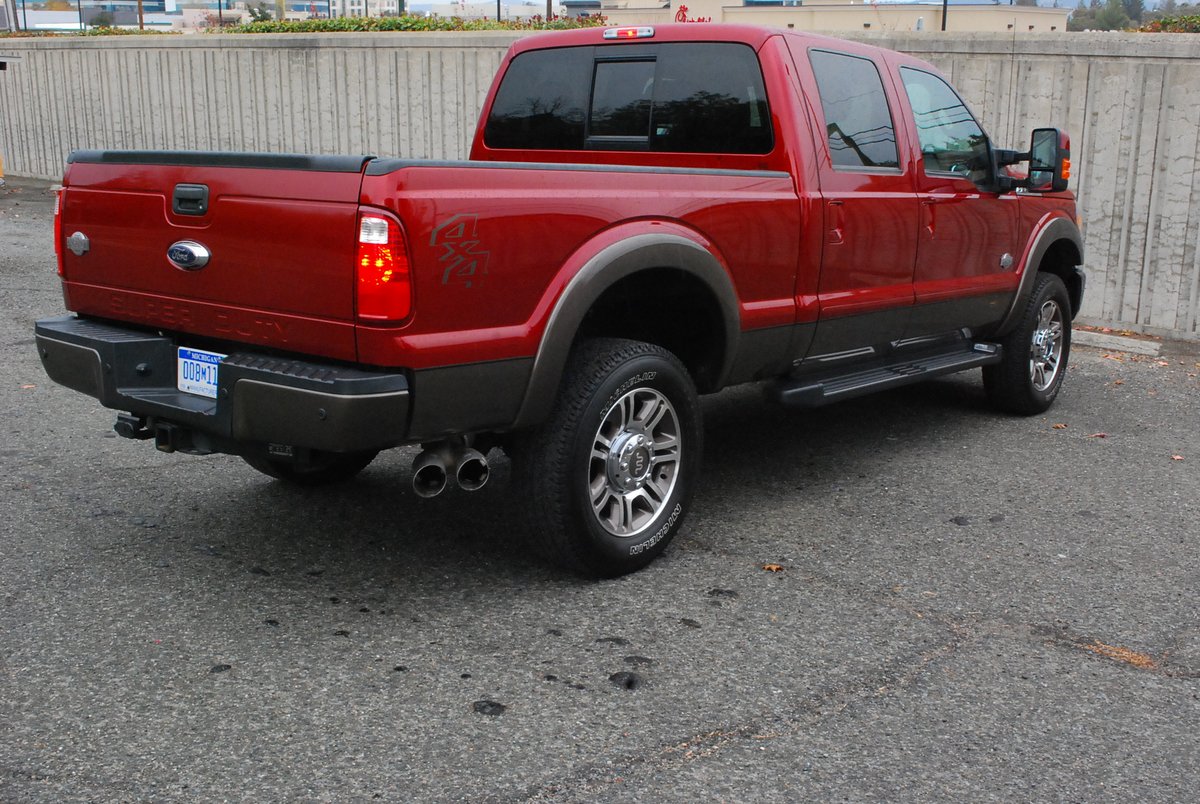 Of course, in order to accommodate 26,500 pounds of baggage, Ford suspended this Sumo F with the stiffest springs in the parts bin. Unloaded, the truck tends to pitch over road imperfections like the mechanical bull at Gilley's roadhouse. The ride here is anything but compliant, though the plush seating surfaces do make amends of their own. But Ford designed this package with a laser focus. Thus, it equipped the dash panel with no less than 4 auxiliary switches for possible items you may install, like a winch, overhead light bar, or big rig running lights. Whatever you choose, the pre-wiring and switchgear has already been thoughtfully installed. The possibilities are endless. If you can put up with the Kink Kong climb in and the harsh ride, this Ford will take you and your portable house anywhere you care to go. A buy-in price of sixty-seven grand seems like pocket change for the infinite travel possibilities this brute promises.
2015 Ford F-350 Super Duty SRW Crew Cab King Ranch
Engine: 6.7 liter Power Stroke V8 Diesel Turbocharged
Horsepower: 440hp
Torque: 800lb.-ft.
Fuel Consumption: 16 MPG City/23 MPG Highway
Price as Tested: $67,868
Star Rating: 10 out of 10 Stars
Related posts: