By David Colman
Hypes: Solid Power Team, Efficient Use of Space
Gripes: Vague Steering Feel, Ergonomic Cabin Issues
Get more, pay more. Toyota has dimensionally revised the 2014 version of its Highlander, widening it 4.5 inches, and adding 3 inches to its length. Although wheelbase remains as before, at 110 inches, interior space increases to the point that the third row bench seat will now accommodate three people rather than two. The foursome that occupy the first two rows of Captain's Chairs enjoy indulgent splendor. Front row perforated leather seats are heated and ventilated, with the driver's chair offering 8 way power adjustment, and the shotgun seat good for 4.
Both second and third row seats recline and fold for cargo use. Though the threesome hitching a ride in the back of this 4,852 pound bus will find their surroundings somewhat less palatial, the wide aisle between the second row Captain's Chairs offers exceptionally easy access to those third row seats. If you choose the most expensive version of the Highlander – the all -wheel-drive Hybrid Limited that we tested – you will discover that its base price, like its size, has also swelled, from $46,370 in 2013 to $49,790 for the 2014 version.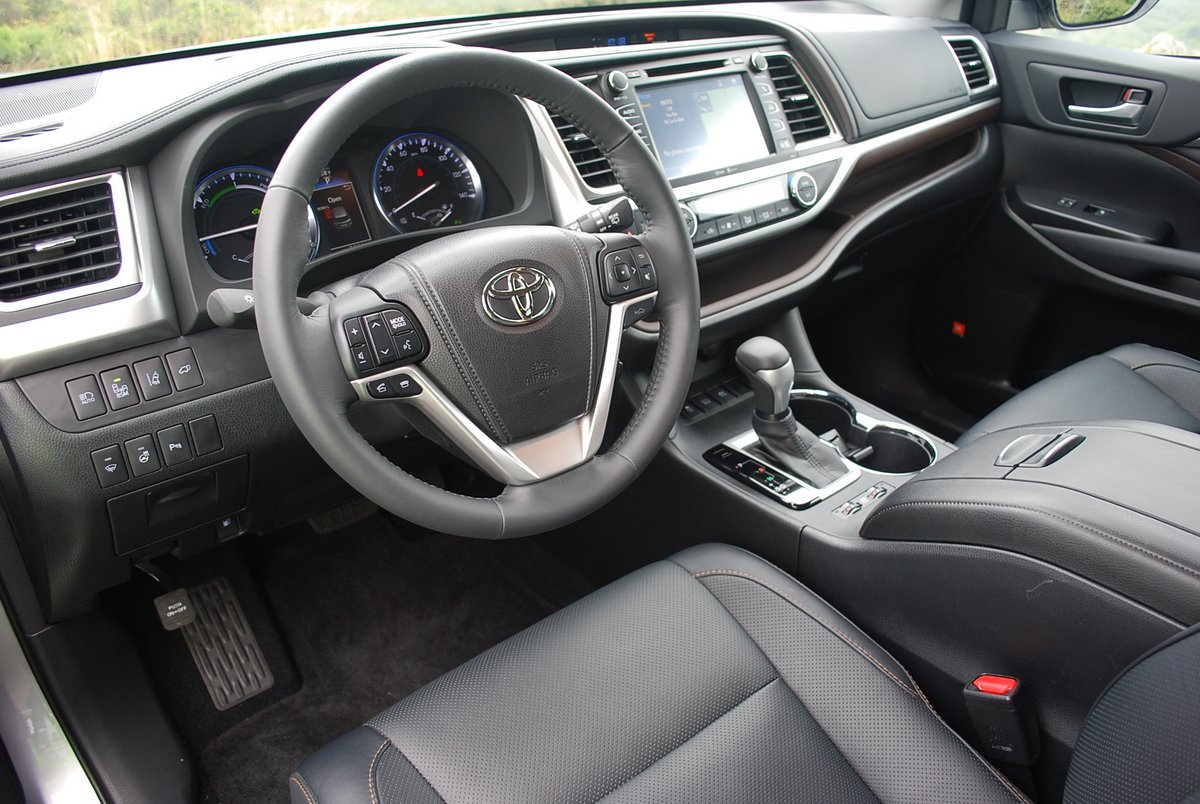 Of course, cherry picking the top model also yields dividends not found on lesser Highlanders. For example, Limited status provides a Platinum Package of goodies at no extra charge. This bevy of niceties adds heated, perforated leather second row Captain's Chairs, plus technology upgrades like dynamic radar cruise control, automatic high beam headlights, and lane departure alert. But the most worthy addition of all is the cabin capping Panoramic Moon roof, with its power tilt and slide front section and fixed rear panel. This feature reinforces your sense of spatial freedom. All seating positions benefit from its extra light and expanded view.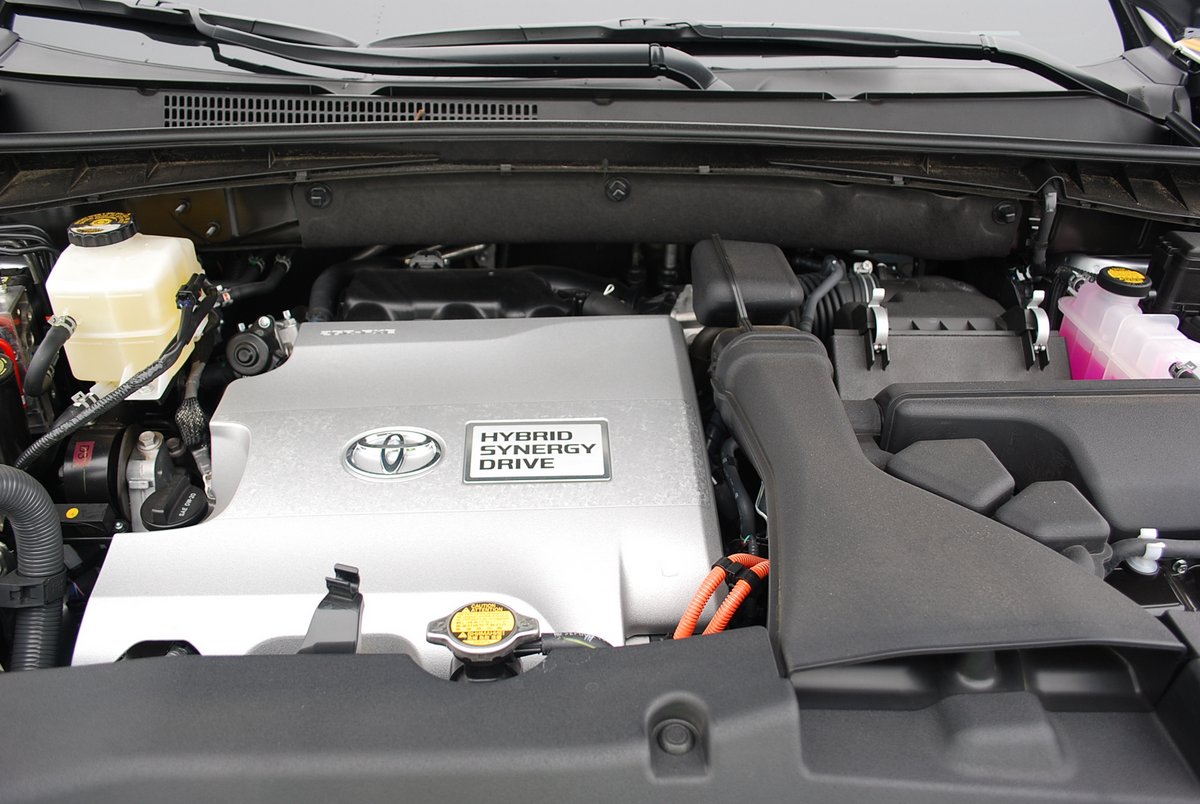 The Hybrid power train works in consort with a Constantly Variable Transmission to provide terrific thrust whenever you need it. The electric motor will power you through slow city driving, with the 3.5 liter V6 gas engine kicking in as needed. When you pin the accelerator to the floor, the two modes of propulsion combine for seamless acceleration. With 270hp and 280 lb.-ft. of torque, the Hybrid Highlander will crack the 7 second barrier in the 0-60mph run, and pull a trailer weighing 3,500 pounds. The cherry on top is the exceptional mileage this package records. By posting an overall consumption of 28 MPG, this Hybrid owns Consumer Report's top SUV mileage figure.
New for 2014 is a trapezoidal grill, re-contoured headlights, plus redesigned front and rear fascias. However, only Highlander devotees will recognize these mild alterations because this Toyota's appearance is so understated and mainstream. If you seek a stylistic attention getter, than you're looking at the wrong vehicle. Which is not to say that the Highlander is lacking in either grace or proportions. Its architecture is, in fact, classic Toyota: utilitarian, aerodynamically clean, and handsomely uncluttered. The Highlander's elevated hind quarters impart a dynamic forward thrust to the overall rake of its dipping beltline. Massive five spoke "Chrometec" alloy wheels, shod with 245/55R19 Bridgestone Dueler HL tires, reinforce the Hybrid's imperious Clydesdale stance.
Inside, you enjoy all the benefits of increased space. The wide dashboard contains an innovative parcel shelf that sensibly stores all those loose odds and ends that normally float around the cockpit. The door panel armrests utilize memory foam which is pleasingly compliant to the touch. A centrally located 8 inch color touch screen controls tuning functions for the standard JBL entertainment system. The screen, which also covers interior climate control duties, can be difficult to read in daylight driving. Although the center console features a handy roll top cover, its storage well is so deep that a built in source of illumination inside would be helpful. Also, the dual center mounted cup holders seem to be configured for Big Gulp containers at the expense of smaller cups which are free to slosh about disconcertingly. These minor transgressions are all the more surprising in view of the brilliant design of that center oddments shelf.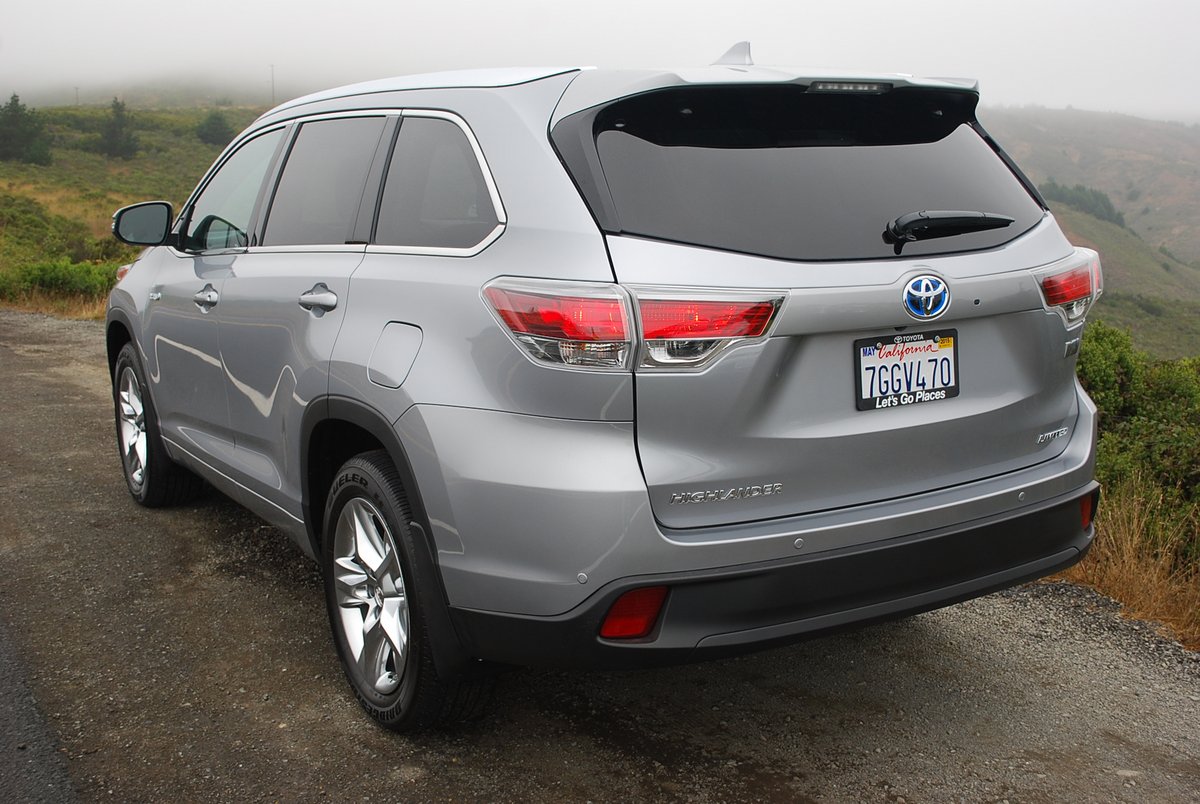 If you are in the $50,000 SUV market, the newly upsized Hybrid Highlander should be on yours required reading list. It makes up for its lack of flash with a list of virtues long enough to outbid such competitors as the Honda Pilot, Hyundai Santa Fe and Nissan Pathfinder.
2014 Toyota Highlander Hybrid Limited AWD
Engine: 3.5 liter DOHC V6 with VVT-I, plus Electric Motor
Horsepower: 270hp
Torque: 280lb.-ft.
Fuel Consumption: 27 MPG City/ 28 MPG Highway
Price as Tested: $50,875
Star Rating: 8.5 out of 10 Stars
Related posts: