By David Colman
Hypes: Big As Texas, Rich Furnishings
Gripes: High Step-In, Pedestrian Looks
When a friend recently bought a Chevy Suburban, I asked him why he chose such a large SUV. With a slightly baffled look, he replied: "Because I want as much real estate as I can afford." Even more than the Suburban, Infiniti's newly renamed QX80 is the king of road real estate. It's simply gargantuan – in size, weight, appearance, horsepower and cost. Let's start with the last item first. Unless you've got an SUV slush fund with eighty grand in the kitty, you'll have to content yourself with a little less acreage than the QX80′s ranchero. Base price here is $64,450. From that vaunted starting point, the option groups keep coming like tumbleweeds in a dust storm. The $4,650 Deluxe Touring Package consists of a 15 speaker Bose stereo system, climate controlled front seats, semi-aniline leather all around, and richly lustrous Mocha Burl trim. Of course you'll want your QX to stand Texas tall, so you'll opt for the outlandishly huge 22 inch, 9 spoke, forged alloy rims with 275/50/R22 Bridgestone Dueler H/T tires at each corner. That bit of bling will set you back $2,250. And if you have some pint sized back seat occupants, parental obligation requires you to order the $3,100 Theater Package to keep them entertained while you fiddle with your $3,250 Technology Package. Bottom line: $79, 096.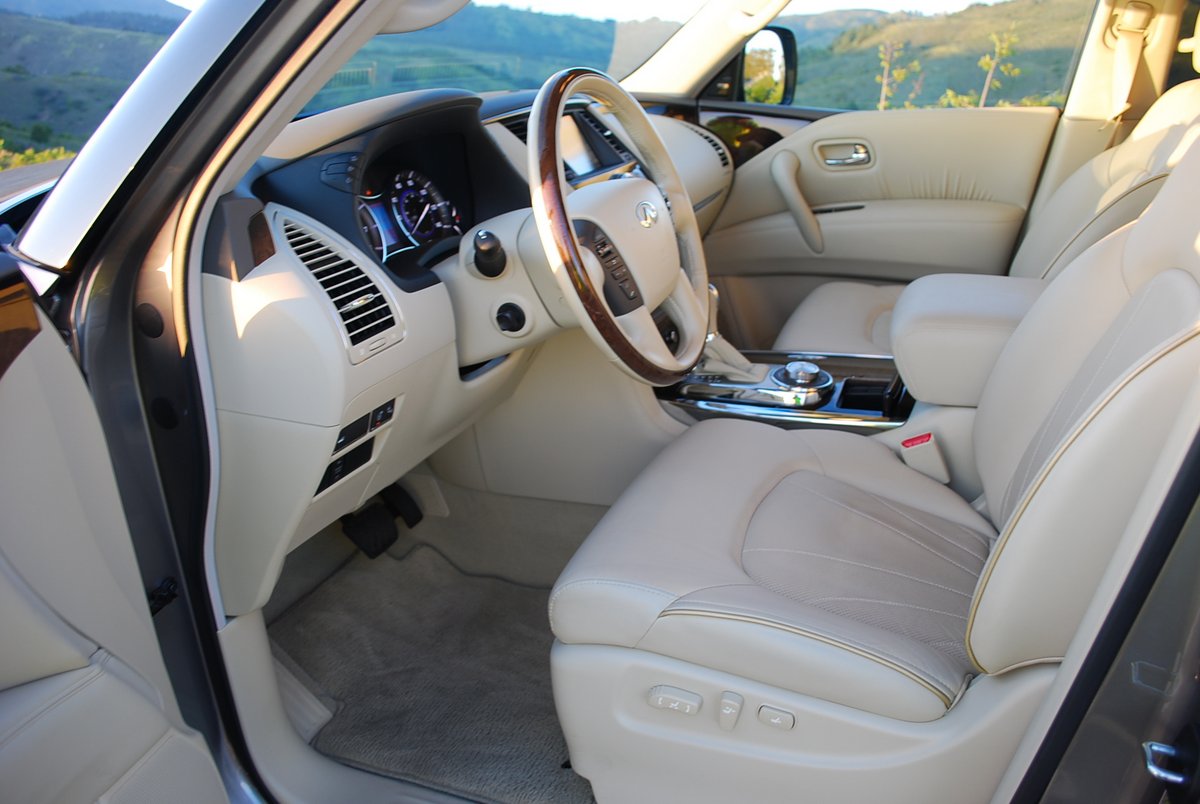 Is it worth that kind of money? If you can afford the buy-in and the gas bills (combined city/highway average of 16MPG), the answer is a resounding yes. The justification the QX80 offers in exchange for its hefty price is its do-it-all capability. Carry 7 adults? No problem. Its triple row seating looks like a small auditorium, with rich furnishings for all 7 occupants: 2 up front, 2 behind, a 3 in the tail. Tow 8,500 pounds of trailer? The QX's monster 5.6 liter V8 will clean and jerk that much weight without working up a sweat. After all, you're utilizing 400hp and 413lb.-ft. of torque. And best of all, you never need worry about road conditions, because the Q-ship provides full time all-wheel-drive, with such elaborate options available from the driveline and 7 speed automatic gearbox as High and Low AWD,Tow Mode, Snow Mode, and Hill Start Assist. With its elevated stance and plethora of tinted windows, the QX80 towers over traffic. No one has a better view of the road than you do.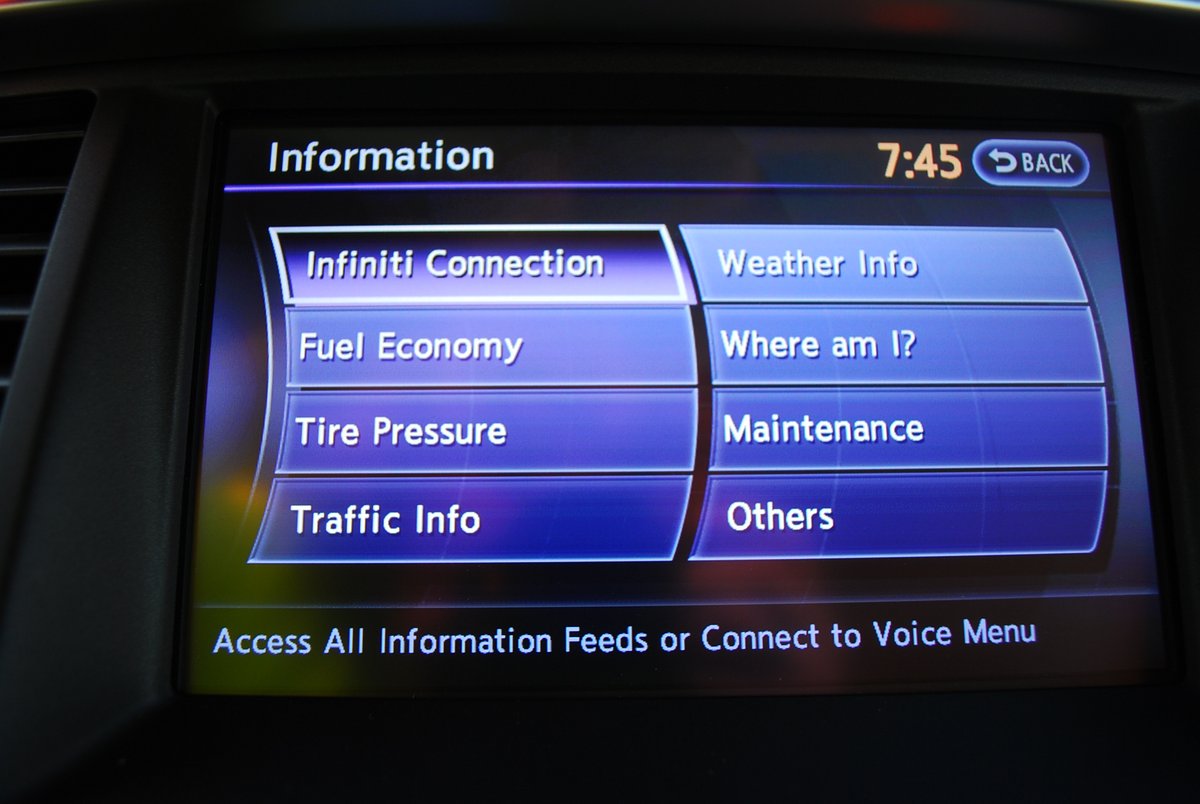 Thanks to the Technology package, this SUV has more built in cameras than San Quentin. The little nubbins are up front and out back, in the windshield and under the rear view mirrors. You'll never get away with an errant lane change without having the QX tattle on you with a little blink or chirp. In fact, there's so much oversight available here that it won't be long before you start disabling some of the systems to maintain equanimity. For example, you've got Blind Spot Warning and Intervention, Lane Change Warning and Intervention, Forward Collision Warning (with Brake Assist), Backup Collision Intervention, and Intelligent Cruise Control. When all these nannies are in full nag mode, you'll find yourself dealing with an alarm from some source every couple of seconds. At least the system allows you to quell its Cassandra-like paranoia to suit your own level of apprehension. I used the 10 inch wide in-dash monitor to delete most of the technology overload. The best option of all is to delete the Technology group from your vehicle's build sheet. You'll not only save $3,250, but preserve you sanity as well.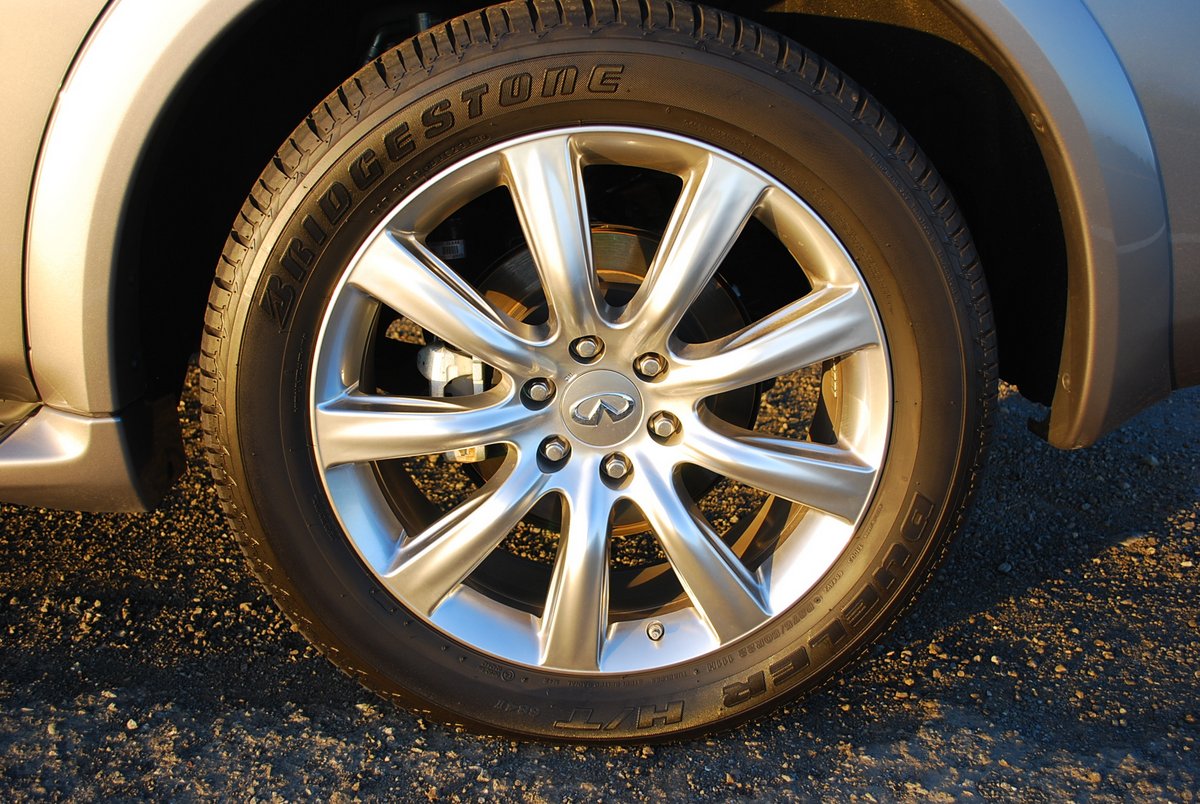 Aside from those niggling considerations, the QX80 is a really terrific long haul companion. It maintains surprising composure on back roads despite its ungainly proportions, near 3 ton bulk (curb weight: 5,990lb.) and high center of gravity. And when the big Q sets sail on the freeway, the miles glide by so effortlessly you think you're commanding a Greyhound Scenicruiser rather than an SUV.
Admittedly, the box on wheels shape of this Infiniti will not quicken your aesthetic pulse. But once you've tossed about a dozen steamer trunks in the back, you'll learn to respect its insatiable 49.5 cubic foot cargo bay. You'll quickly learn to love the easy QX80 conversion from seats up to seats down. That's because all 4 rear seats can be dropped electrically with just the push of a button. Even the tailgate is electrically opened and shut. That kind of practical convenience will quickly make you overlook road king's artistic shortcomings. If you're looking for maximum road acreage, this Infiniti is just the ticket.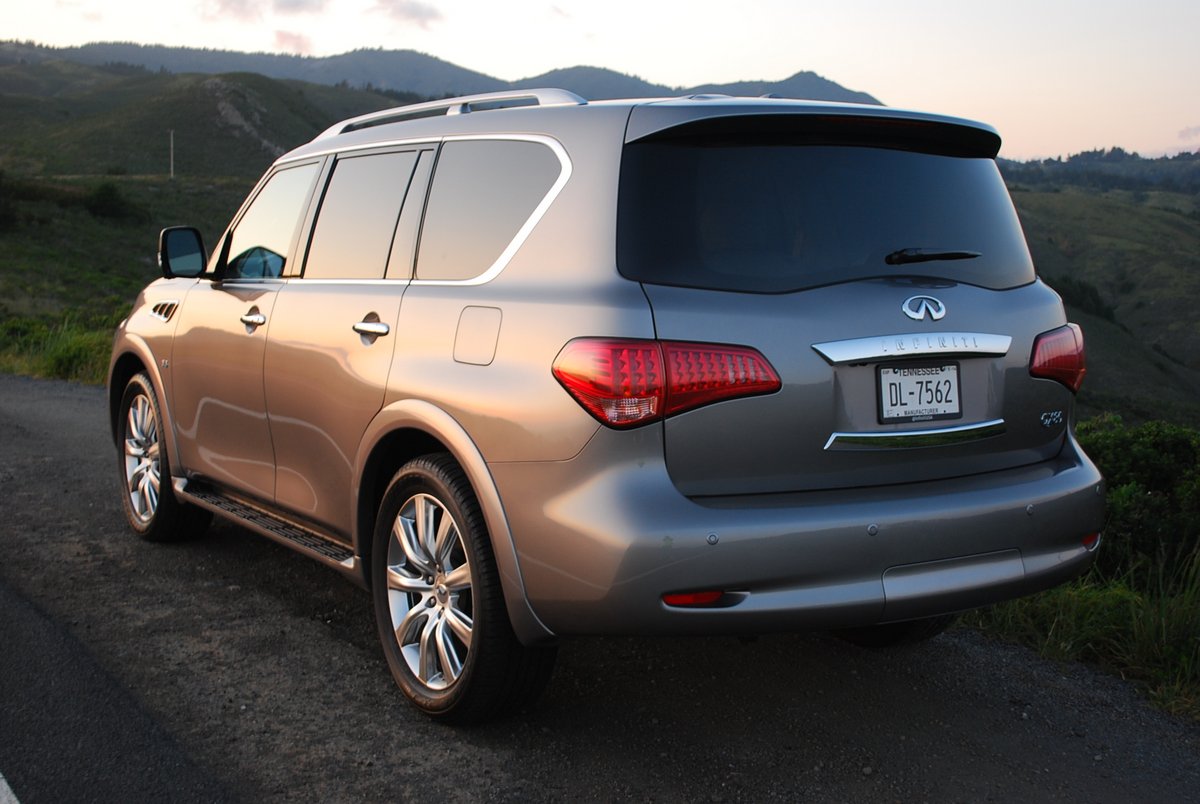 2014 Infiniti QX80 AWD
Engine: 5.6 Liter V-8 with VVEL and DIG
Horsepower: 400hp
Torque: 413lb.-ft.
Fuel Consumption: 14 MPG City/20 MPG Highway
Price as Tested: $79,095
Star Rating: 9 out of 10 Stars
×

2014 Infiniti QX80 AWD Tire
Related posts: