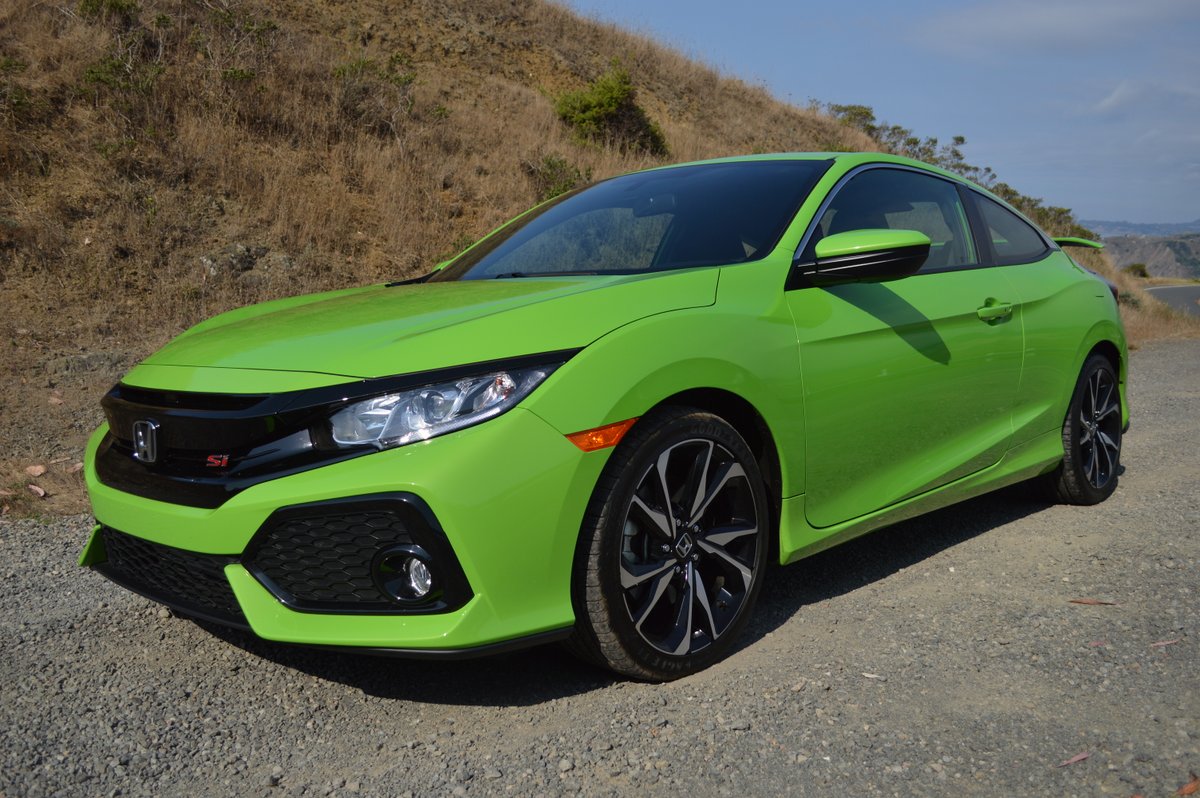 Hypes: Ultimate Street Fighter Born Again
Gripes: Lack of Rear Wiper, Menu Driven HVAC
Honda scores a perfect 10 out of 10 on this latest iteration of the evergreen Civic Si. I speak from long term ownership experience here because I bought the very first generation Civic Si when Honda introduced it as a 2 door hatchback in 1987. It was an outstanding performance car 30 years ago and a much better one today. If you like to wear your heart on your sleeve, order one in Energy Green and no one will ever lose track of you, since this shade of chartreuse is brighter than a Cal Trans worker's vest. The downside of Energy Green is that no police officer will miss you either.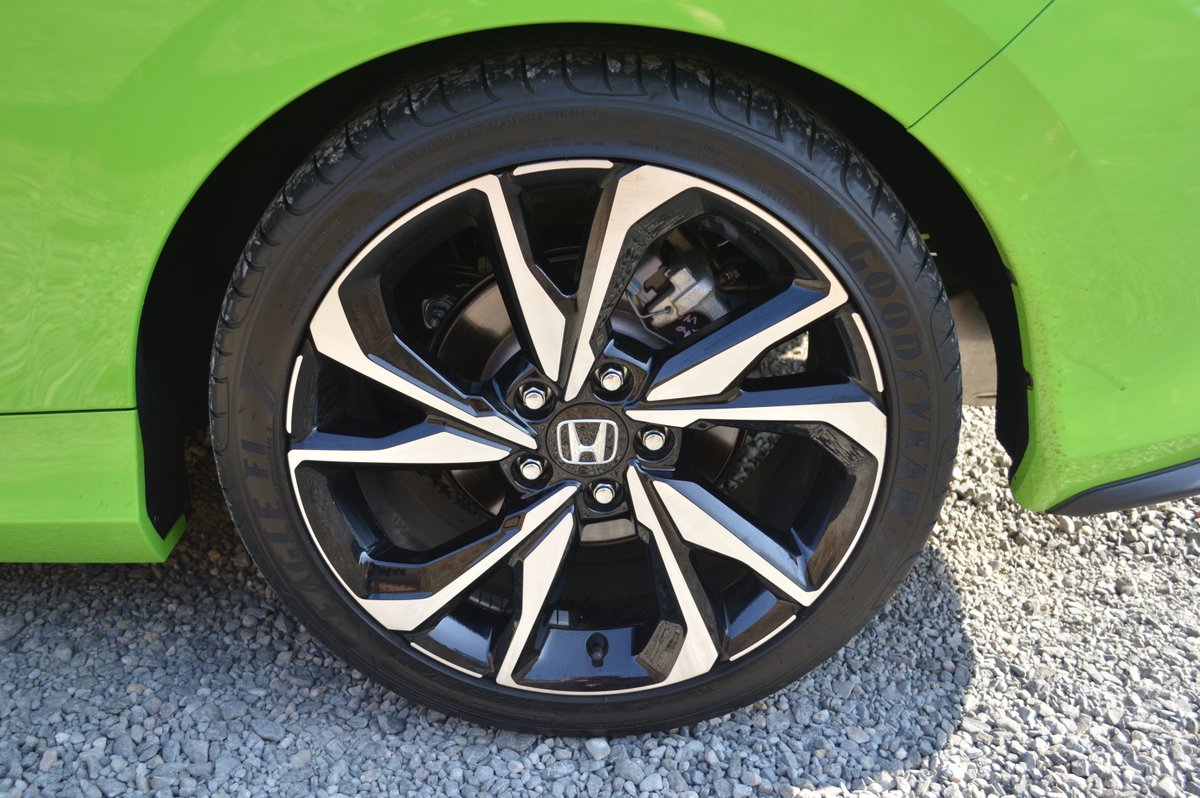 The beauty of the Civic Si package is apparent from the moment you grab the wheel and sense the precision feedback available from the minimally boosted electronic power steering. Honda has achieved a level of refinement here by which all other cars should be measured. Turn the wheel an inch and the car moves exactly one inch. With this fine tuned registration, you can place the Si with unerring accuracy. You have no excuse for missing an apex when driving hard. The rest of the suspension system is equally well calibrated to get the job done. Front MacPherson strut architecture combines well with multi-link independent rear design to provide a supple yet precise ride. Honda does not stint in supplying just the right tires for ultimate cornering grip, with Goodyear Eagle F1 rubber (235/40R18) refusing to lose contact with the pavement thanks to a super soft treadwear rating of TW 240 and an extra sticky traction rating of AA.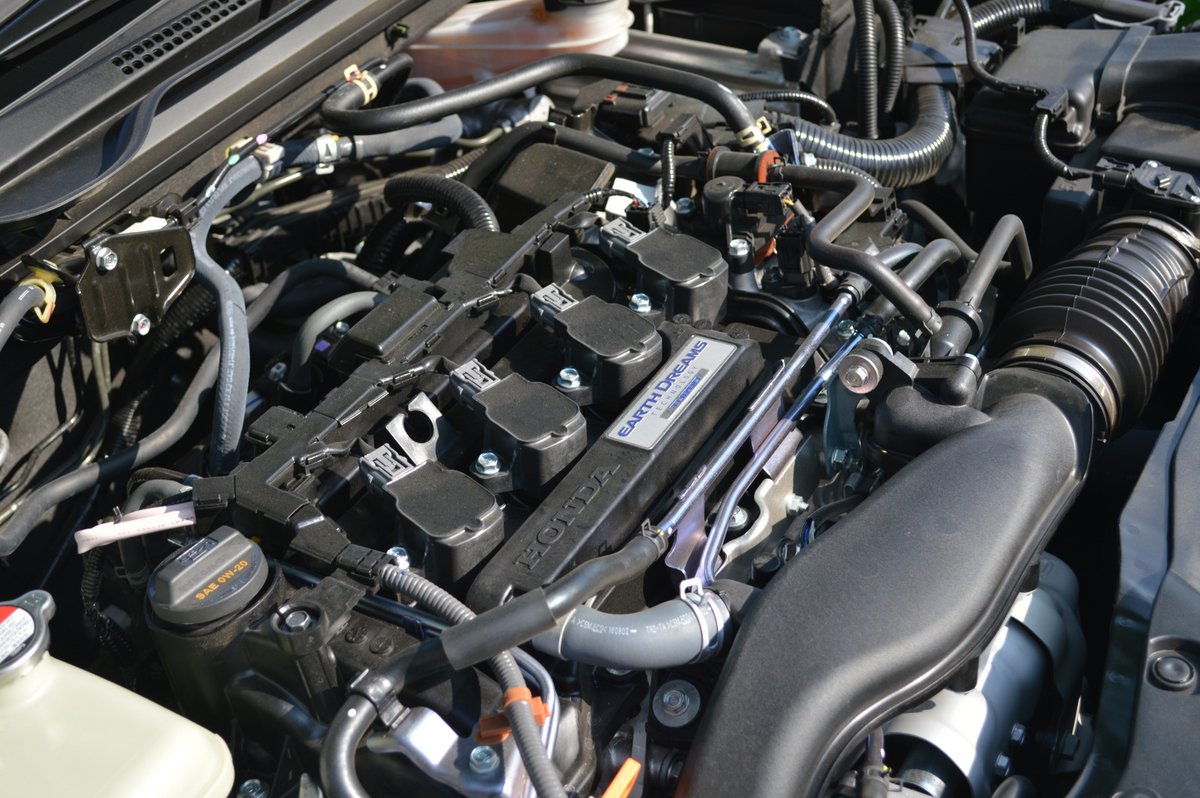 All the grip in the world wouldn't matter much if the Si didn't have the drivetrain to make
the grip work for a living. In the Si's case, the tiny 1.5 liter inline 4 receives a healthy
dose of turbo boost every time you light the accelerator. This 205hp motor passes its
power through a limited slip differential which parcels out power to just the front wheels.
As an added incentive, you get to choose exactly which of the 6 speeds in the
transmission is optimal for a given situation because the Si is equipped with a manual
transmission only. If you don't enjoy shifting and clutching, then find yourself a
different Honda. If, on the other hand, you love to shift, the Si will be your best friend
for life. Clutch action is light and precise. shift throws short and buttery. The Si really
scoots when you've got everything hooked up: right gear, on the boost, sticky tires. Few
cars will beat it on a curvy road, and none in its price range.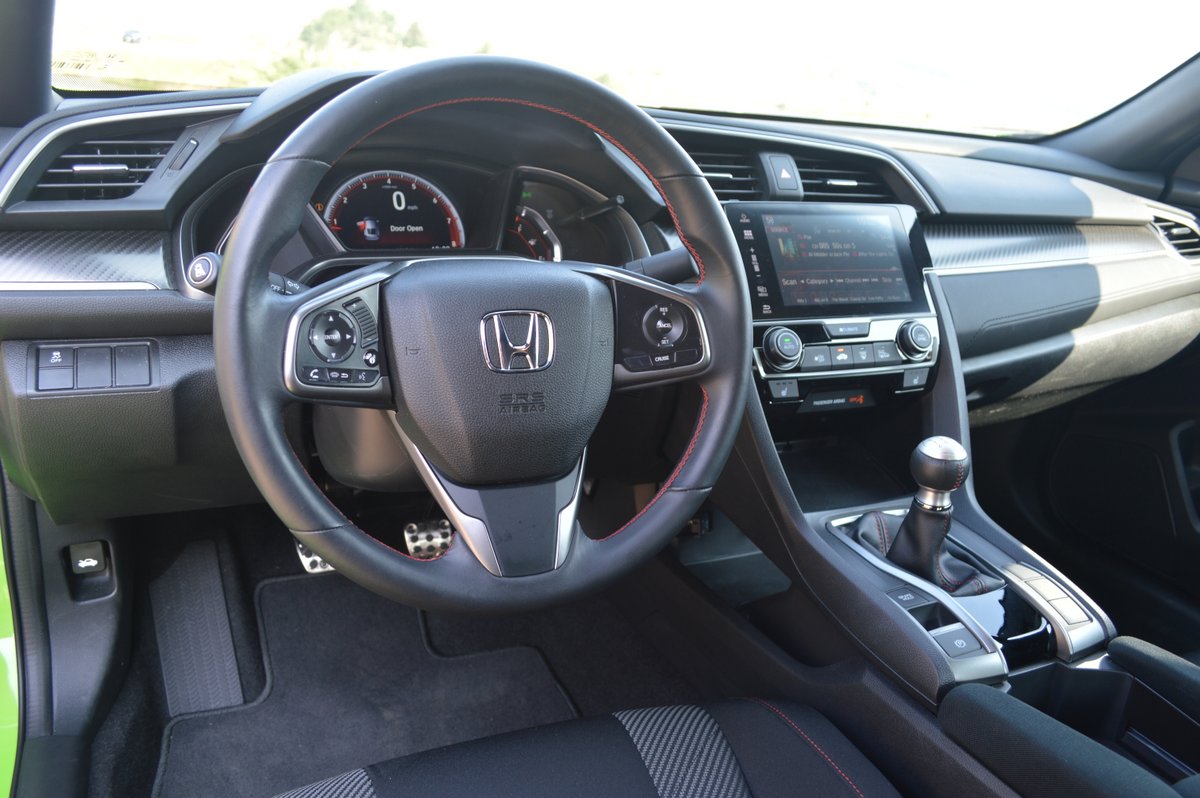 Inside, cabin design celebrates Honda's endless years of perfecting track worthy cars. The Si-embroidered cloth seats are a masterpiece of comfort and support: not so high-sided as to make entry and egress problematic, but sufficiently bolstered to keep you planted when those Goodyears do their thing. The instrument module is dominated, in true racer fashion, not by a speedometer, but by a huge backlit tachometer face reading to 8000rpm. Of course, you'll never get near that number, as the little Honda mill is redlined at 7000rpm, a number which comes up so quick that you have to be on your toes for each upshift. In other words, the Si is a fun challenge to drive well, the kind of delightful game partner sporting drivers find ever less frequently these days.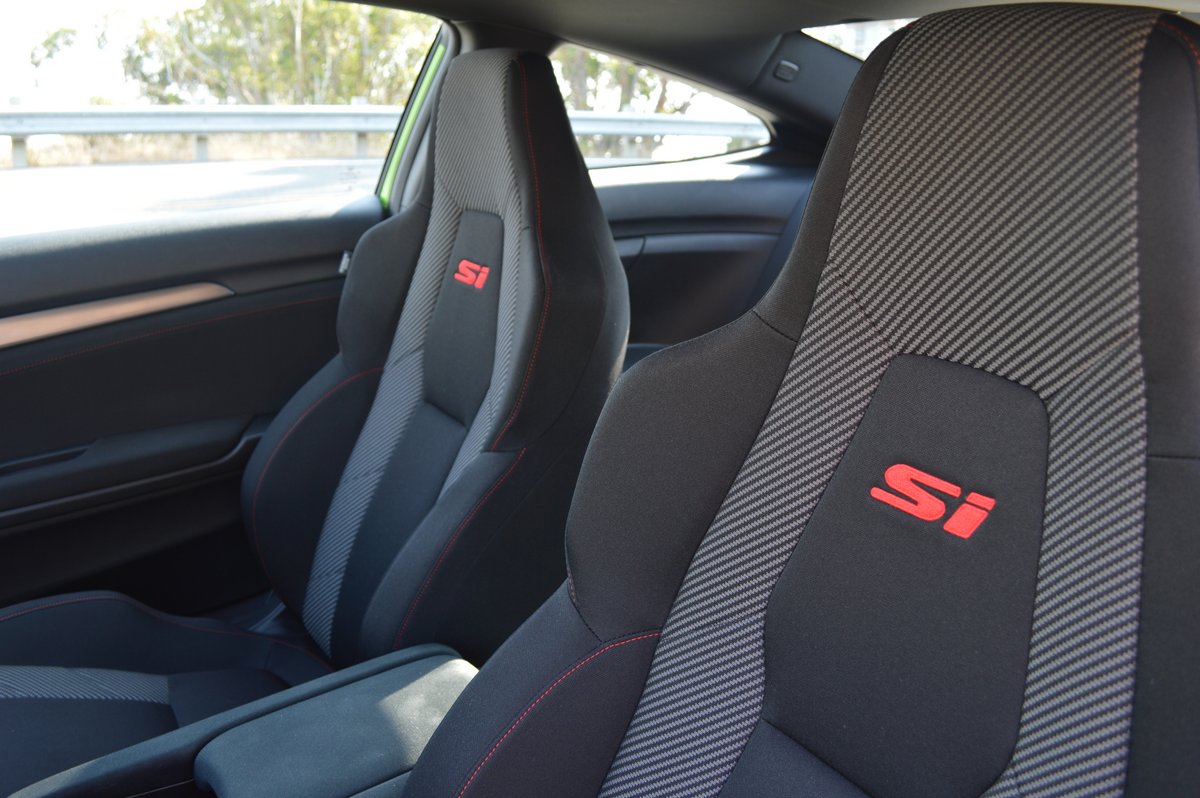 The best part of the Si deal is its exceptionally reasonable price tag, with a list of just $24,100, and an out-the-door figure of $24,975. About the only thing you might need that's missing here is a Navigation System. In the would-be-nice department, the flat rear window really cries out for a standard wiper, and the digital display for climate control is menu-driven and distracting. Another annoying habit that has made it through 3 decades of Civic Si build-out: when you flip the front seat backs forward to throw something into the back seat area, the front seats always returns to their full upright position rather than the setting previously selected.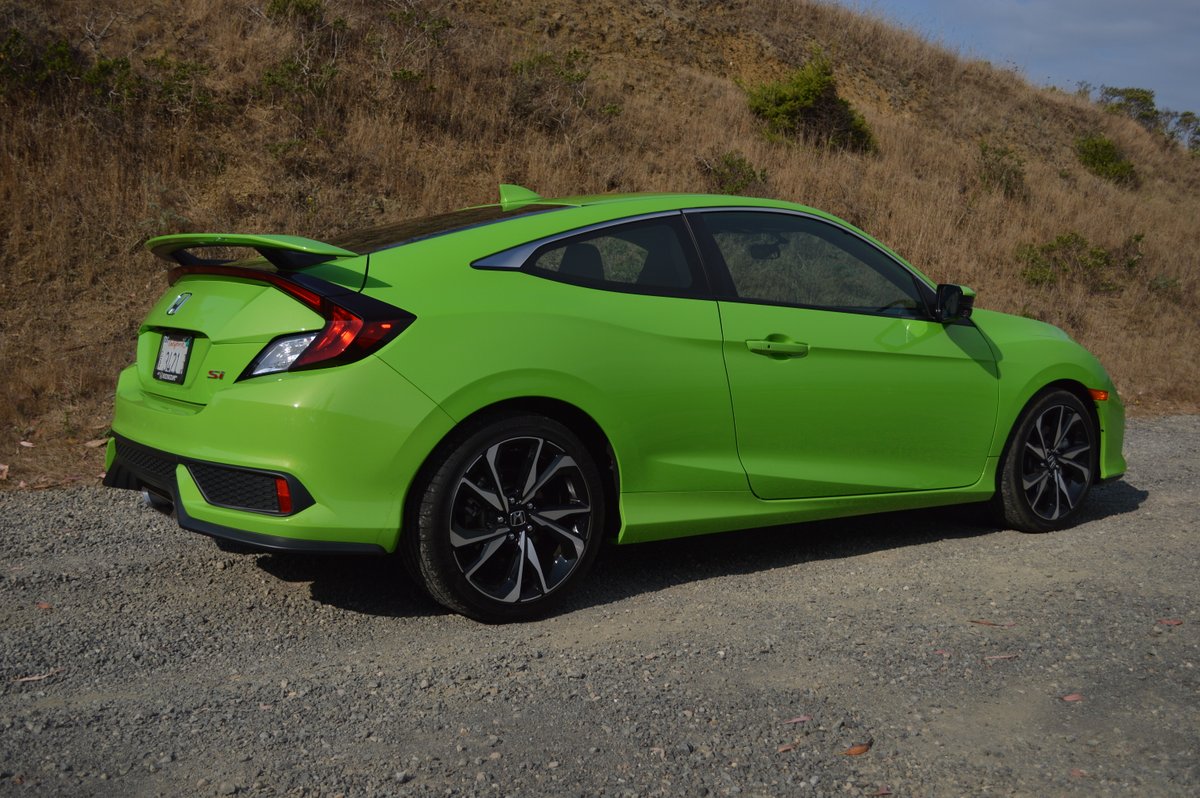 But what a short gripe list this Honda carries. It is without question the premier affordable/ practical sports car today, a pocket rocket that actually does double duty as a useful everyday hatchback. You really can't ask for more, and we're thrilled that Honda has decided to reinvent this scintillating icon.
2017 Honda Civic Si 2DR
Engine: 1.5 liter Direct Injection, Turbocharged Inline 4
Horsepower: 205hp
Torque: 192lb.-ft.
Fuel Consumption: 28MPG City/38MPG Highway
Price as Tested: $24,975
Star Rating: 10 out of 10 Stars
Related posts: